May 1st marks the first day of our month-long tabletop celebration at Nell Hill's Atchison and Garrity's, and I can't wait for everyone to come see all the tablescape masterpieces we have created! We've packed the galleries full of one beautifully dressed dining table after another. Each table features a different theme, styled with the season's hottest colors, newest dishes and cutest table linens. Come see them for yourself the entire month of May. Or, on May 11, attend my special Mother's Day Spring Open House! My historic home in Atchison will be decorated for spring entertaining, with lots and lots of ideas to inspire you. (It's free and fun, and a perfect way to celebrate Mother's Day.)
Here's a preview of the great summer tabletops that await you in Atchison: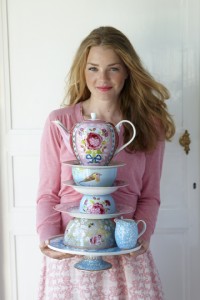 My heart is racing over all the fresh colors, captivating patterns and unique styles of dishes I saw at market this season. It's been years since I've been this excited about the emerging trends in dishware, and let me tell you, it's been worth the wait. The designers are introducing lines that have the amazing ability to dazzle all age groups. I am bouncing off the walls for you to see all the goodies. So, here's a quick preview!
Styles and Colors I'm Crazy About this Season
Aqua and Green Apple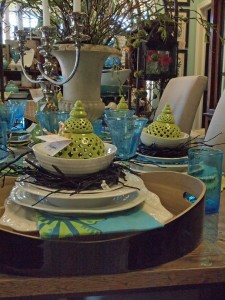 These perky colors are like a shot of B-12! For this playful tablescape, we started with a set of basic white dishes then gave them gobs of character by working in aqua and apple green accents through the glassware, votive holders and napkins. Too cute for words!
Marigold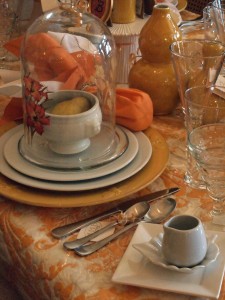 Marigold is still hot, hot, hot this year! We took a different path with this tabletop, displaying this zesty color in a more serene setting, picking cream as its partner, not other bright hue. The gold and cream quilt gives this tabletop scene a romantic feel, as do the cloches covering each place setting (a great idea if you're dining outside – keeps out the bugs!). [Love the gold vases? I do too! Get yours today at Nell Hill's Online.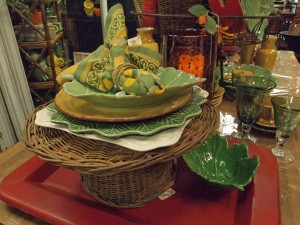 I really like marigold paired with grass green. We created an earthy, natural tone on this table by using green majolica plates and twiggy wicker plate stands with the gold dishes and yellow and green napkins. Looks so fresh and clean, but restful and rustic.
Silver and White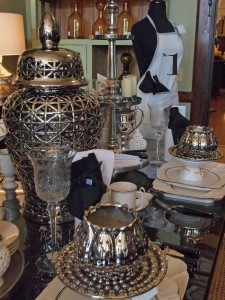 If you want a table that's sleek and cool, yet elegant, try one of my favorite color combinations for this season: silver and white. Just dress up your white dishes by adding high-gloss silver accents. This table took on a whole new look when we used a silver temple jar and pillar candlesticks in the centerpiece and placed silver votive holders on each place setting.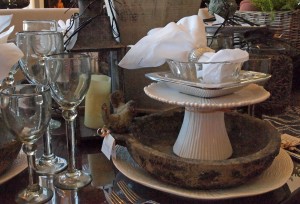 If you want a simpler, softer look, use weather-gray accents instead of polished silver. I really like how the aged silver patina of the weathered lanterns gives this table a more rustic feel.
Red, White and Blue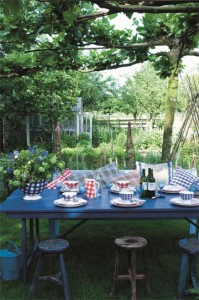 What could be more appealing than our national colors mixed together in one exciting, yet original, tablescape? It's fun and patriotic, without being cliché.
The color palette of red, white and blue doesn't always have to be bold to be effective. These snappy red dishes, dotted with blue accents, made me catch my breath with their delicacy and vibrancy.
Pink, Light Blue and Tan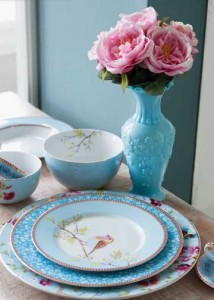 If you've never thought of yourself as a fan of light blue and pink, it's time to reconsider this color palette of your youth. Reinterpreted by today's gifted dish designers, pastels are oh so cool! They connect someplace deep within me. How about you?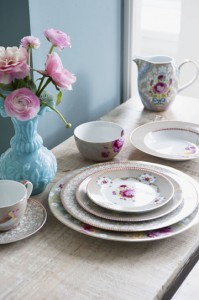 Tan is anything but neutral when it's used artfully in a creative dish design. In fact, it acts as ballast, letting the bright images in these dishes really pop.
Linens, at Last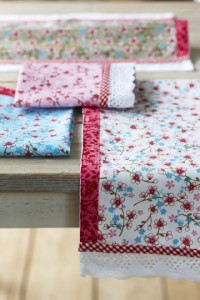 It's been tough to find really great table linens at market for the past few years. In fact, at Nell Hill's, we decided to make our own tablecloths, placemats and napkins because I just couldn't find anything that wowed me. But this year, I was dazzled by the wide array of eye-catching and affordable table linens. No matter the style of your home, from modern to traditional, or your color palette, from bold colors to whisper soft neutrals, you can now find the perfect linens to accent your table. You'll be inspired by the many ways we weave these beauties into the tablescapes at the Nell Hill's stores during our May Tabletop Event!
New Lines I Can't Wait for You to See …
I don't know what's going on in the Netherlands, but at market this year, the work of two Dutch artists blew me out of the water. And, I'm super excited to tell you that Nell Hill's will be among the very first stores to carry these two brand new lines, which just made their North American debut at the Atlanta market.
PiP Studio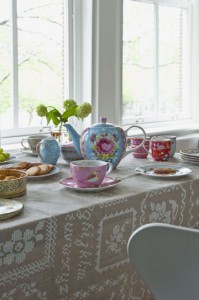 I am going to be waiting by the door, watching for the delivery trucks in June, when this amazing new line of dishes is scheduled to arrive. Designed by a gifted Dutch artist whose childhood nickname is Pip, this dish line is the freshest, most irresistible one I've seen in years.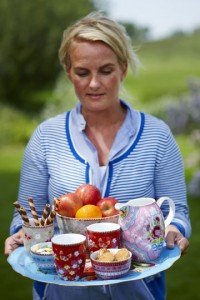 What's not to like about a company whose motto is "happy products for happy people"? Pip Studio's dishes won the Best of Show at Atlanta this year, and for good reason. Her dishes weave together the grace and romance of yesteryear, then add a zap of energy by working in arresting colors and graphics.
At Home with Marieke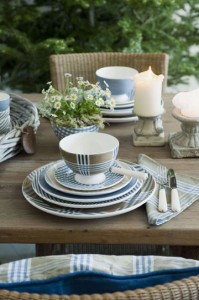 The clean lines and everyday versatility of At Home with Marieke captured my heart. Marieke is also a Dutch artist who pulls from the past to create her own European country style.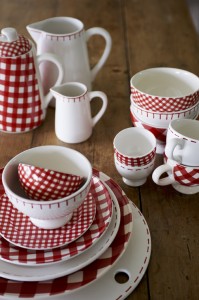 I've always been a huge fan of gingham, so I flipped when I saw this peppy blue and red checked dishware. You can mix and match the colors, using them with cream plates that feature "stitching" trim details.  They are great for 4th of July celebrations, holiday decorating or anytime in between.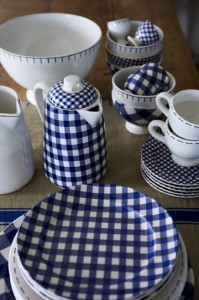 One of the best features of the At Home with Marieke line is that these earthenware dishes are dishwasher and microwave safe. Come see the line when it arrives in August!
Next Week … the High Point Furniture Market is one of the biggest and best in the world, and it's the place for designers to show off the newest and hottest trends in home décor. Next week I'll share my favorite picks from High Point this year.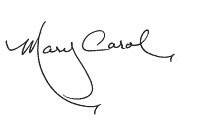 P.S. Don't miss a bit of Nell Hill's news – stay up to date on my favorite finds, new arrivals at the stores and all our special events by checking the Nell Hill's Facebook page every day. You don't have to have a Facebook page yourself to look in on the fun, but if you're already on Facebook, "like" us today!