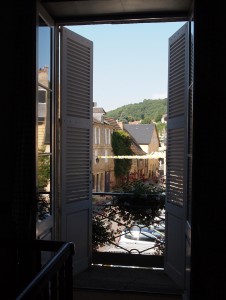 Since opening Nell Hill's 30 years ago, I've had so much fun growing the stores and working with so many amazing customers that I've hardly taken a day off, let alone gone on vacation. So in May, I did something completely radical for me. I packed my bags and I ran off to France! During my magical time in the Aquitaine region of southwestern France, I learned some invaluable things that will influence the way I decorate and the way I live.…
1. It's OK to Take Time Off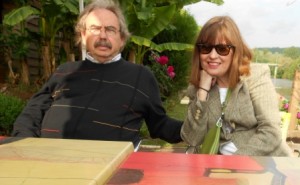 Most of you probably already have this one mastered. But for me, it's been a hard lesson to learn. I love my job and draw energy from being with people at the store all day.  But even though I find work exhilarating, sometimes going 100 miles an hour, seven days a week can wear you down. (I know what you're probably saying right now: Duh, Mary Carol!!!)
My husband, Dan, gets it. He works hard running the business side of Nell Hill's. But he is also great about setting aside time each year to travel, exploring new places, learning about its people and their heritage.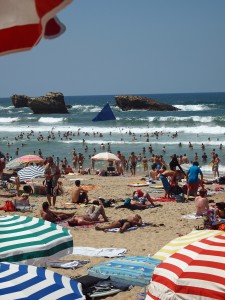 Usually when Dan asks me to go with him on his journeys, I say no. There's always too much to do at the stores to take time off. But this year, I decided to give myself an anniversary gift: I took a week of vacation for each decade Nell Hill's has been in business and went with him. Our trip was an amazing one, not just because of the drop-dead-gorgeous scenery, the fantastic food and wine, and the opportunity to experience such a rich culture. It was amazing simply because it gave me a chance to stop and replenish and spend time with someone I love.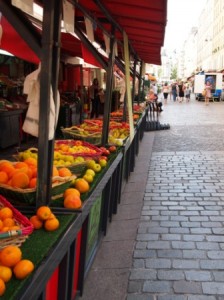 No matter where you go, whether it's abroad or a stay-cation in your own town, this year, make it a goal to take time off. Escape your daily grind, restore your soul and revel in those you love most. Life if fleeting, so stop and smell the roses.
2. Life is a Colorful Journey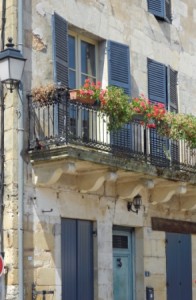 After a quick stopover in Paris, we settled into a darling farm house in Fumel, taking day trips to picturesque towns like Biarritz and Montinac. Each place we stopped, I enjoyed seeing how the French use color in their daily decorating, whether it was a muted palette of neutrals or an adventurous mix of bold hues.
The home decor shops were showing a very modern, sleek, sophisticated style that revolved around the hip color "grange," which is a cross between gray and taupe.  Similarly, the farm house we rented was decorated in pure white. The owners of the cottage, reflecting a hot trend among France's younger decorators, painted nearly everything in the home white, from the walls to the antique furnishings. At first, I found this pure palette refreshing. But after a few weeks, I was craving color. I could never survive in an all-white world.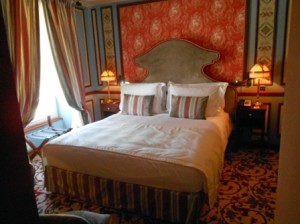 In sharp contrast, many of the homes, hotels and chateaus we visited embraced an adventurous use of color. We ate dinner one night in a crusty old chateau where the decorating was as memorable as the roast duck we enjoyed for dinner. In one seating area, the formal chairs were upholstered in a rich burgundy velvet and piped in a playful lavender fabric – two colors I would never have recommended putting together. Yet it worked. And so did the peppy parrot green ottomans tucked up at the foot of each chair. I think it's wacky yet wonderful color combinations like these that made so many of the elegant rooms we viewed feel warm and inviting, not stiff and off-putting.
3. It's OK for Old Things to Look Old
When you live in an older home, like I do, it seems like something is always in need of repair. You finally get one project ticked off the list, then you have to add 10 more in the constant quest to keep your aging dwelling looking fresh and new.
But on vacation, I noticed that the French didn't seem overly obsessed with the upkeep of their older homes. They seemed to be at peace with the imperfections in the buildings and gardens around them, knowing these quirks gave their dwellings more personality and character.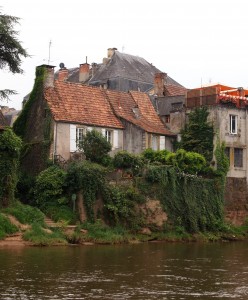 I left my time in the French countryside resolved to not get so uptight every time something breaks or goes wrong with my 140-year-old home. I am determined not to fret over every episode of peeling paint, every loose cobblestone or dripping faucet, knowing that these things help make my home unique.
4. Flowers Make the World a Better Place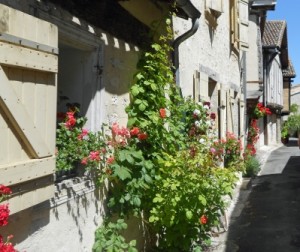 During our visit, we saw all sorts of gardens. Some were very structured and formal surrounding elegant chateaus. Others were a wild tumble of color tucked up next to a crumbling old cottage. I loved them all. But my favorites, bar none, were the window boxes stuffed full of cascading blooms and the gates dressed in flowering vines, like wisteria and roses. Picture postcard perfect, these little vignettes weren't complicated – sometimes they just featured a few pots of red geraniums – but they were so romantic that they changed the look and feel of the homes they accented.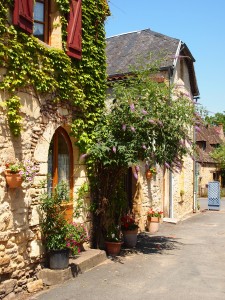 Years ago, when we converted our back yard in to a walled courtyard, I planned to enclose the area with an antique or replica iron gate. I never got to it. But now, installing a romantic gate at the entrance of my garden is back at the top of my list. I want to replicate some of the treatments I saw in France, decorating the gate with a grape vine, wisteria or climbing rose.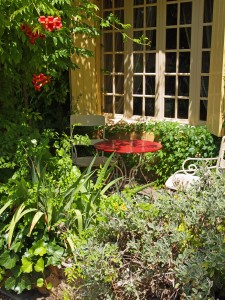 While I wait for my gate to become a reality, I found one garden look in France that I'm going to do right away: Plant smaller garden urns with a mix of succulents, like hen and chicks. I'm going to find two shorter iron urns at Nell Hill's, fill them with succulents, and place them atop the pillars that stand on either side of my garden.
Next Week … Come visit my garden! My friends and master gardeners Gloria and Lynda, who keep my garden looking lovely, will share secrets for creating a lovely but low-maintenance paradise.