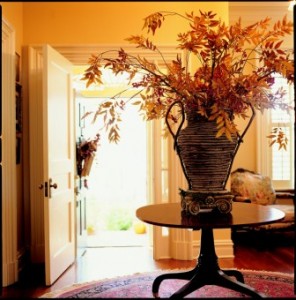 When Dan and I were house hunting, all it took was one look at the entryway of our historic fixer upper, and we were transfixed. Even though nearly every room in the house needed to be renovated, we were so captivated by this space we decided to buy the house. That pivotal moment taught me a mighty lesson about the power of first impressions. And since then, I have worked hard to make my entryway one of the most beautiful spots in my home.
Are you ready to make a winning first impression on everyone who knocks on your door? Here are a few tips to help you turn your entry into one of the most attractive rooms in your home.
Create an Art Exhibit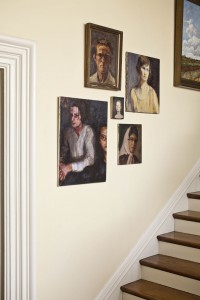 One way to give your foyer jaw-dropping presence is to turn it into a mini art gallery. (Click here to see the fabulous art that's available right now at Nell Hill's Online!) A perfect place to start is your stairwell. The collage of portraits in the photo above hangs at the base of my stairwell. The similar color palette, subject matter and shapes of these oil paintings makes them a grouping in and of themselves, yet they flow seamlessly into the larger exhibit of paintings further up the wall.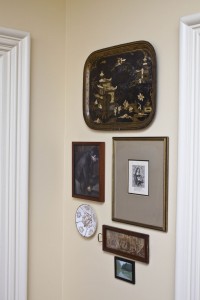 Art can be pricey, so start small. Tackle one little wall, like the one pictured here in my foyer. I created this lovely patchwork of treasures out of a host of dissimilar pieces, from trays to a plate to sketches. You could also start by placing just one nice piece in the center of the open wall space. Then, as you add to your art collection, grow the arrangement upwards and outwards so it eventually fills the entire wall. Or, start with one small cluster of paintings on either side of a large wall then gradually add paintings to each of the groupings until they meet in the middle.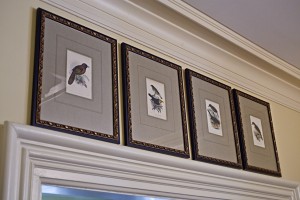 Don't leave any good walls unadorned! I like to feature sets of artwork above the interior doorways in my foyer because it adds to the wow factor of the space. This set of bird prints looks fabulous tucked into the empty spot between the top of the door and the ceiling, and gives the room more grandeur.
Pull up a Chair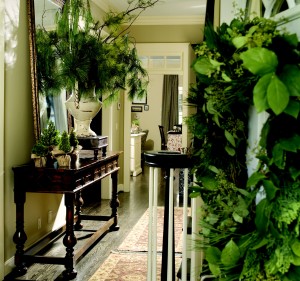 If you have a larger entry area in your home, decorate it just as you would any other space, with killer furnishings, artwork, flooring and accents. In the entryway pictured above, I placed a console table against the largest wall then topped it with a huge mirror. Isn't it dramatic? And, this powerful display doesn't gobble up much floor space, keeping the entry hallway open for traffic. Notice that instead of filling the console table with a lot of little accents, I placed one large urn on top of a riser and filled it with boughs of pine. The accents match the scale of the furnishings perfectly and make a memorable statement.
Similarly, in my home, I have a long, narrow console table against the wall by my staircase, which gives me a spot to showcase a few carefully chosen accessories. I like to change out the display regularly, adding a few touches here and there for each new season.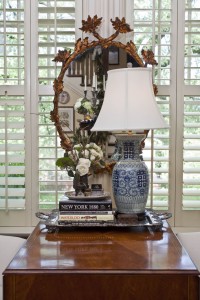 My foyer also has a nook by the front window, which I thought was the perfect spot for a comfy seating arrangement. Now it holds a table and two winged back chairs. The photo above is a close up of the mirror that hangs above the table. I love how the mirror reflects light and makes the little alcove merry.
If your entry area is more like a wide hallway filled with doors to the front rooms, leaving you no wall space against which to place furniture or art, you can still define the space using furnishings. Put an area rug a few feet from the front door, then place a round center hall table on top of it. Dress up the table with a dramatic accent, like a large ginger jar or olive oil vessel holding some foliage.
Stairway to Heaven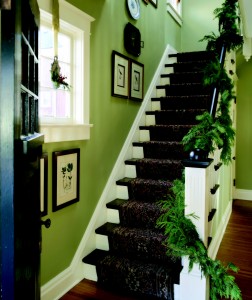 If you live in a two-story home, your stairway may be the focal point of your foyer. If so, play it up to its full advantage. If your steps are hardwood, consider adding a beautiful carpet runner to dress them up a bit. Or, work some magic on the banister with a few cans of paint. One of my favorite looks right now is to paint banister spindles a creamy white, then paint the banister a shiny dark black.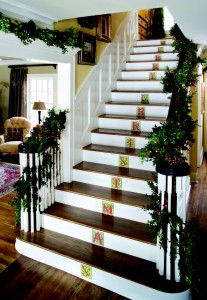 You can also embellish your stairway for the holidays. Here, a friend of mine placed a decal on each step leading upstairs, spelling out a cheery holiday greeting for family and friends.
Arresting Accents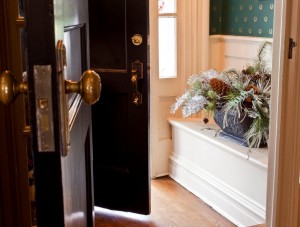 My home was built over 100 years ago, long before central heating and air conditioning, so it was designed to protect its residents against the elements. One trick was a small vestibule between the front door and a second inner door. This quaint little space features a built in bench, designed to sit on and take off your wet shoes, I'm sure. But for me, it's the perfect spot for a seasonal display. I keep a big old cast iron planter on the bench year round, then just change out the display with each new season. If you have a vestibule in your home, give it a little spark so it greets guests as they pass through.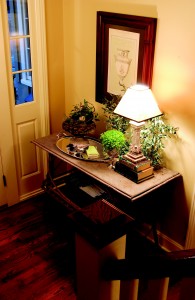 I love how this little entry table in my friend's home is dressed up. The accessories work together to create a charming cottage feel, from the simple wreath to the faux bird's nest accents. The silver tray, placed at the front of the table, is an ideal place to drop your car keys and the day's mail when you walk in the door.
Next Week … When I entertain for the holidays, I love to set up attractive drinks tables, like a stunning bar for a holiday party or a charming coffee service for a holiday brunch. Come find out how to do the same in your home.