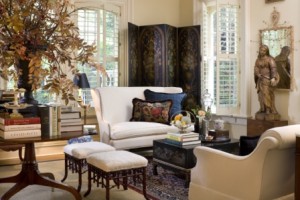 Everywhere you turn in the fall, you see Mother Nature's creativity. The tree leaves are aflame in red, orange and yellow. Bushes and vines are peppered with berries. And don't even get me started on the pumpkins and gourds! I like to bring the outside in when I decorate for every season, but in fall, it's practically mandatory because there is so much beauty right outside my window. One of my tricks it to use lifelike faux greenery in seasonal displays throughout my home. It takes just minutes but transforms my home. Here are six great spots you can dress up with faux greens to make your home beautiful for autumn. 
1. Entry Table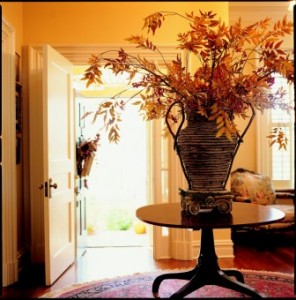 Knock guests' socks off the minute they walk in your door by styling a showy bouquet for your entry. Start with a large-scaled vase, like the twiggy urn in the photo above. To give this urn even more presence, so it didn't get lost in my two-story entry, I bumped the urn up a few inches by placing it on a riser – a faux concrete capital that has been one of our top sellers at Nell Hill's for years because it's such a great all-around decorating tool.
I'm not a florist and crafting a picture-perfect bouquet alludes me whenever I attempt it. So I've begun using nature as my guide when working with faux greens. For our arrangements at the Nell Hill's stores, we start with a base of fallen branches, salvaged from the yard or roadside. With their imperfect twists and turns, natural branches give you a great template to follow when inserting your faux greens. Just mimic the lines of the branches and you can't go wrong.
2. Fireplace Mantel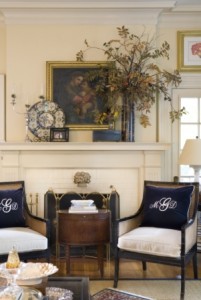 I really like to keep my fall foliage bouquets light and airy, loose and a bit topsy-turvy, so they feel wild, organic and alive. When creating a bouquet, periodically stand back and ask yourself if you've ever seen plants growing like this in nature. If the arrangement looks too perfect, chances are the answer will be no. Mess it up a bit – I think you'll like the results.
When styling fall bouquets at Nell Hill's, we usually combine a mix of faux plants. Once we have our fallen branches in place, we insert our tallest sprays – usually they look like fall branches with the leaves still on. Next, we use shorter sprays to fill in the middle ground. We finish off with a few interesting picks, like berries or nut-covered twigs, which we place toward the bouquet's center or weave throughout. We also like to let vines twist about and hang down. Real honeysuckle vines are one of my favorites.
3. Dining Room Buffet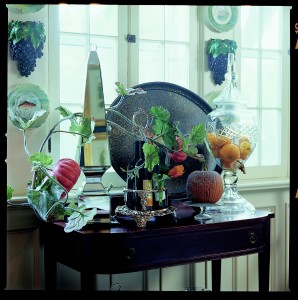 Bouquets in vases or urns aren't the only way to bring fall greens into your décor. In the photo above, from my book Nell Hill's: Entertaining in Style, we found the most adorable fake pumpkin vine, complete with plump pumpkins affixed, and twisted them through the display on the little table that sits under the bank of windows in my dining room. Though not necessarily realistic in appearance, these vines were just plain fun.
One of the most common mistakes people make when working with faux foliage is to not take time to shape each piece until it looks natural. When the garland, sprays and picks arrive at Nell Hill's they are squished flat in packages. Before we put them in our displays, we fluff them out, opening the leaves, giving the branches some twists and turns, until they mimic the growth patterns of real foliage.
4. Tops of Tall Furniture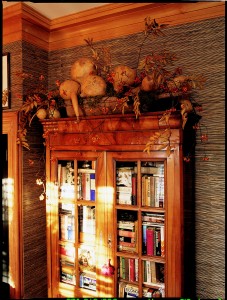 Those "up high" places in our homes are often the hardest to decorate. What do you put on the top of your armoire, bookcase or secretary? Plenty! I like to use this little stage for a faux greenery display. I have had more fun coming up with different looks for the spot on top of the antique bookcase in my study, shown in the photo above. For fall, I perch a wooden dough bowl up there and fill it with varying assortments of gourds and greenery.
When you decorate your up-high places, be sure to let the branches and vines twist and reach into the space around the furniture and trail down the sides of the piece. Otherwise, it will look too staged and stilted.
5. Light Fixtures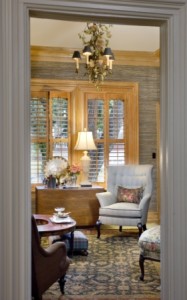 If you want to ramp up the look of your home's fall display, but not spend a lot of time doing it, decorate your light fixtures with faux vines. These dramatic displays are super easy to pull together and take your seasonal decorating to the next level.
Any spot where you have a light fixture that hangs down is fair game. I always hit the fixture in my study, pictured above, because it's a small one and I can crank it out in a snap. But I save my most creative ideas for the showier chandelier in my dining room. If you spend a lot of time in your kitchen, be sure to do that fixture too.
The key to styling your light fixture is to have a faux vine or garland climb the chain in languid loops. Be sure it doesn't look symmetrical or staged. Instead, let the vine meander through the arms of the fixture, then trail down a bit from the center. If you want to take the display a step further, weave in some picks and a twist of fall ribbon.
6. Exterior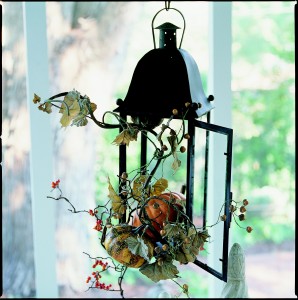 Decorating for fall is an indoor-outdoor thing for me – I like to add touches everywhere. Since I have a semi-enclosed screened porch, this has become a chief spot to dress up for fall. I frequently hang lanterns on my wall, decorating them with faux greens. You can do the same at your home, whether on your front stoop, back patio or in your garden. Want ideas? See last week's blog on decorating your home's exterior for fall!
Fall florals we've fallen in love with at Nell Hill's …
I went nuts at market this year and bought piles of some of the most beautiful faux fall greenery I've ever seen. Here are a few of our favorites: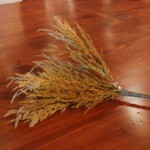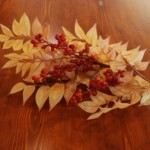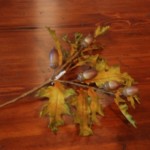 Next Week …  I'll have three gorgeous fall looks for your mantel!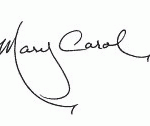 P.S. Don't miss a bit of Nell Hill's news – stay up to date on my favorite finds, new arrivals at the stores and all our special events by checking the Nell Hill's Facebook page every day. You don't have to have a Facebook page yourself to look in on the fun, but if you're already on Facebook, "like" us today!