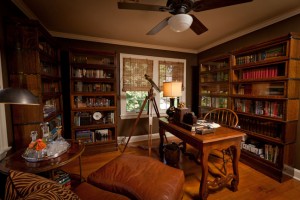 Thanks to technology, many of us log a lot of work hours from home. So a high-functioning home office has become a must. Unfortunately, there's no natural spot for an office in my old house, so Dan and I had to get creative. Dan's office is squeezed into a tiny extra room upstairs that barely fits his leather reading chair, footstool and desk. Every night, he and the dog disappear to Command Central, where I am not allowed to visit or clean. Amidst the stacks of papers and the piles of dog hair, they are both quite comfortable and productive. Do you have a home office space that allows you to do your best work? If not, it's time to create a spot that works for you. Here's how…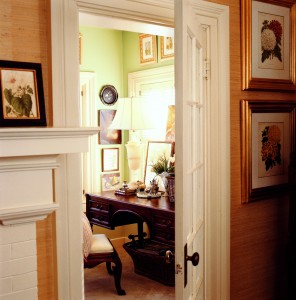 1. Pinpoint who will work in your home office.
Before you can design an office space that's effective, you need to think about who will be working there. Is it just you? If you share the office with a partner, will the two of you be using the space at the same time? Is this where the kids will work on their homework? If so, do you also need space for their calculus study group?
2. Decide how the space will be used.
Do you use your office only on weekends to pay the bills? Do you spend time there every evening catching up on your emails? Do you work from home full time? Do you ever host meetings with business associates at your home office? Before you move forward, you need to know exactly how your office space will be used so that you can design and furnish the room in a way that allows you to meet your goals.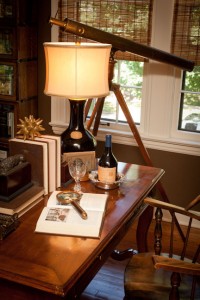 3. Determine what furnishings are a must.
Now you're ready to start thinking about the key pieces of furniture you'll need in your office:
Desk or Table? If you like to work at a desk, there are so many great options out there, from grand wooden desks that serve as the focal point of a well appointed office, to ladies writing desks that can fit in small spaces. Take your time and scout for one that suits the scale and function of your room.
If you don't need the storage a desk offers, you might prefer an architect's drafting table with a large surface on which to spread out. Or, how about a dining room table? I love working on dining tables because you have lots of workspace for big projects. And, dining tables give you added versatility. You can clear it off and use it as a conference table. Or, when you entertain, as a bar or buffet.
Desk Chair. Take careful pains when you pick out your desk chair. Do you want a traditional office chair in a rich brown leather, finished with brass castors? Or, how about an upholstered side chair, like a wing back? You can also use a beautiful dining room chair if you need something in a smaller scale. If you spend lots of time at your desk, be sure to pick a chair that fits you well, providing plenty of support for your back and arms.
Computer Table. Since most of us use a computer for our daily work, you'll need spot for all your gear, like your printer, scanner/copier, router or modem.  You may prefer a specially designed computer credenza that allows you to hide everything away. Or, you could go for something less conventional  and use a sideboard or hutch to house your technology.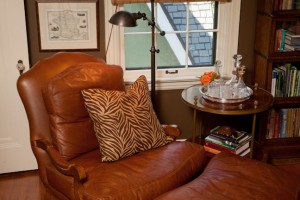 Side Chairs. You may work best when you are folded into a comfy chair with your net book or tablet on your lap. Sound like a dream job? Then you'll want to invest in a great chair and ottoman. I'd also recommend pairing the chair with a sizable side table to hold your papers, coffee and phone.
Bookcases.  Dan never met a book he didn't love, so books have slowly taken over our house. If you can relate, bookcases will be a must in your home office space. Even if you don't have stacks of books, still consider placing a big, tall bookcase in your home office because these majestic pieces ground a room and add another layer of warmth to your home.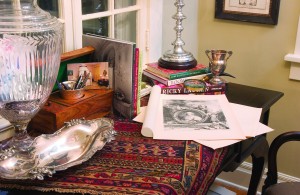 Organizational Tools. Let your creativity run wild when you're thinking of ways to organize your office. Here are a few must haves: apothecary jars, wooden boxes, big baskets and silver serving pieces. Use an old silver spooner to collect pens and pencils. Fill a small apothecary jar with paperclips. Fill baskets and boxes with files.
Lamps. One of the great things about working from home is the chance to escape from overhead florescent lights. You'll need great lighting in your home office, but make it beautiful. Scout for a chandelier that's lovely or intriguing. Top your bookcases with picture lights. Place reading lamps on your desk and side tables.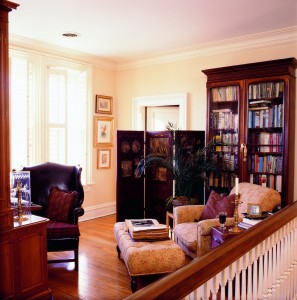 4. Figure out the optimal room configuration.
Your floor plan for your office will flow from your answers to points one and two above – who will use the office and how.  Then, keep in mind how you work best. Do you concentrate best when your desk is against a wall so you have fewer distractions? Do you prefer to be by a window so you can feel the sun on your shoulder? Or do you want to float your desk in the center of the room, so you're right in the middle of everything?
If you're going to entertain clients in your home office, you might want to divide the room into several key areas. Section off a workstation. Then create a meeting area, either with a table or a cluster of chairs. Build in an area for storage, like a row of bookcases.
5. Create a vibe that helps you do your best work.
Are you most at home in an office that's dark and dramatic, light and open, or right and bold?  The paint you pick for your office will not only have a huge impact on the overall look of the space, but also on how well you work there. Check out my custom line of interior paint for colors that are sure to inspire. Once you have picked your palette, you can bring it to life through your accents, artwork and textiles, like window coverings, upholstered furnishings, accent pillows and area rugs.
Next Week … Do you have family heirlooms or childhood keepsakes? These cherished mementos make wonderful decorating tools. Find out how to use your unique treasures to add loads of charm to your interior.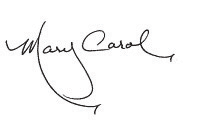 P.S. Don't miss a bit of Nell Hill's news – stay up to date on my favorite finds, new arrivals at the stores and all our special events by checking the Nell Hill's Facebook page every day. You don't have to have a Facebook page yourself to look in on the fun, but if you're already on Facebook, "like" us today!