Dreaming of a new kitchen, one that looks like it was plucked from the pages of a decorating magazine? Who hasn't, right? If it's not in the cards to renovate your kitchen, don't worry. You can still transform the look of this hard-working heart of the home just by decorating it well. Here are three tips to get you started.1. Add Zest with Accents
It's time to harness the power of accents to make your kitchen look sensational. Here are a few of the hot spots I like to hit when I decorate a kitchen:
*Over the Cabinets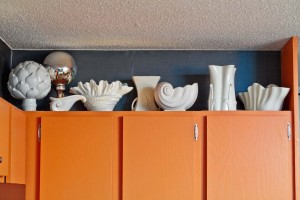 The open space above your kitchen cabinets is a little stage, just waiting for a production. My friend Rich created this stunning grouping with a few choice pieces of his creamware collection. Rich's look is clean and contemporary, so the simple, sleek cream colored vessels are an ideal choice.
When you decorate the top of your cabinets, remember that accents look smaller when they are up high. Little accents will not only get lost up there, they will make the overall display look busy. My favorite approach is to create a tight cluster of interesting accents, combining a variety of sizes and shapes. Right now, I'm recommending the brightly colored pottery vessels that are selling like hotcakes at Nell Hill's. People just can't get enough of these happy, affordable urns and vases and ginger jars.
*By the Sink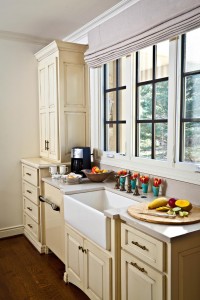 My friend Anne just built her home, so she had the enviable opportunity to create her dream kitchen. And boy, did she succeed! Her kitchen has been featured in magazines, and it's easy to see why. To bring out the great bones of the space, she's selected a few great accents. Check out the little row of vases perched above her sink, in the photo above.  I really like this little display because it's functional, not frivolous. She can leave the vases empty, giving her a little pop of color, or she can fill them with spring blooms.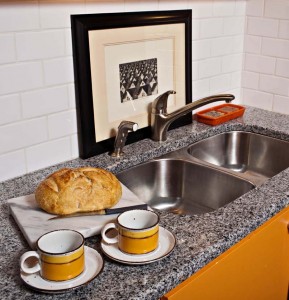 You don't have to have a showplace kitchen like Anne's to fill it with drama. Check out what Rich did in his condo's kitchen. Even though the space around the sink is tight, he made it marvelous by placing artwork behind the faucet. What an inventive backsplash! Similarly, I have a platter behind my faucet because I like the added layer and another chance to decorate with dishes, one of my all-consuming passions.
*On Shelves and Ledges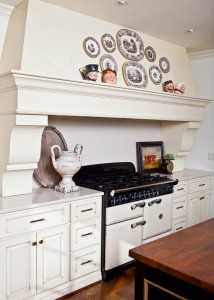 If you are lucky enough to have shelves, ledges or niches in your kitchen, fill them up with accents that express your personality.  The intriguing display Anne created for the ledge above her stove weaves together a few of her mother-in-law's Royal Dalton Toby mugs and a hanging montage of transferware plates. Simple but sensational!
I added a little shelf in my kitchen, hanging it above the doorway that leads to my basement steps, so I could have another spot to display accents. The antique wooden ledge has a few hooks at the bottom, and I like to hang glass votive holders from them, decorating them for the season.
*On an Island or Counter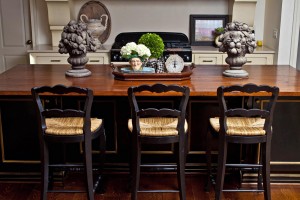 Decorating kitchen islands is a blast, especially when you have as much space as Anne does in her dream kitchen. Anne wanted to leave the majority of the island open so her kids would have plenty of room to eat breakfast or do homework. So she created a simple display at the island's center, anchoring it with two concrete garden statues she got from Nell Hill's. Featuring statuary on your island is a fabulous idea, but be sure to put something under the statues so they don't scratch your counter, and make sure it's not something you'll need to move often – these babies are heavy!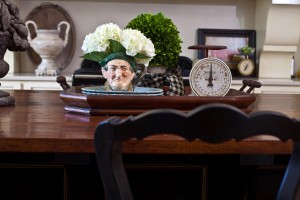 For this smaller central display, Anne used a Nell Hill's trick: Build the tableau on a tray so it's grounded. She's started collecting old scales and worked one into the grouping. Great idea!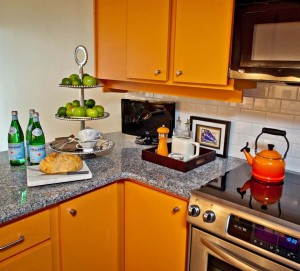 Like me, Rich doesn't have a lot of counter space in his kitchen so he has to carefully choose what he puts out. This tight display artfully combines some necessities, like his countertop TV, with service pieces that maximize space. I use tiered servers like his every time I entertain because they are lovely to look at, use space wisely and add vertical height to the display. We have lots of them to choose from at Nell Hill's.
*Against the Backsplash
I'm such a fanatic about artwork that I like to put it everywhere. Why not against a backsplash?  Rich's kitchen backsplash features white subway tile, the perfect backdrop for peppy pieces of art.
2. Add Personality with Color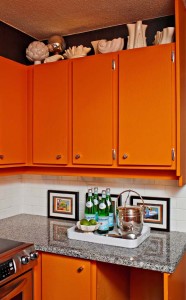 Your kitchen is a great place to work in your favorite hues because you can get away with things in this room that you wouldn't in more formal rooms. When I first laid eyes on Rich's kitchen, with its bright orange cabinets, I jumped for joy. How bold! How refreshing!
If you can't replace your kitchen cabinets, transform them with paint, like Rich did. Bright orange might not be your pick, but there are so many wonderful colors out there, from creamy whites to serene blues to zippy reds, that you're sure to find one that makes you smile.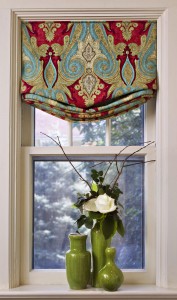 When I renovated my kitchen, I picked cream cabinets, backsplash and walls. But I still wanted to bring in a pop of color so I painted the ceiling blue. Recently, I added Roman shades in a teal and raspberry paisley, pictured above.
Another way to add color to your kitchen is through an area rug. I can't have a rug in my kitchen because we are too sloppy – it would be covered with dog hair and spills. But I envy my friends who can handle rugs because these little islands of color and pattern do so much to warm up a room.
3. Add Stylish Storage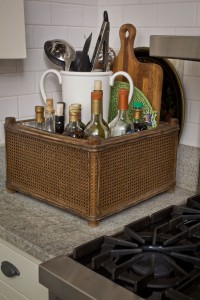 We all have lots of stuff to store in our kitchens, so why not make those storage containers as lovely as possible? For example, I found an old planter that fits in the spot between my stove and the wall, and filled it with all Dan's cooking oils and vinegars. I collected the cooking spoons in an inexpensive white chalice from Nell Hill's.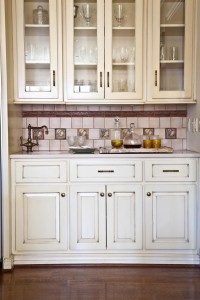 Another must-have kitchen storage tool is a wonderful tray or two. In the photo above, Anne used a big tray to hold drink decanters in her kitchen's wet bar area. Trays give everything that's put upon them a dignified air.
Next Week … At Nell Hill's we have a blast styling displays in bookcases. I'll share our favorite tips for creating sensational displays in your bookcases at home.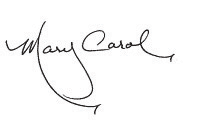 P.S. Don't miss a bit of Nell Hill's news – stay up to date on my favorite finds, new arrivals at the stores and all our special events by checking the Nell Hill's Facebook page every day. You don't have to have a Facebook page yourself to look in on the fun, but if you're already on Facebook, "like" us today!