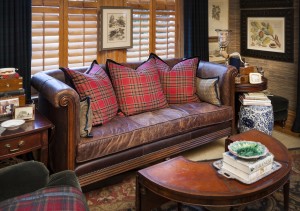 Everybody needs a little leather in their life. Especially when it comes to your décor. Leather furnishings are almost magical because they look good in every style home. You'll find breathtaking pieces that are timelessly classic and those that are edgy and modern. Leather wears like iron and will look as wonderful decades later as it did the day you bought it. To get the full knock-your-socks-off decorating effect of a lovely piece of leather furniture, here are three how-to's I pass on to my customers. 
1. How to Use Leather Furnishings in Your Decor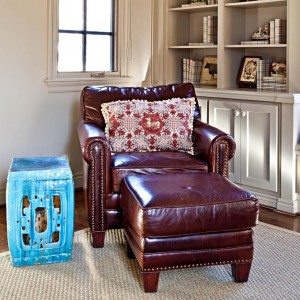 Where should you use leather furniture in your home? Where not! Leather is a great neutral that is full of lots of rich, yummy texture and, depending upon how daring you are, a splash of vibrant color.
My favorite way to decorate with leather furniture is to use it sparingly, mixing one or two pieces into groupings that mainly consist of upholstered furniture. Since I'm not a fan of a matchy-matchy look, I am not partial to the leather sofa, love seat, side chair combo sets out there. A sea of leather can feel cold, and the similar style and shape repeated over and again doesn't lend itself to the visually intriguing look I love in a home.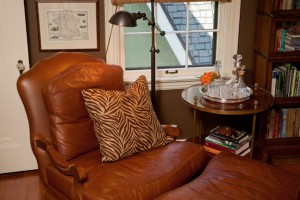 When I design rooms for friends and customers, I often include just one leather side chair or sofa in a grouping of upholstered pieces. Sometimes I place a pair of matching leather club chairs on either side of a fireplace or across from the sofa. Another look I like is a leather coffee table ottoman that acts as the hub of a room of upholstered pieces. I always finish off leather furniture with an accent pillow or two, picking patterns that play up the natural richness of the leather while also bringing in color and pattern.
I also like to use leather as welting on sofas, chairs and pillows. It finishes off furniture with a nice edge. Plus, since it's durable, it's a great material to use in high traffic spots like the edge of a seat cushion.
2.  How to Pick the Leather Furniture that's Right for You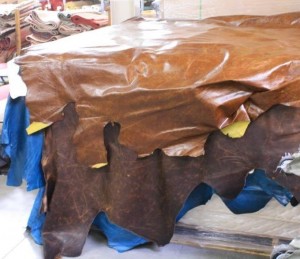 Insist on Quality. All leather furniture is not created equal. Some grades are higher quality than others. You can often tell by the look and feel of the leather. And even if the difference isn't immediately apparent on the showroom floor, you'll be able to tell the difference soon enough. The quality piece will still look amazing in 20 years and the inferior grade will look bad after just a few.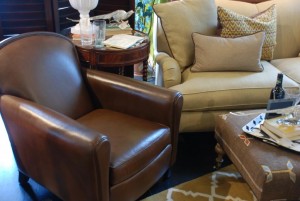 Select a Finish that Fits Your Lifestyle and Tastes. When it comes to picking the finish for the leather pieces we sell at Nell Hill's, we prefer three different styles: aniline, wax pull ups and aniline plus. Each finish has its own look and advantages, so it's key that you understand each so you can select the finish that best suits your tastes and lifestyle.
Aniline hides offer the most natural looking finish because they preserve the patterns and tones of the leather instead of covering them up. In this process, the full-grained hides are stained with translucent dyes, a process that gives expression to the hide's fine textural variations and nuances of tone. Each hide looks unique, with its own character and imperfections. This is my very favorite finish because I think the blemishes make the furniture more interesting.
Wax pull-up hides are treated with a combination of wax and oil, which completely permeates the hide and does a great job of resisting moisture. They are  a great pick for people who want a more perfect looking leather piece that is characterized by a consistent color tone and minimal variation in pattern.  It's more scratch resistant, so is a good choice if you want furniture that will give you a consistent look through the years.
Aniline plus hides are full grain, aniline dyed leathers that have a thin layer of matching pigment applied to the surface of the hide to minimize the naturally occurring variations in shade. This finish is more sun resistant and does well under a lot of wear and tear.
Select a Style You Love. Since leather lasts for decades, I recommend picking a style you will still love 20 years from now. Here are four possible approaches: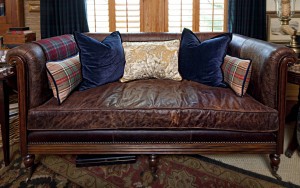 A classic frame covered in a classic color. Since I'm a traditional girl at heart, I've tended to pick classic pieces of leather furniture for my own home. You'll find a chocolate brown chesterfield sofa in my den and a leather chair upstairs in Dan's office.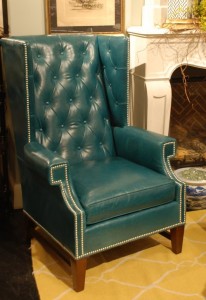 A classic frame covered in contemporary colors. Furniture makers these days are doing phenomenal things with color when it comes to leather furniture. These wonderful pieces rejuvenate classic silhouettes with hip colors like turquoise, buttery yellow and green. A fun marriage of classic and contemporary, these brilliant pieces make a great addition to a traditional room you want to be more fun and exciting.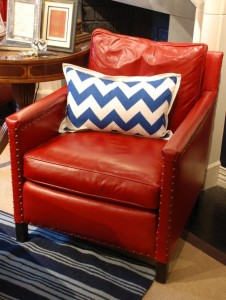 A contemporary frame covered in a contemporary color. The color wheel is spinning round and round when it comes to leather right now, and the frames are getting more and more fun. I'm crazy about the boxy red club chair covered in red leather that's pictured above at Nell Hill's Briarcliff. Put this baby against a navy blue wall and it's perfection!
A contemporary frame covered in a classic color. Leather is a super sexy material, and when you place a classic color like tan or brown on a contemporary frame that pushes the boundaries just a bit, you get one provocative piece of furniture.
3. How to Care for Your Leather Furnishings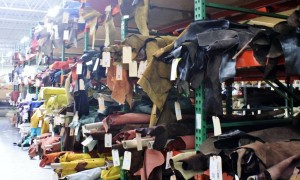 Of all the upholstered furniture you own, your leather pieces will be the easiest to care for. How you protect it and clean it depends upon how your furniture is finished. My recommendation is that you always defer to the manufacturer's recommendations before doing anything to your leather.
Most leathers are protected by a clear top coat that seals the surface from moisture. Or, you can apply a product yourself that penetrates the hide and gives it a protective barrier.
When your leather piece needs to be cleaned, manufacturers usually recommend using clean, distilled water and a natural sponge or cotton cloth to lightly dab the affected area. Be careful not to soak the leather or you might create another, larger stain. And, whatever you do, don't rub the area – you will spread the stain and push it farther into the material. When you dab, you're trying to transfer the stain from the furniture to the cloth.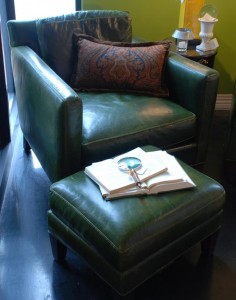 If your leather is stained by something oily, it can usually be removed if you act quickly. Apply a small amount of cornstarch or talcum powder to the area and let it sit. Then, wipe it away with a dry cloth. You may need to repeat the process a few times until all the oil has been fully absorbed by the powder.
If your leather furniture is made from wax pull-up hides, you can try this cool trick to remove scratches: Hold a hair dryer a few inches from the scratch, heating the area around it to bring the wax – and color — back to the surface.
Next Week … Do you have any collections? I'll share some tips on how to showcase these treasures in your interior decorating.