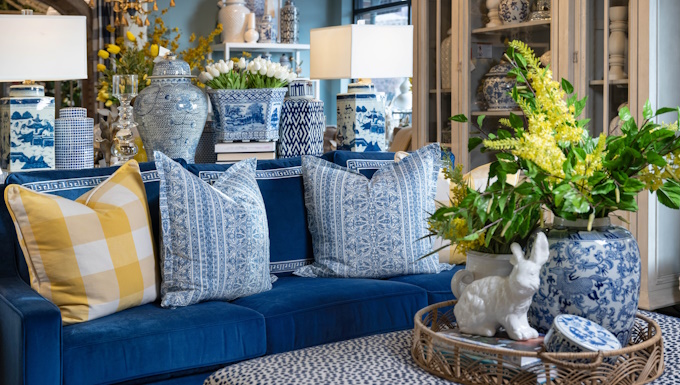 Shop Custom Furniture and More that Showcases Your Personality at Our Kansas City Home Decor Store
Creating a warm and inviting home goes beyond design know-how. A space may check all the boxes on paper, but if it lacks personal touches, it can fall flat. After all, where you live should reflect who lives there. By incorporating your personality all throughout your home, you succeed in achieving a design that's authentic to you. And if you ask me, there's nothing more welcoming than that!
Of course, that's easier said than done. You first have to know what your personal style even is, and with countless sources of design inspiration out there, that can be a challenge. Maybe you have a lot of ideas but don't know what to focus on, or you feel like your tastes are a bit all over the place – believe me, I've found myself in these situations, too.
The good news is that you don't have to go it alone. The Nell Hill's team specializes in bringing home visions to life. One of our design consultants will get to know you, your lifestyle, and your preferences to help you zero in on a one-of-a-kind style you adore.
With all this in mind, I sat down with our design consultants to talk through personal design styles and give you a head start on better understanding yours before you shop with us at our Kansas City home decor store. Keep reading to learn more about how our home design consulting services can benefit you.
Home Decor Tips for Finding Your Unique Aesthetic
According to Merriam-Webster, style is defined as "a particular manner or technique by which something is done, created, or performed." When it comes to your home, that translates to how you choose to make design elements work together.
Your personal style is yours to shape and mold as you see fit and can be influenced by a variety of factors, including your cultural background, upbringing, and individual interests. By taking a unique approach to design, your home tells a distinctive story and becomes a larger part of expressing who you are.
Here are a few home decor tips from our design consultants to help get started uncovering your personal style.
Figure out what you like: Take some time to think about your lifestyle and preferences. Considering how you use your home and the activities that are important to you is the first step to knowing what types of furniture and decor should fill your space. Are you someone who enjoys entertaining, or do you like cozier, more intimate gatherings? Are you a maximalist at heart and want lots of belongings on display, or do you lean more minimalistic? Reflecting on your daily routines, interests, and likes will help you navigate the wide range of interior design choices out there and better inform your purchasing decisions.
Don't be afraid to take risks: One of my favorite sayings is, "Great things never came from comfort zones." And I've found that, in addition to goal-setting, this also applies to design styles. By experimenting with different pieces and combinations than you would normally pick out, you can continue to hone your aesthetic and may just develop an unexpected look you love.
Enjoy the process: Creating a personal style should be enjoyable, not stressful. Nell Hill's design consultants aim to make the process fun by getting creative, trying out new things, and recommending solutions that inspire you.
Build on your design style over time: Rome wasn't built in a day, and neither is personal style. Setting out to decorate your home in an afternoon increases your chances you'll end up with a design you're not completely happy with in the long run. As we grow as people, so does our style. By enhancing your spaces little by little with high-quality investment pieces, you ensure your aesthetic remains authentic.
Our Design Consultants Make Elevating Your Personal Style Their Top Priority
When you visit our Kansas City home decor store, you'll collaborate with a design consultant who's passionate about making your dreams a reality. We believe in learning more about who you are and how you live, so we can help you create a design that not only looks beautiful, but also represents you. No one wants to feel like a stranger in their own home; you deserve a space you can relate to and be comfortable in.
At Nell Hill's, we carry several exclusive furniture and fabric lines that feature options for every taste, making the possibilities endless. Our design consultants will be there every step of the way to ensure your personal style stays at the forefront of your design.
Book an Appointment with a Nell Hill's Design Consultant Today
Now there's nothing left to do but get started on your design journey! We're ready to help you discover your personal style and inject it into your home with thoughtful, new traditional design techniques. Our home design consulting near you allows you to revitalize your space, so it's something truly special to come home to.
I can't wait to see you at our Kansas City home decor store! Schedule a complimentary appointment with one of our design consultants today by calling (816) 746-4320 or sending us a message online.
Until next time – happy decorating!