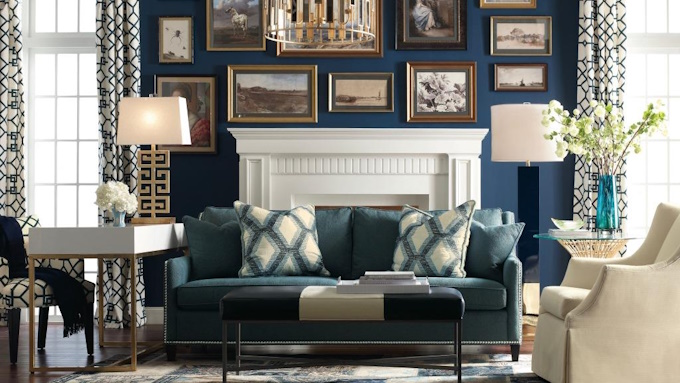 Shop 18,000-Square-Feet of Solid Wood Furniture, Home Decor, and Much More
When Mary Carol Garrity founded Nell Hill's in 1981, she established our commitment to heirloom-quality furnishings and exceptional customer service early on. She had been a longtime mentor of mine when I took over the business in 2019, and ever since, I've remained passionate about continuing to grow not only Nell Hill's, but also the new traditional design style we've become known for.
Our KC furniture store is a special place to be. In fact, it's my favorite place to be. Nothing compares to this 18,000-square-foot oasis filled with gorgeous solid wood furniture, wall decor, lighting, and home accents, and it's my greatest joy to help individuals and families bring their dream home to life.
Visiting Nell Hill's is an experience, whether you're simply wanting a day of fun shopping or you're coming in with a specific vision for a home redecorating project. It's my belief that being here should bring out your inner interior designer and allow you to get in touch with your personal style. After all, that's how the best designs are made.
People from all around the country come to Nell Hill's to indulge in all we have to offer, and I can confidently say that we've built something unique – something unlike any other furniture store in KC.
Keep reading to learn more about what makes Nell Hill's the Kansas City establishment it is today.
Our KC Furniture Store Carries an Unbeatable Selection
Our KC furniture store contains home furnishings you'll only find here. With hundreds of furniture pieces, upholstery fabrics, and more, we have everything you need to craft a stunning design from floor to ceiling. And because our offerings are carefully curated, you can have peace of mind that every piece is held to the same high standards and made to last.
Nell Hill's specializes in new traditional design, which blends classic with contemporary. Although this style certainly achieves gorgeous results, its versatility is what excites me time after time. New traditional design is left to individual interpretation, meaning it's up to you to decide how traditional and modern elements fit together.
Whatever your preferences, there are endless ways to incorporate this style into any space. To me, new traditional design is all about authenticity and showcasing your personality through your choice of furnishings. When you're at our KC furniture store, you'll have access to a one-of-a-kind selection aimed at helping you do just that.
Our Design Services Are Second to None
One of the hardest parts of shopping furniture for sale near you is doing it alone. Although your design should be a reflection of you, it can be beneficial to have an objective and experienced perspective to help you fine tune the details.
At Nell Hill's, you'll collaborate with one of our skilled design consultants to make your vision a reality, no matter if you're wanting to update a single piece of furniture or an entire room. Our team will consider your design goals and inspiration to help you create a show-stopping space you can't wait to come home to.
If you're not sure where to start, that's OK, too. Our design consultants are experts in their field and can offer advice and recommendations that put you on the right path toward realizing an interior design that feels true to you.
Shopping at our KC furniture store means you'll never be left wondering what the right next step is or if an idea will even work in the first place. Our team joins you on your design journey, working with you to develop your personal style and flawlessly execute it in your home.
Visit Our KC Furniture Store Today to Get Inspired
Once you walk through our doors, you'll get to experience the Nell Hill's difference for yourself. See and touch a wide variety of furnishings that speak your style language, and customize them to your preferences with the help of our design services.
When you're considering making changes to your home's decor, I invite you to our showroom to simply check out our offerings. You may be surprised by what you find and are sure to leave inspired. I may be biased, but there's a reason what Mary Carol began has become one of the most popular furniture stores in KC.
Visit us today in Briarcliff Village; we're open 10 a.m. to 6 p.m., Monday through Saturday, and 12 to 5 p.m. on Sundays. Or call (816) 746-4320 to book an appointment in advance with one of our design consultants.
Until next time – happy decorating!