Every day, my husband, Dan, takes our golden retriever, Lyric, out for a walk around our little lake community. Good thing they aren't trying to rack up steps on their Fitbit, because I think they stop to chat with neighbors as much as they walk. I like that about our neighborhood. Folks are warm and welcoming, happy to linger with you on your front porch, talking about the weather or news of the day. That's why I want my front door to say welcome, an invitation to come on in.
Sometimes it can be hard to come up with interesting treatments for your door. So, I invited the visual design team from Nell Hill's to come over to my cottage and work their magic. They created five sensational looks to inspire you as you dress your door for fall.
If you want simple yet stunning, this ideas is for you. We hung a fall swag from a little nail in my door, then filled in with a few of our favorite fall picks to make it fuller, more 3D. We finished off with long twists of ribbon: a ticking-inspired stripe and a cream ribbon dotted with pheasants. Tying perfect bows is hard, I think. So we cheat. We create a few loops, then use plastic zip ties to hold them in place.
Here's another way to make a fall leaf swag a bit more interesting. We zip tied in faux antlers about a third of the way down on the swag. Then we wove in smaller fall picks: some contrasting leaves and white sticks.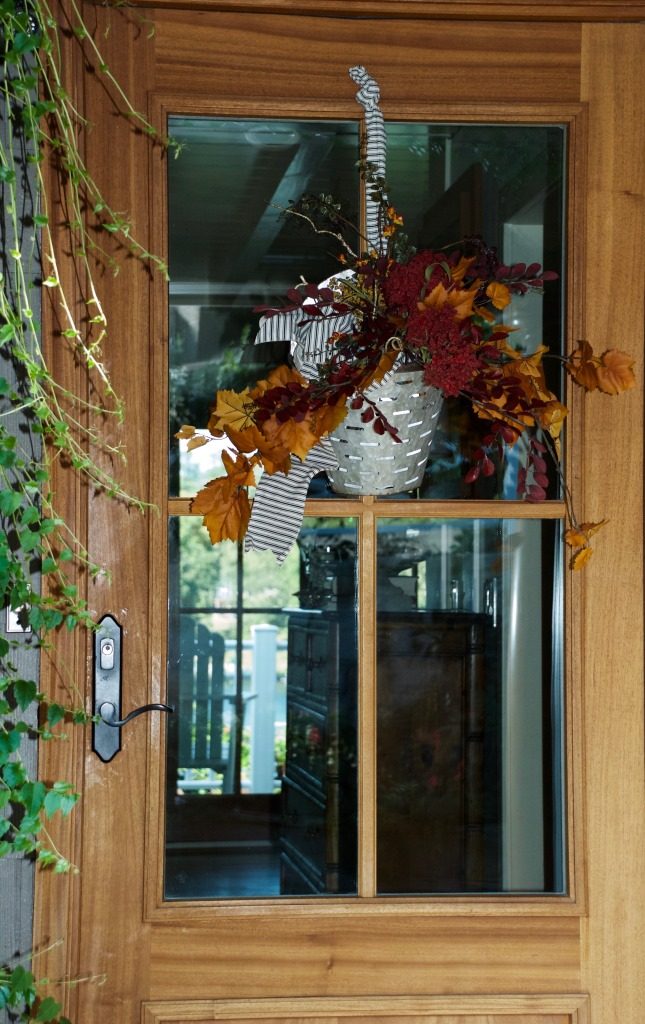 For this fun idea, we picked a cute little metal tin and used it as a basket for a cascading bouquet of fall florals. I love, love my ribbon, so we finished it off with some twists and turns of the sweet ticking pattern.
We have had more fun with this amazing wreath this year. When it comes in the box, it's flat as a pancake. Then, with a little finessing, it springs to life and becomes this rich, full, fabulous halo of fall leaves. One of the reasons wreaths are a perennial favorite is you really don't have to do much to make them look great. We just added in a duo of bows, picking this rust ribbon trimmed in plaid to pull out the hues in the leaves.
Here's a close up of our lead photo so you can see a bit of the detail. This one is more elaborate and best for porches that are protected, not buffeted by rain and wind. We started with a long, thin and pretty flat basket, securing it to the door with zip ties. Then we added in a bronze wall sconce. We have these fabulous battery operated fake candles, some that even work on timers, that would be perfect here. They allow you to get the warm, twinkling effect of a real candle with none of the danger or hassle. We finished by snaking in a fall leaf swag, perked up at the focal point with a few red berry picks.
Next Week … Come with me to Riverbend, my friend Beth and Mike's special home in the country, where we'll treat you to a fall picnic in the apple orchard.