Although I have a deep love for textiles year round, I've been feeling extra inspired by all of the beautiful fabrics that we have in stock lately. I'm not sure if it's the shift in the weather, when beautiful knits and tartan throws beckon me to snuggle up and stay a while, or the fact that the Fall season brings with it a new slew of autumnally inspired fabrics to our showroom floor. Probably a little bit of both! The beauty of textiles, to me, lay not only in the cloth itself, but in the endless combinations that exist depending on the style of the individual that holds it.
The Nell Hill's designers are always mixing and matching fabrics to create one-of-a-kind textile compositions alongside their clients, and it's such a treat to peek in the design room to see what they are working on. It's there you can find them carefully curating collections of fabrics or scouring over the trims and ornamental elements to add a little whimsy and detail. I'm often in awe of the way they bring together their clients' visions to life, so for fun, I asked them to whip up some examples of flatlays with a fall feel. The most important part of the challenge? Every grouping had to incorporate at least one plaid (of course)!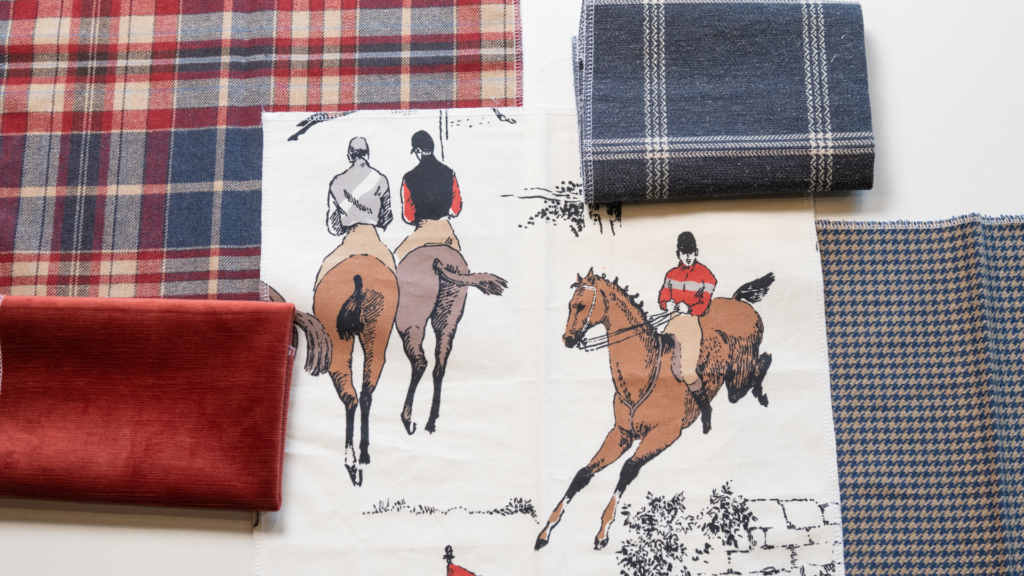 Flatlays aren't just pretty to look at – they create an overall feel, mood or vibe for a project. They help us visualize all aspects working cohesively to create an overall look in a space, and are an important step in the design process here at Nell Hill's. Hopefully you'll enjoy them as much as we did making them!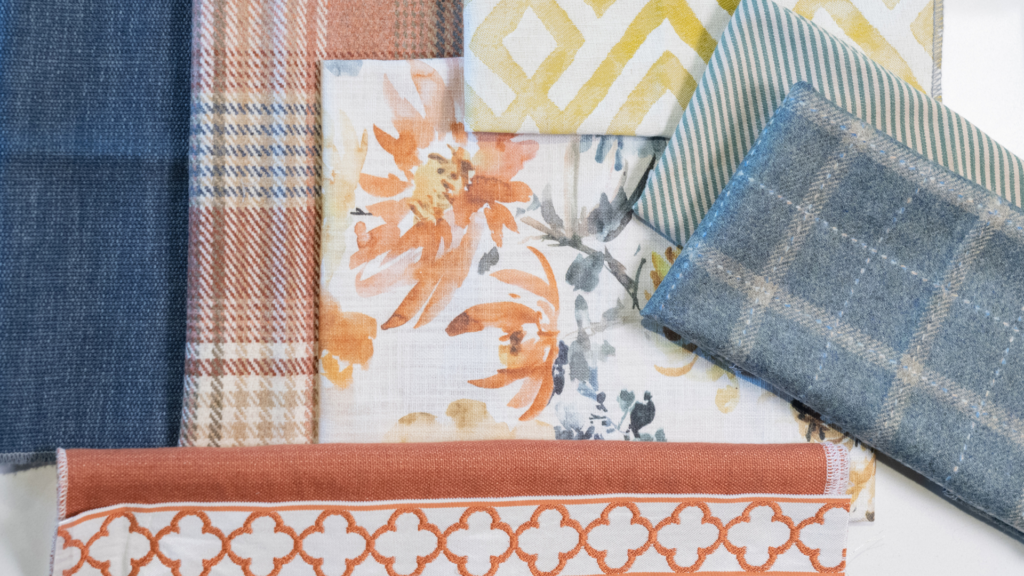 Our first designer flatlay design comes from Rebecca (above). She was looking to create something perfect for Fall, with a colorful punch, and I absolutely think she delivered. Rebecca calls this style "Traditional with a Twist", and brought cohesion with the tonality of the colors she used. It's lovely to see a bright floral used during the Fall season, and this fabric lends to the season beautifully. Her tip for trying out a similar style? Treat yourself this season by shopping for a new "hero" fabric – like a dynamic print – and then work in some existing "basics", like plaids, stripes, or solids. Take a step back to see what's missing and add to the composition as needed. Great advice, Rebecca!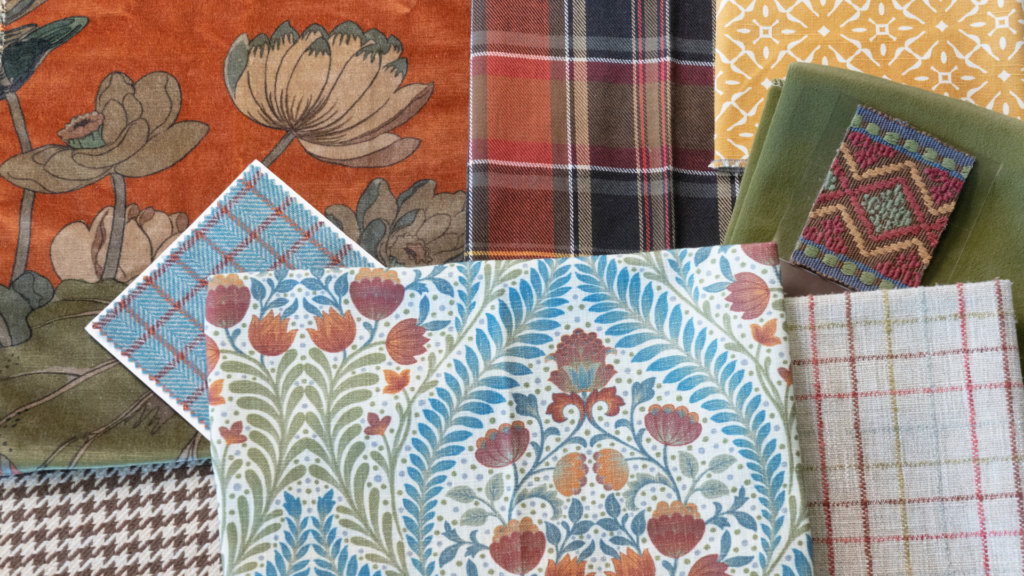 Next up is our designer Liz! You may have noticed by her designer bed, recently featured on the floor, Liz isn't afraid or color. For this design, she started with the Newcastle Harvest fabric, one of her new favorites.  Liz loves how the colorful vines pair well with the straight lines of the plaids and windowpanes. We think that this look falls squarely in the Nell Hill's Traditional camp – we sure love our plaids and houndstooth! The beauty in this design is in the mix of patterns and scale that make them work well together for any space. Her favorite detail is the pop of butterscotch that brings warmth to the composition. When building a flatlay or design you love, Liz says start with one inspiration. Whether it be a fabric or a piece of art, everyone needs somewhere to start!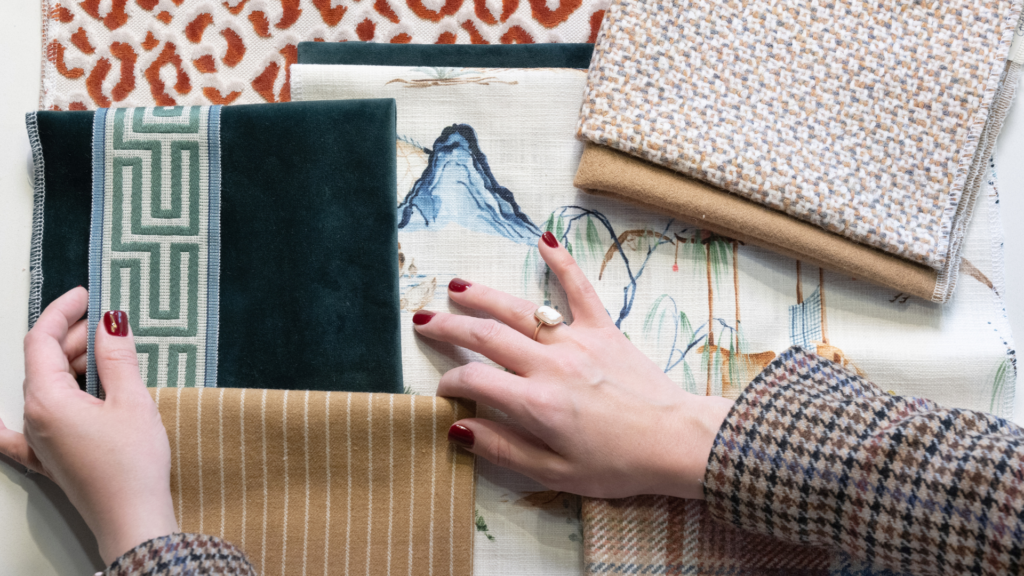 Jenna created this exquisite palette inspired by the versatility of color in the Asian toile focal fabric. This style has a traditional undertone paired with bold velvets, classic menswear patterns and wool textures that warm it up for the colder months. When designing, Jenna starts with her main accent fabric and pulls out the colors and tones that speak to her most. I would be hard-pressed to find a favorite detail, but love the mixture of patterns and textures of this flatlay. When recreating this style at home, Jenna says, start with the toile. "Find a toile that speaks to you! Next, find a small print, a solid, and something with a fun texture that will accompany your main fabric. Layer in a trim or two for a bit of 'sparkle'."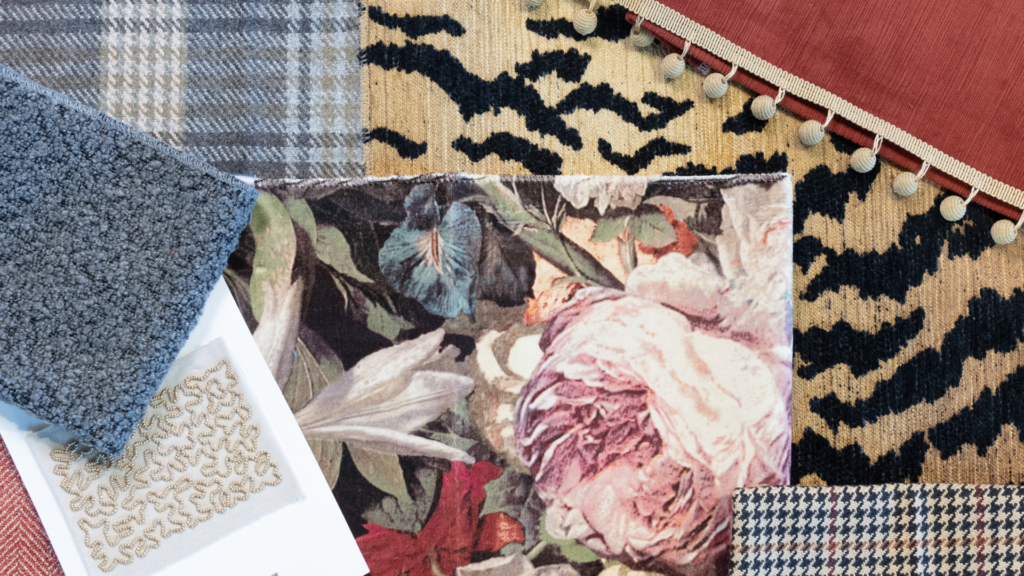 Next, Taylor was looking to create a design with a more formal edge for Fall. Starting with the plaid first, she pulled in textiles that are full, rich, and bold – perfect for her look 'Luxe Fall'. She worked to ensure the proper balance of texture and pattern. Adding in the floral aspect alongside the other organic-feeling elements and colors brings a feeling of continuity. When asked about her favorite detail she said, "I always love a good animal print so that's probably my favorite, but the trim from Schumacher is a close second." Her design tips: pull fabrics rich in texture and color. Choose one you really love as the foundation and start from there! Think about fabric pattern and scale throughout the design, and after you've collected your favorite fabrics, it's time to add the "icing" pieces like trims, tassels, and other fun details!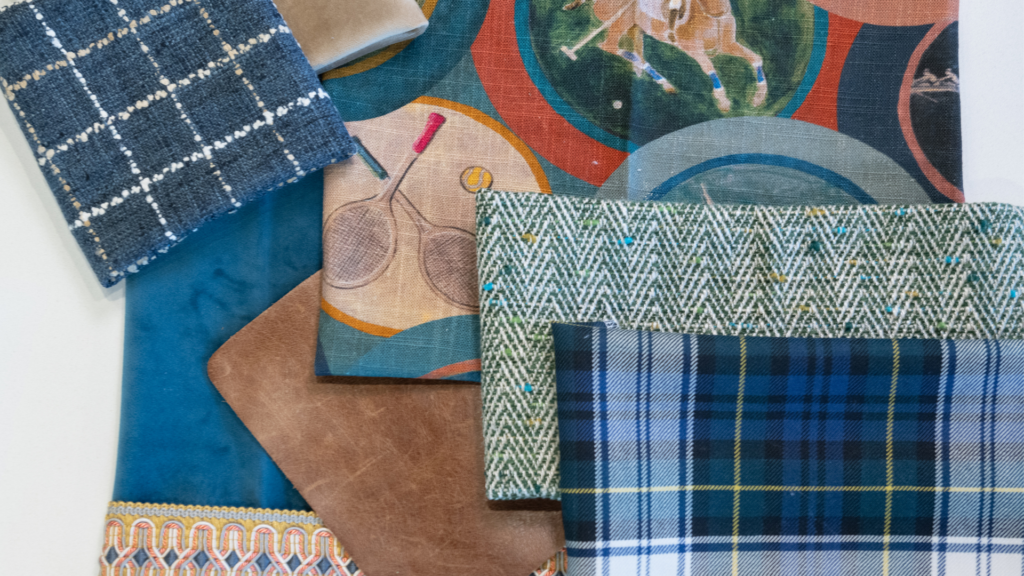 Dianne loves all things plaid and inviting, and her flatlay definitely tells that story. Not one to shrink from a niche design, she would describe this look as an autumn expression of traditional English style with an American flare. I am especially fond of the way the focal fabric – a sporting design in more ways than one – provides the color inspiration carried throughout the grouping. The addition of leather in a chestnut finish would offer serious equestrian lifestyle vibes when featured on a bench, ottoman, or chair. Small, but mighty – the trim is my one of my favorite details in this design. With color and texture, it adds the "jewelry" to the design, so to speak. I asked her if she had a tip for anyone designing at home and she had this to say, "Start with the inspiration fabric and add texture, patterns and color.  Keep in mind the other details in the room such as window treatments, area rugs and wall covering (even if you're not tackling them all at once)." Great advice, Dianne!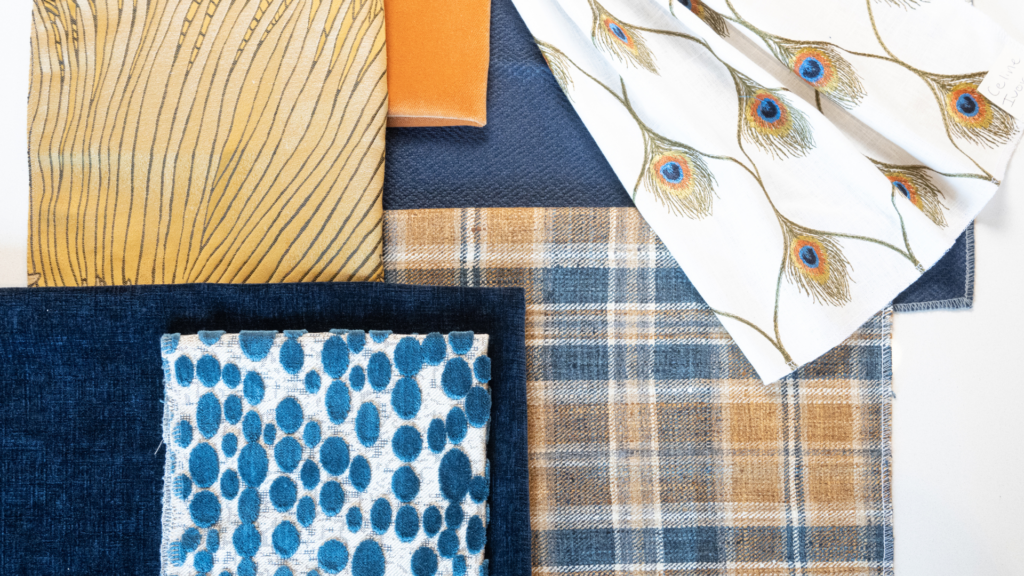 Last but not least is this jewel-toned flatlay from designer, Glenna, inspired by the gorgeous new peacock feather fabric we have in stock. She isn't afraid of mixing and matching to create new styles for her clients, like this eclectic look, a mix of old and new textile designs. What is it about these fabric pairings that make them "work" together? Glenna says it's the color palette, all of which were pulled from her original inspiration fabric – the peacock. Not to be outshone, the organic dot cut velvet fabric is one of her favorite details of this look. Velvet brings a richer look and amazing texture to a space and makes for a great addition to any design layout. Glenna's advice for creating a space that feels like "you" – do not be afraid to pattern mix more traditional style textiles with the bolder and brighter textiles, you can't mess it up!
I hope these flatlays inspire you to create something beautiful for your home! It's the perfect time to stop by Nell Hill's – all of our scrumptious fall fabrics are on display for you to enjoy both on the bolt and made up into pillows and bedding. And remember, our designers are always on standby to help guide you while creating your dream space if you're in need of a little inspiration. Do any of the looks above inspire you? Tell me in the comments!