Springtime Trends for Your Home With Nell Hill's
With the arrival of spring comes a renewed sense of energy and joy, and what better way to celebrate the season than by incorporating playful and charming seasonal touches into your home decor? For me, Spring decor harkens the arrival of fresh florals and of course, bushels of bunnies! 2023 is the Year of the Rabbit after all, according to the Chinese zodiac, making it an especially auspicious time to add these adorable creatures to your interior design.
Sprucing up your space with bunnies and florals is a whimsical way to create a fun and fresh spring-time atmosphere in any room, and there are endless possibilities for incorporating them into your decor, from figurines and wall art to textiles and dinnerware. In this post, we'll explore some creative and stylish ways to bring a touch of springtime charm to your home.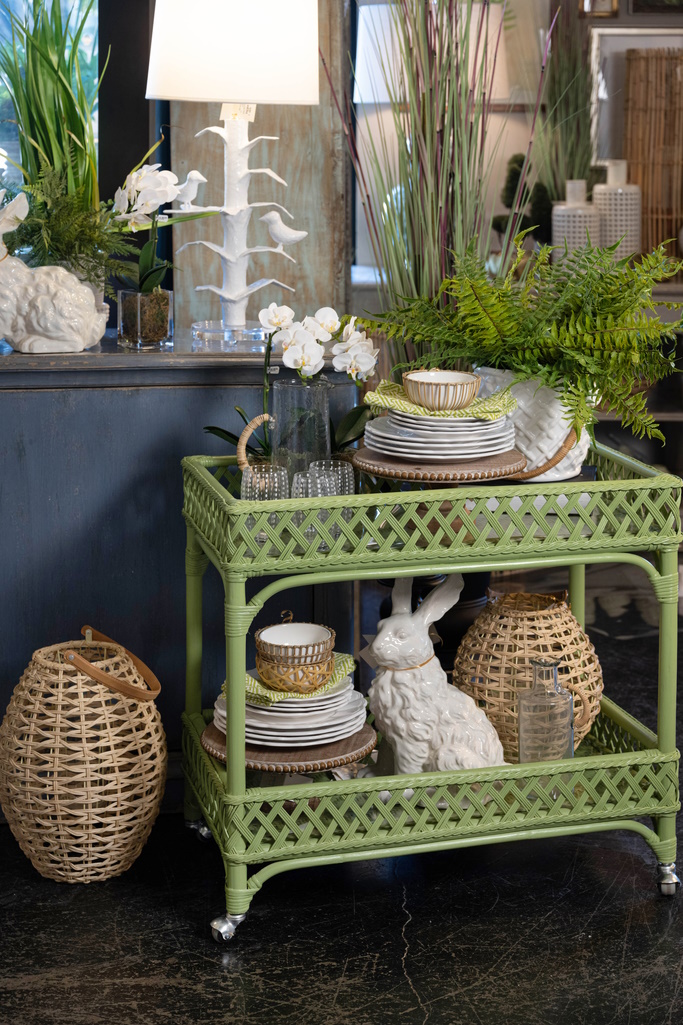 A fully-decorated bar cart is a perfect resting place for this stately seasonal rabbit
There's a Bunny for Every Style
Although the origins of the Easter bunny are somewhat shrouded in mystery, one theory is that the symbol of the rabbit stems from pagan tradition, specifically the festival of Eostre—a goddess of fertility whose animal symbol was a bunny (please forgive this Religious Studies Minor as she geeks out just a "hare"). Wherever they come from originally, the shop is positively full of bunnies in all forms. In varying sizes, they range from elegant white ceramic, to detailed and delicate bronze, to whimsical and wooden. No matter your personal style, I truly believe there is a bunny to match! Which leads me to my next very important point.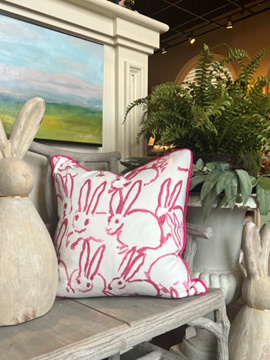 There are endless ways to incorporate bunnies into your decor for spring, don't forget about textiles!
Don't fall into the trap of thinking anything will do for spring decor. Take your time and find pieces that truly resonate with you and that you will love to use year after year. Those bunnies and eggs that you display will look a lot more natural and "at home" in your space if they stick with the style to which you ordinarily gravitate.
Once you find a bunny (or two) you love, it's time to display it! If you are looking to create a sweet Easter or spring vignette with your bunny as the shining star, start by placing a large bunny in the center and add smaller items around it, such as candles, vases of flowers, or even decorative eggs. You can also use bunny-shaped objects, such as ceramic bowls or candle holders, to add a playful touch to your display. If you're looking for tips on how to create a well-balanced vignette, I gave some tips in my last post, Building Your Bookshelf.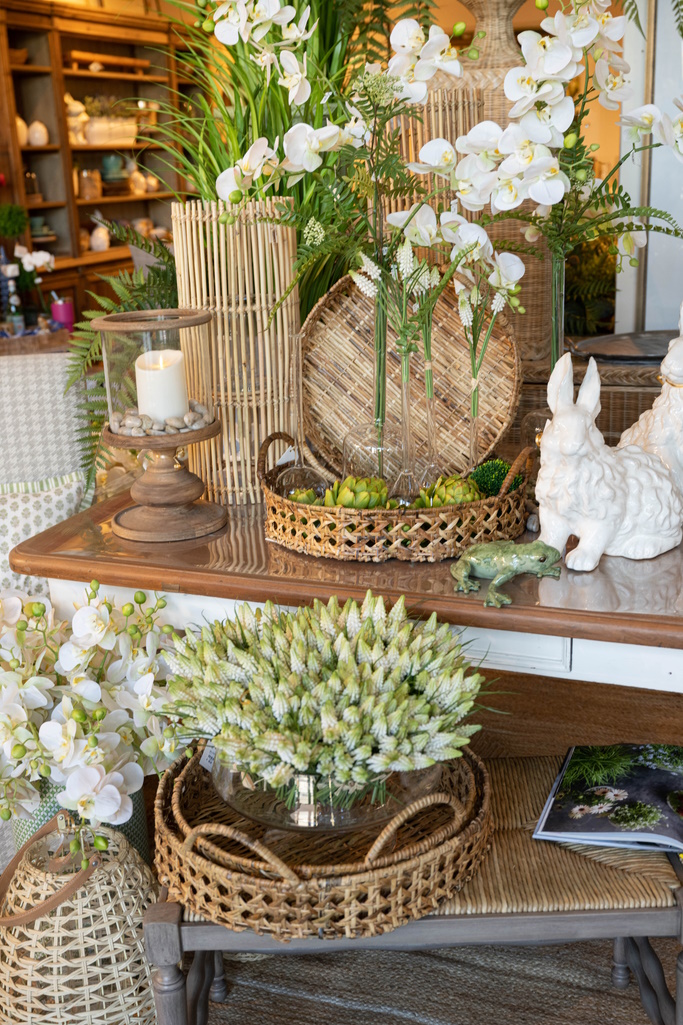 Fresh florals add texture and visual interest and bring an organic element to the design
Make Bunnies the Center of Your Table
Spring can bring a dizzying array of get-togethers and the table is a fun place to set the scene for all the festivities during the upcoming months. For an effortless springtime table, I like to keep a main centerpiece and rotate decor and each place setting around it. The centerpiece can be as simple or elaborate as you like, and you can add different elements to it as the season progresses.
Tablescapes can be as full or as minimal as you like, and can evolve with the seasons as you swap decor in and out
At this table, ginger jars, statement bunnies, and greenery fill the center of the table, with bunny dishes nestled amongst them. For now, little brass bunnies rest in nests of greenery at each place setting atop a stack of sweet dishes. After Easter, they might be replaced with little birds or other natural elements to round out the season.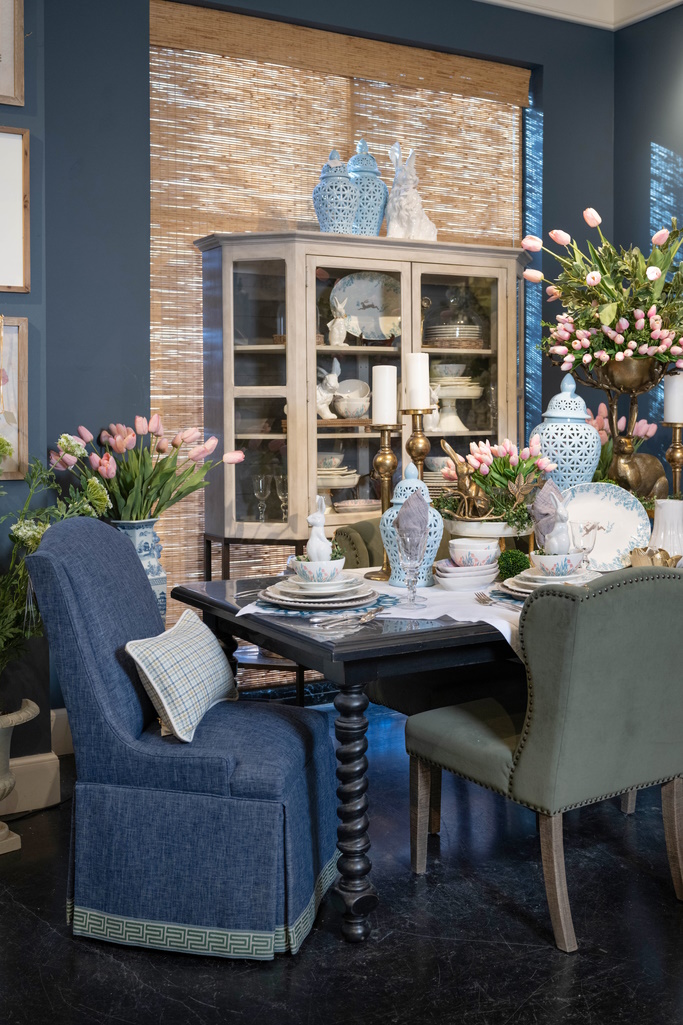 An Easter table delights, with whimsical bunnies featured at each place setting
This next tabletop proves that springtime doesn't have to be all about pastels. This tablescape takes the less expected approach with pops of citrus tones that pair perfectly with our beloved blue and white. White ceramic rabbits are the perfect addition; they look absolutely at home amongst the fine floral dishes and blooms, and their monochromatic color keeps the arrangement from looking too busy.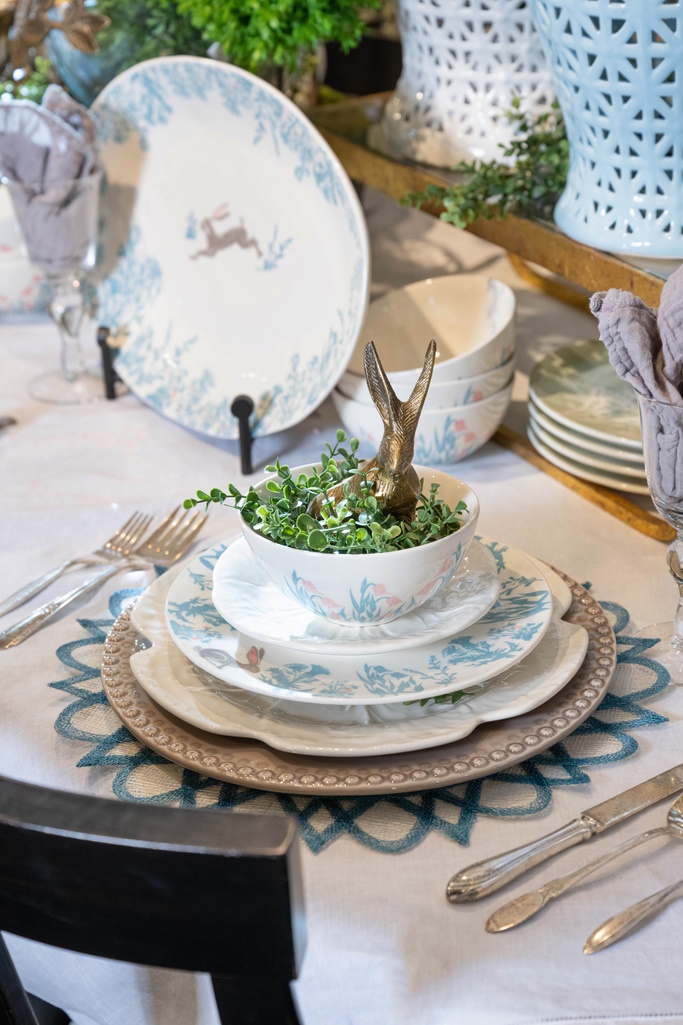 Citrus yellow is a fresh and preppy pairing with blue and white
On Decorating for Easter and Spring
One thing to keep in mind when decorating for Easter and spring in general is that you don't have to go crazy with decor – a few new stems and a bunny or two can go a long way. But I know some that take this time of year as an opportunity to start fresh with their decor – literally! If you're also looking incorporate more springtime touches around the house, consider swapping out darker, heavier textiles, like throws and throw pillows, for lighter and brighter options or exchanging a few pieces of art on the wall with something botanical and full of life.
Don't leave out the outdoors when it comes to refreshing for spring. Adding seasonal touches to your patio or outdoor living space is a great way to encourage use of the space as the days get longer and warmer. New outdoor furniture might be in order, or maybe a few new outdoor pillows will do!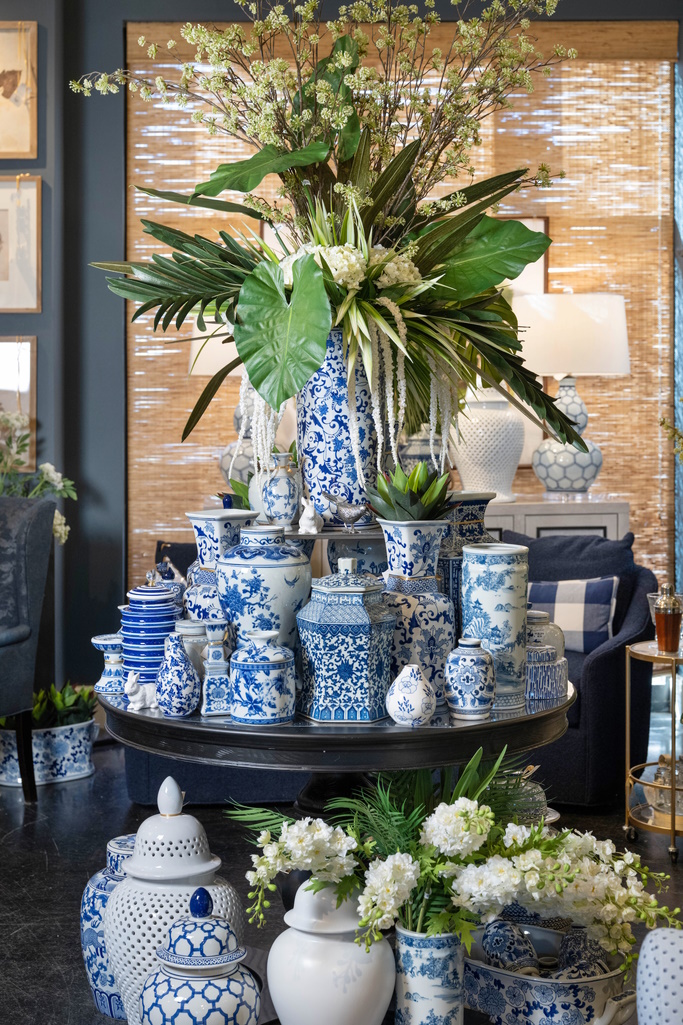 A vase of tulips and some seasonal accents can transform your outdoor retreat
Make an Impact with Tropical Florals
Tulips are one of the most beloved flowers of spring, with their vibrant colors and delicate petals. These versatile flowers can be used in a variety of ways, from centerpieces and bouquets to wreaths and garlands. They are a customer favorite every year, and I understand why being a fan myself! With their simple beauty and versatility, tulips are a must-have for any spring decor. While you'll see lots of traditional spring tulips around the shop this year, there's one room that has me rethinking the simple elegance of spring's hallmark flower.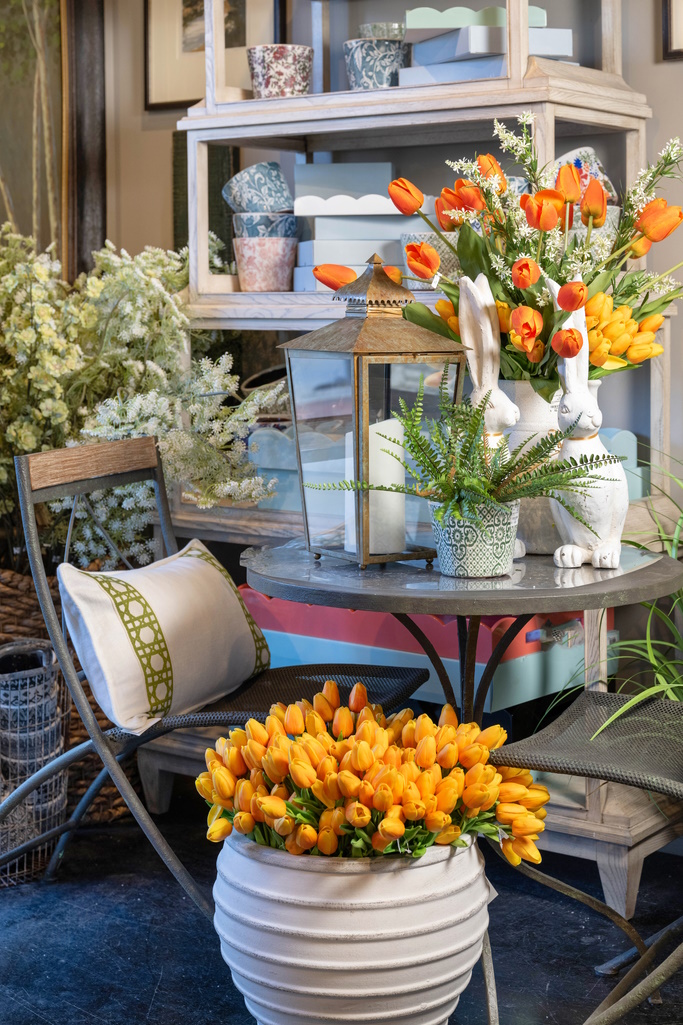 A high-impact floral arrangement is the focal point of this stunning mantel display
Walking into the Mullberry Drive room, you're immediately struck by tall twin floral arrangements flanking the sitting area. White tulips, hydrangeas, and drooping floral stems are the monochromatic base from which tropical greenery bursts. Monstera leaves and spiky palm fronds are mixed throughout, providing visual interest on all sides of the piece. Incorporating bold tropical stems with delicate traditional florals is a great way to add dimension and interest to your arrangements. The end result is stunning bouquets that retain their refined New Traditional feel while still feeling fresh.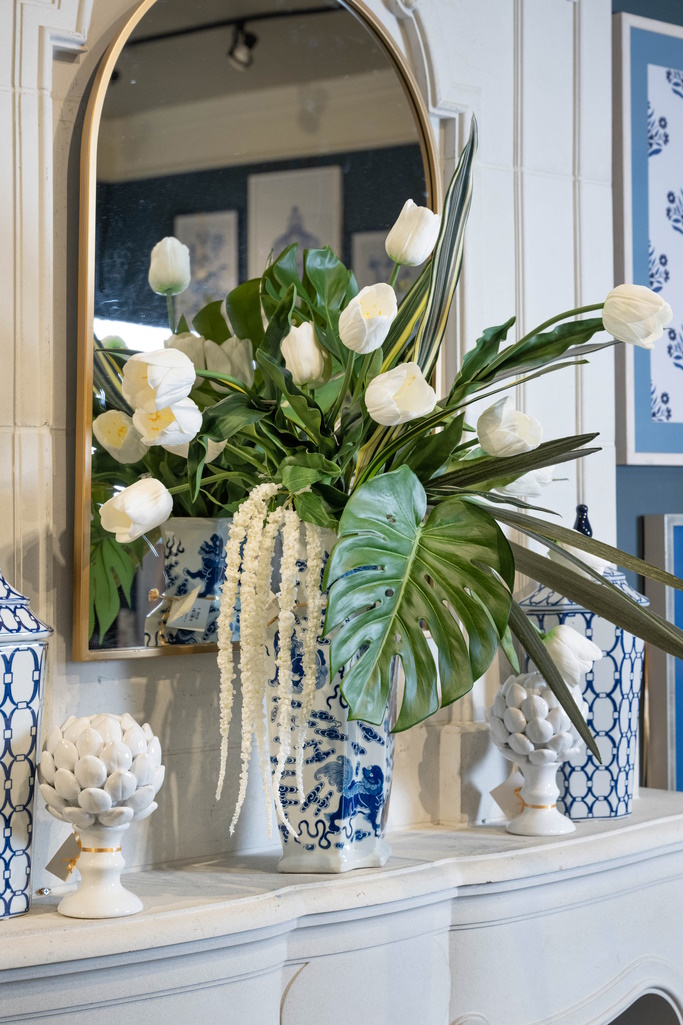 Tropical elements are incorporated into this energetic floral display for lots of visual interest
The fabulous tropical-inspired arrangements continue into our Flint Hills room, but you'll just have to stop by the shop to see them.
I hope you enjoyed all this spring-spiration! How are you decorating your home for the season? Tell me in the comments! Until next time – happy decorating!