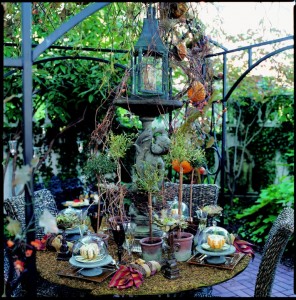 After enduring one of the hottest summers I can recollect, I am so ready for fall. I can't wait to breathe in the crisp air and to see the trees dressed in dazzling shades of red, orange and yellow. One of the best ways to greet autumn is to throw an outdoor party, dining under the canopy of stars, feeling the cool breeze. The best part about hosting an outdoor dinner party is creating an al fresco dining room that elegantly celebrates the beauty of the season. Here are some key decorating ingredients for making your fall fete fabulous.
Don't Scrimp on Drama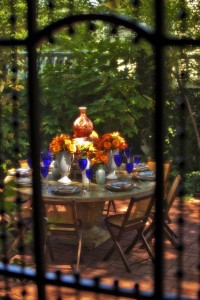 When it comes to creating tablescapes, I confess that I am a drama queen. I love to pull together an eye-popping, jaw-dropping display that wows my guests. The key to crafting a memorable outdoor room for your fall fete is to think big. You will need decorations that are large scaled, both big and tall, because when you're dealing with a room that is as big as all outdoors, anything less will get lost.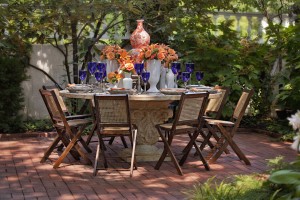 For an outdoor party I held in my courtyard, I went big with the centerpiece, picking bold pottery and lots of showy fresh flowers.  It looks complicated, but this centerpiece is as easy as pie to pull together, and I replicate this basic structure over and over again with different pieces so it always looks fresh. Start with a large accent that will serve as the focal point of the display, something tall that looks sensational from all sides. This orange vase was a natural. If your piece isn't tall enough, give it a lift by placing it on top of a riser, like a plant stand or a terra cotta capital.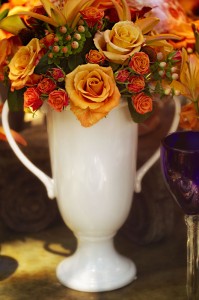 Next, ring the center item with a grouping of similar accents. They could be anything, like mums planted in assorted pots, large pumpkins and gourds, or a mixture of vases holding sunflowers. We picked white pottery pieces, from chalices to vases. For color, we filled the vases with bouquets of orange flowers, like roses and lilies. The repetitive color and clean lines of the pottery knits the pieces together but the dissimilar sizes and shapes of each piece add visual excitement.
Get Gritty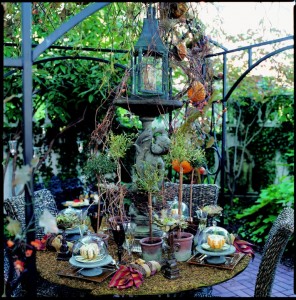 A hallmark of the Nell Hill's style is mixing the rustic with the refined, the precious with the everyday. One of my favorite ways to do this is to create dining tables that are full of contrasts. The photo above, from my book Nell Hill's: Entertaining in Style, is a great example of how you can create a tablescape that is organic and wild yet polished and poised. It's not as hard to pull off as you might think. All you need to do is pair together accents that look old, aged and raw with those that are more precious and polished. On this table, we did so by using a weather-worn birdbath as the base of our centerpiece. Then we topped it with an outdoor lantern encircled with twists of honeysuckle vine.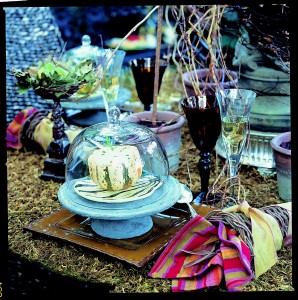 Did you notice that the "tablecloth" is really a sheet of moss cut to fit the table? How cool is that, and how completely unexpected! When dinner is done, you could just toss the tablecloth into your compost pile. We tucked in a few faux potted topiaries and garden fence finials to carry on our garden theme.
Add Some Elegance
Once you have the "gritty" elements in place on your outdoor table, you are ready to add the pieces that are more delicate. I like to use some of my most beautiful dining pieces on my outdoor table because it's so unexpected and daring. Bring out your china, crystal, silver and fine linens, and laden your table in opulence.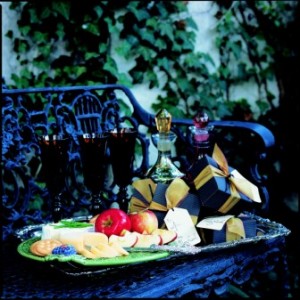 Before my guests are seated for dinner, I like to encourage them to mingle, catching up with old friends and meeting new. One of the best ways to get guests to move about is to tempt them with food and drinks. All it takes is a few strategically placed appetizer and drink stations. Doesn't this wine and cheese service look adorable on the iron bench in my garden? Where can you place drinks or appetizers in your outdoor dining room? How about putting a table from your living room under a tree, then dressing it with a display of fresh fruits or savory appetizers? Or, fill a birdbath tucked into your garden with ice and use it to chill drinks.
Let Mother Nature Supply the Décor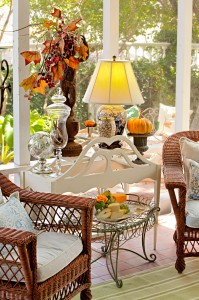 In fall, nature is one of the best places to find accents for your dinner table. Go to your local farmer's market or pumpkin patch and get an assortment of pumpkins and gourds. In addition to traditional orange pumpkins, you'll find those that are green, white, yellow and red. And you'll have your pick of gourds in a wild mix of shapes and colors, gnarly and warty and cooler than ever.  In the photo above, my screened porch is set up with appetizers for guests – fresh pears, grapes, cheese and even a pretty jar filled with pistachios. This simple spread is spiced up with a few fall decorations supplied by Mother Nature. Try this: Place a pumpkin or a gourd on a candlestick or fill an apothecary jar with a bird's nest and a few feathers.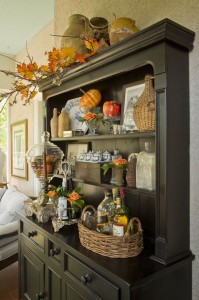 If you don't want to use fresh produce in your decorating because you don't want to deal with the hassle of it rotting, try some faux pumpkins, gourds and flowers, like I've done on my porch, pictured above. Fill a tall jar, hurricane or lantern with a tumble of fake gourds, twist a garland of faux fall leaves through an existing display or tuck in a pick or two of branches laden with fall berries or nuts.
Next Week ... Don't forget your outdoor spaces when decorating for fall. I'll have some fast and easy ideas you can use to make your exterior beautiful for autumn.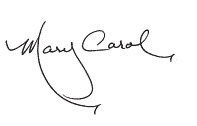 P.S. Don't miss a bit of Nell Hill's news – stay up to date on my favorite finds, new arrivals at the stores and all our special events by checking the Nell Hill's Facebook page every day. You don't have to have a Facebook page yourself to look in on the fun, but if you're already on Facebook, "like" us today!