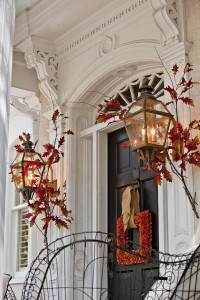 On Friday and Saturday this week, I will swing the door of my historic home in Atchison wide open and welcome thousands of guests for my annual Fall Open House. I hope you will be among them! In the days leading up to this free tour of my home and garden, dressed to the hilt in lush seasonal displays, the creative team at Nell Hill's is hard at work, coming up with new looks for my interior and exterior. While the displays vary year to year, sometimes over the top, sometimes edited and simple, we always dress up a few highly visible, high-impact areas inside and outside because they offer a lot of bang for the buck. Even if you are pressed for time this year when you decorate for autumn, be sure to add a touch or two to these three important areas of your home's exterior.
High-Impact Spot 1: Create Some Fanfare on Your Front Walkway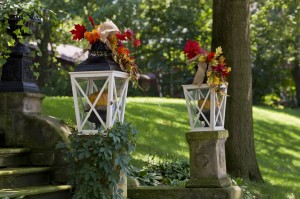 Before your guests even get to your door, let them know you're excited about fall. Find a spot on your front walkway to tuck in a fall display. My historic home was build into a hill, so the first thing you see when you pull up in front is the sturdy old retaining wall, complete with pillars on either side of the steps that lead up to my front door. The top of the pillars are wide and flat and make an excellent spot to hold a fall statement. My favorite trick is to select two large lanterns, then fill them with an attractive seasonal display. It might be a battery operated pillar candle surrounded by fall foliage with a cute fall ribbon tied onto the lantern handle. Lantern displays take just minutes to pull together, but look fetching. If you don't have a natural spot to place a fall display up close to the road, put a lantern on your front stoop.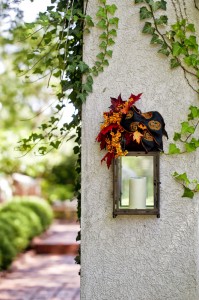 I also like to do a little something near the entry to the walled courtyard behind my home. The wall is large and open and just ripe for a lantern. Flat back wall lanterns work nicely because they hug the wall and don't flap in the Kansas wind. If you don't have a wall, dress up your garden gate.
Let your creativity run wild when coming up with a display to put inside the lanterns. How about a figurine of a bird? A bird's nest? Maybe a piece of artwork that features fall images? Or, just take some fall picks and intertwine them with strands of bittersweet. Finish off with a great seasonal bow. I'm partial to burlap ribbon because I love how it looks with the organic elements of fall.
High-Impact Spot 2: Make Your Front Door Fun and Inviting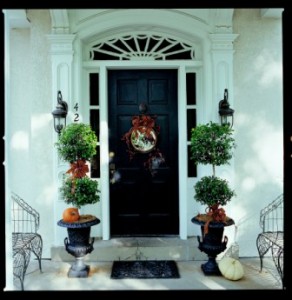 If you have time to only decorate one outside spot this fall, make it your front door. It's here that you set the stage, giving everyone who visits a glimpse of what they can expect inside. This year for my Fall Open House, I'm concentrating my energy on decorating the sides of my door, keeping the display on the door itself pretty simple. We are going to secure fallen branches to the light fixtures that flank my door, using zip ties (my favorite way to tie up branches because zip ties are easy to use and strong enough to hold the weight of the branches). Then, we will weave in faux foliage sprays and picks, following the lines of the sticks so they look natural. I'm not going to give away any more … you'll have to come see the rest for yourself!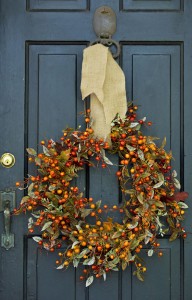 If you have only minutes to spare for decorating, tap into the power of the wreath. Good in a pinch, they always look lovely. I hang mine from my door knocker.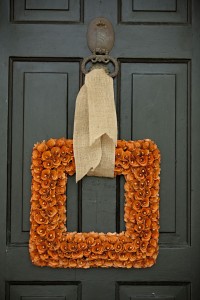 When you hang your wreath, you can just secure it to the knocker with some zip ties or florist wire. Or you can hang it with fall ribbon. I think the ribbon adds a nice touch and gives you a chance to include a bit more color and texture. If you can't tie a pretty bow, no worries – I can't either. That's what inspired this cheater look, which I now adore even more than a picture-perfect bow.
Don't like wreaths? Here's another fast and easy idea: Find a bundle of twigs in your backyard or at a park, cinch them together into a small bouquet, tie them up with a fall ribbon, then hang them upside down on your front door. Sometimes understated treatments like this are the most powerful because of their simplicity.
High-Impact Spot 3: Add a Bit of Intrigue to Your Garden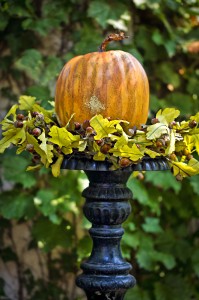 Adding a touch of fall to your garden is obscenely easy. All you need to do is augment the display Mother Nature has already created. Pile up some pumpkins around a tree. Fill a birdbath with gourds. Top a pillar with a pumpkin.
I use a mix of real and artificial pumpkins and gourds when I decorate my home. I love the real pumpkins and gourds because they are so crazy looking, full of interesting colors and imperfections. But the fakes are so good these days, it's often hard to tell them from the real. And, if you put up your fall décor before the weather turns cool, you don't have to worry about them rotting.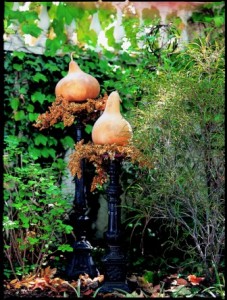 I invested in a set of iron pillars a few years ago, and I'm so thrilled I did. I use these guys constantly in my outdoor decorating, reinventing them season after season. Sometimes you'll find them holding serving trays. How about a cachepot filled with a fall mum? Or lanterns? That's the beauty of versatile decorating tools like these: You can use them a million ways.
You can also place decorated lanterns in your garden beds or on the edge of your garden walkways. Don't overdo – one or two usually is sufficient. For this great display, which brightened up the brick sidewalk in my courtyard, we started with an inexpensive white pottery chalice, added a mini faux pumpkin and filled in with a few fall picks. Done!
Next Week … Faux fall foliage is a key tool in our seasonal decorating arsenal at Nell Hill's. I'll show you how to use these artificial but awesome vines, sprays and picks to perk up your home for fall.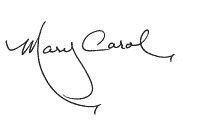 P.S. Don't miss a bit of Nell Hill's news – stay up to date on my favorite finds, new arrivals at the stores and all our special events by checking the Nell Hill's Facebook page every day. You don't have to have a Facebook page yourself to look in on the fun, but if you're already on Facebook, "like" us today!