Elevate Elegance with Cabbage Plates from Nell Hill's in Kansas City
When interior designer Bunny Williams said that "decorating a room is like making a great salad, you want interesting ingredients," she probably didn't think we would take it quite so literally!
Cabbage ware is one of my favorite ways to freshen up a tablescape! As Southern Living puts it, these dishes are, "as recognizable as Spode's Christmas dishes, as beloved as Blue Willow china, and as collectible as Depression glass." Depending on how they're styled, they can evoke a more playful and whimsical tone, or an elevated and elegant one. Over the years these little pieces of pottery have marched their way into our hearts and homes, hallmarking them as a New Traditional design staple.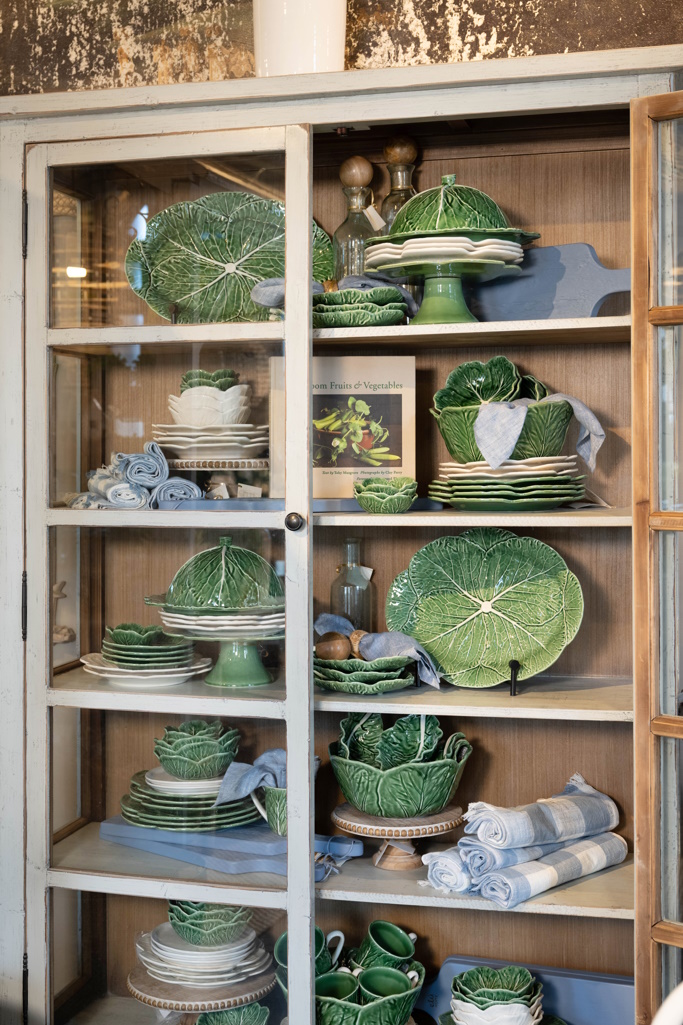 Blue accents are paired with a cabinet full of cabbage ware for a fresh spring display.
The History of Cabbage Ware
Like so many objects we know, love and use every day, cabbage ware has a fascinating history that goes back farther than one might think! A Sothern Living article from 2021 states that, "The origins of the veggie-inspired dishes actually reach across the pond (and much farther back in history), says Sotheby's porcelain and ceramics specialist Suzanne Harrison in a 2013 article from the Wall Street Journal: 'Pottery and porcelain table wares in naturalistic forms such as fruits and vegetables were widely produced in England and Europe throughout the 18th and 19th centuries.'"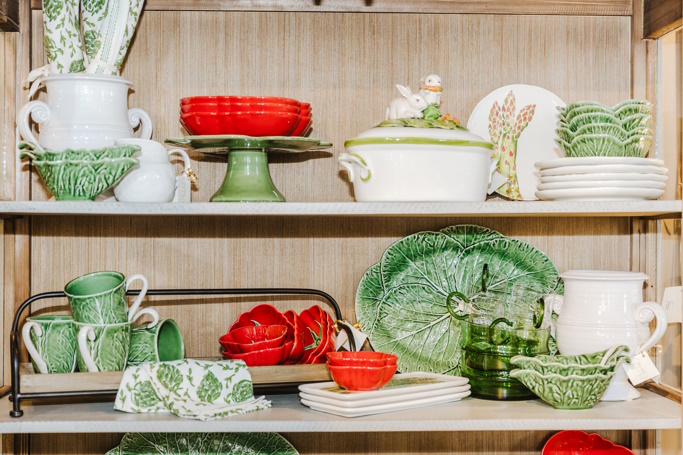 The texture and lifelike details are what make cabbage ware so whimsical and fun.
Here in the shop, we love the well-known Portuguese pottery brand Borallo Pinheiro for their cabbage offering as well as their other lifelike fruits and veggies (not to mention an abundance of other gorgeous ceramics for the home). The brand, created by political cartoonist-turned-ceramicist Raphael Bordallo Pinheiro, has been producing these beloved pieces since 1884. A bit closer to home, American artist and "The Pottery Queen of Palm Beach" Dodie Thayer began creating similarly-inspired tableware in the 1960s by hand in her home studio, gaining fans and a following that included Jackie Kennedy Onassis, Brook Astor, Frank and Barbara Sinatra, and Duchess of Windsor.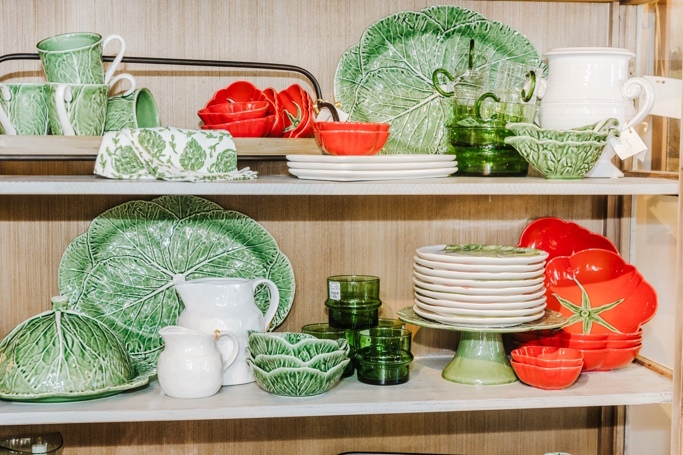 When we place them on our tables and shelves today, these pieces remain just as timeless and adored! This time of year, I like to mix cabbage with other farm-fresh pieces like the tomatoes shown here. Dress them up with crisp white linens and silverware for a ladies lunch, or down with block print napkins and wooden chargers for a meeting with the garden club. You just can't style these yummy pieces wrong!
Styling Your Tabletop with Cabbage Ware
Looking to incorporate a healthy dose of leafy greens into your tablescape designs? Cabbage ware mixes surprisingly well with other china and a plethora of other colors and textures.
This sweet look is a perfect example of the timeless elegance of cabbage ware. In this design, the addition of decorative cabbages and a similarly-colored green container doubles down on the organic elements, lending to a feeling of freshness that lasts season over season – namely, without feeling too springy.
Definitely not born for a supporting role, cabbage ware is leading lady material! Don't consider the tabletop to be the only way to show off your cabbage dishes. We love to incorporate ours into curio and cabinet vignettes – they are just as beautiful as they are functional, after all. Even Oprah has been spotted loving the cabbage look – a cabinet FULL of cabbage and lettuce ware is on display in the background of a post she shared in early 2021 while working at home during the height of the pandemic.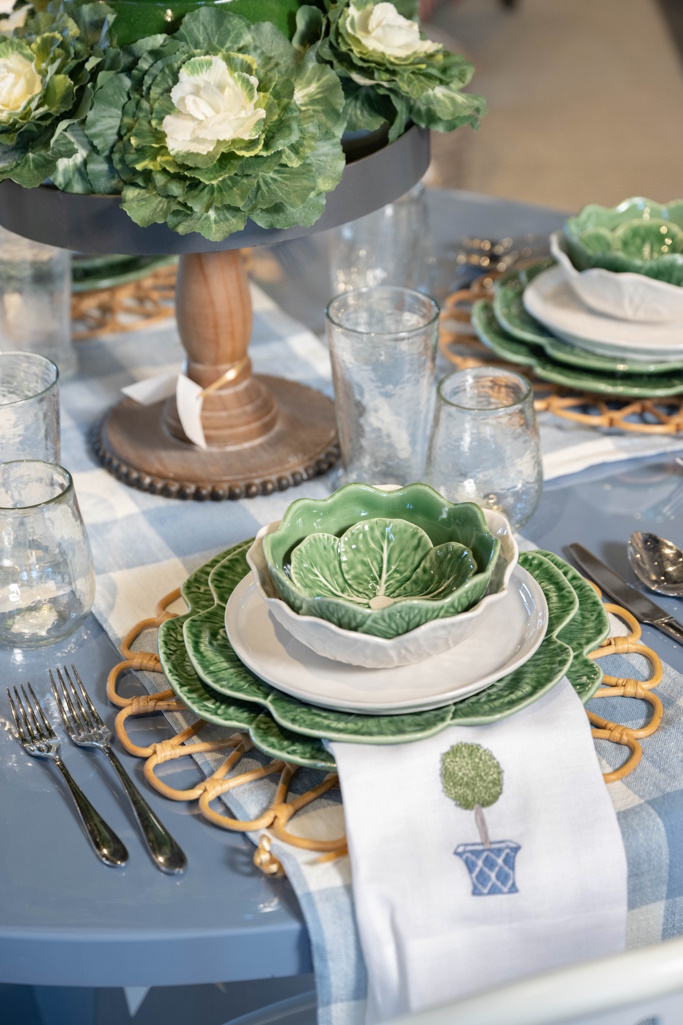 A clean blue and white foundation really lets cabbage ware shine.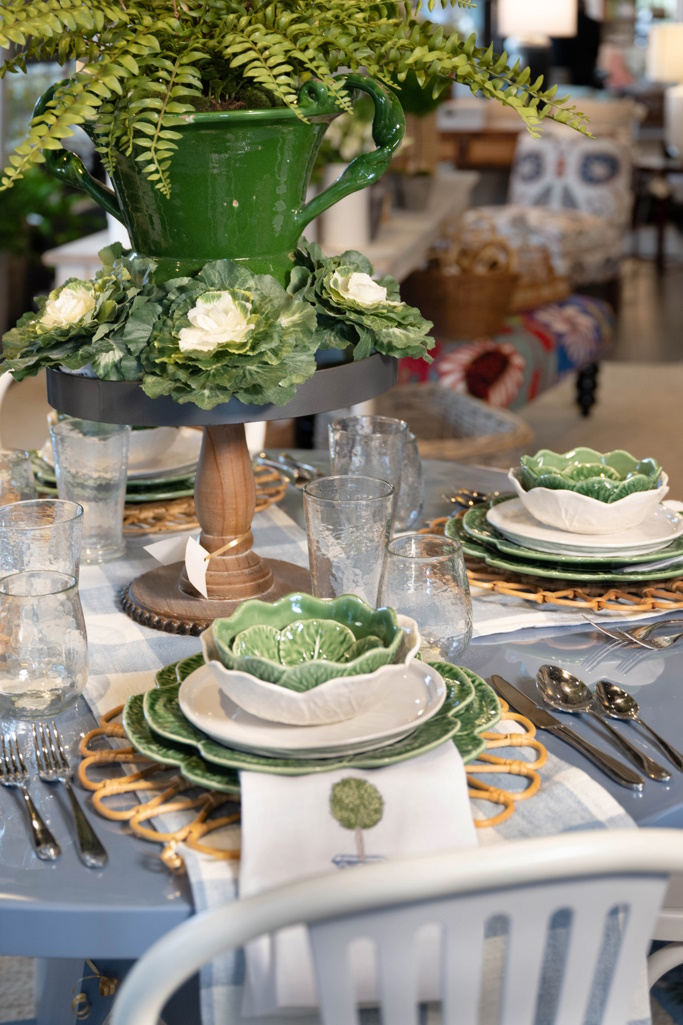 The natural elements in this fresh place setting make the cabbage ware really pop!
Finding Your Own Cabbage Ware
Since these little beauties have been around for a while, you can certainly find cabbage ware in antique shops and estate sales if you love the thrill of the hunt. And of course, you can find fresh pieces in the shop! We try to keep them in stock as they are a customer and personal favorite and go with just about anything. We carry a wide variety of sizes of cabbage ware, which we consider to be New Traditional design royalty, if there were such a thing. Wherever you buy it, there's no denying that the luxe, leafy ceramics will forever be "in style" — an heirloom-worthy investment that will elevate your table for years to come.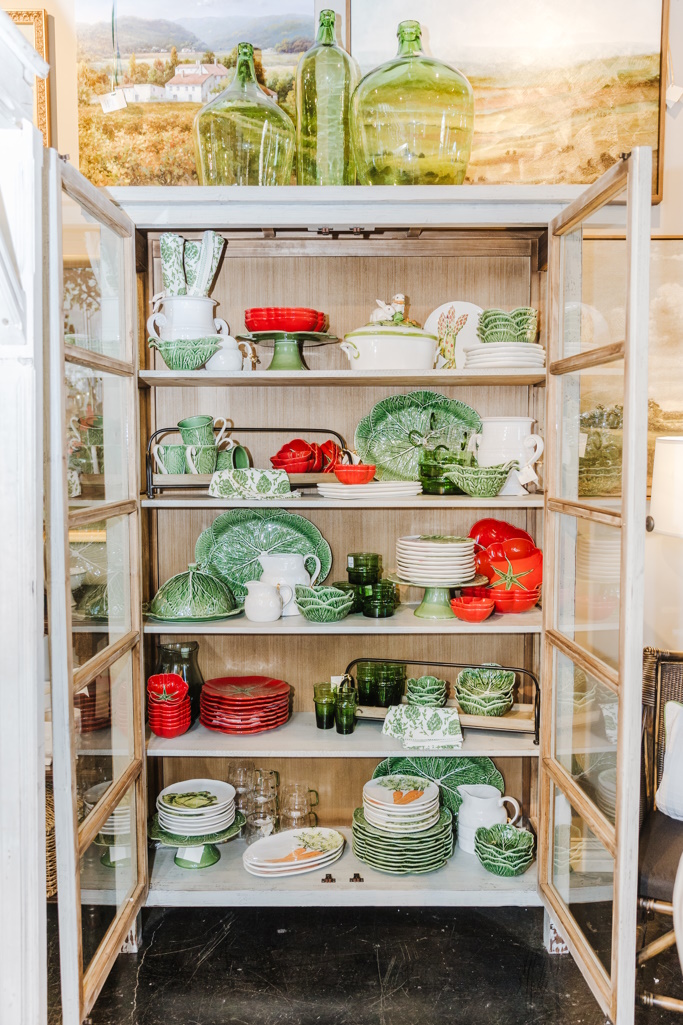 I love pairing cabbage ware with other vegetables. The pop of red in these tomatoes is a sweet mix.
Do you have any cabbage or lettuce ware? Do you collect? How do you like to style it in your home? Tell me in the comments! Until next time, happy decorating!