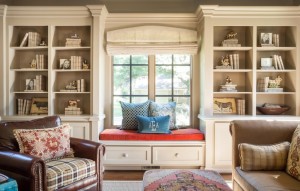 Parents of young children often ask me if it's possible to have a beautifully decorated home and to have children at the same time. The answer is a resounding YES! Here are the 2 steps I follow when designing spaces that are both kid-friendly and lovely to look at:
1. Make the areas within reach kid-tough.
Cover Furniture in Forgiving Fabrics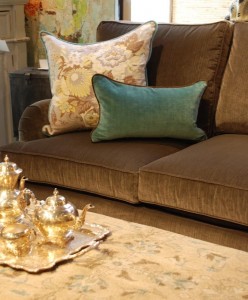 What areas of your home are your kids hardest on? Usually, it's the upholstered furniture. Lived-on spots fall victim to everyday wear, like peanut butter and jelly handprints, juice spills, dirty shoes, or worse ….
No matter how vigilant you are about protecting your kid's favorite seat in the house, chances are you are going to lose the battle. So, get smart and cover your furniture in textiles that can handle the wear and tear.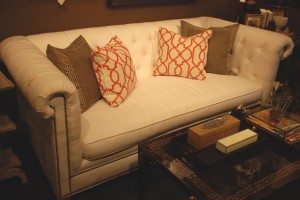 The photo above is of a Nell Hill's sofa covered in a high performance fabric. I know many of you are thinking, "White fabric! Are you crazy??" I have had fabulous luck with my white upholstery fabric through the years, especially when it's a tough weave and treated with a stain protector. All you do is spot treat. I have even had red wine come out.
There are lots of options today in upholstery fabric that can handle just about anything your kids can dish out. We often recommend families use outdoor fabric on their furniture and accent pillows because it's stain resistant and cleans up easily.
At Nell Hill's, we have lots and lots of options when it comes to fabrics that are high on style but super durable. Here are just a few we can put on any piece you pick.
Opt for an Ottoman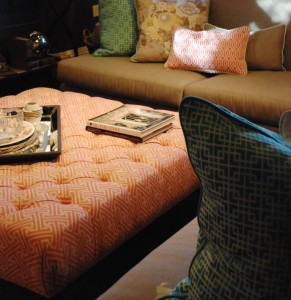 When we design rooms for young families or grandparents, we almost always include an ottoman used as a coffee table, instead of a coffee table made of wood or glass — materials that can hurt kids or be hurt by kids. If an accident happens on an ottoman, like a craft project turns into a permanent Sharpie stain or a snip in the fabric, you can easily have these pieces recovered with just a few yards of fabric.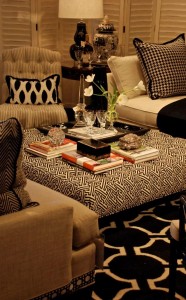 The soft, cushy ottomans add to the style statement in your room because you can cover them in a wide array of fabrics, like a peppy floral or a bold geometric. I can't tell you how many young moms and grandmas have told me that their babies learned to walk by cruising around their big old Nell Hill's ottoman. (We've even heard stories that the ottomans are a favorite spot for toddlers to curl up and watch TV or take a little rest.)
2. Add beauty in the out-of-reach areas.
Cover Your Walls with Artwork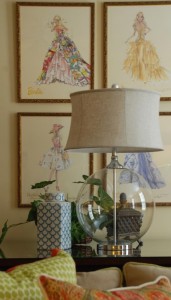 Lots of young moms bemoan the fact they can't have breakable accents out on their coffee table or end tables. There will be a time for that. But right now, you can infuse your rooms with style by covering the walls with gorgeous artwork. People often overlook artwork when decorating their homes, but I don't think a space feels finished until there is an interesting assortment of art on the walls.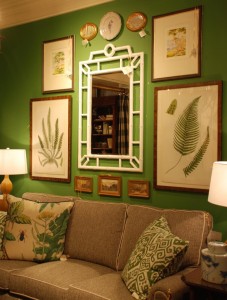 Up where little hands can't disturb it, artwork is an ideal way to bring your family's personality to life in your spaces. It allows you to add color and pattern, a variety of textures, and lots of interest.
Display Accents in Tall Bookcases and on Your Mantel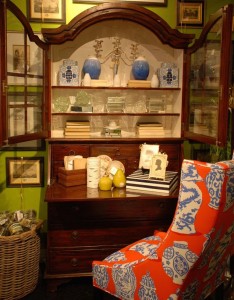 Just because you have little hands exploring every inch of your home, doesn't mean you can't have breakable and beautiful accents in your décor. You just need to put your pretties up high, where you can enjoy them but they won't get broken.
Give Your Windows the Treatment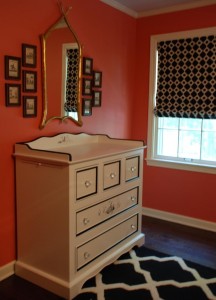 Like artwork, window treatments allow you to put color and pattern in a room, but in a spot that can't be disturbed by young children. This snapshot was taken when we were installing this lovely shade in my granddaughter Maeve's room. I love the high contrast of these black and white shades against the Peony walls.
Next Week … With the garden (or stores) full of spring blooms, you'll want to bring them into your home. I'll share my secrets for creating easy floral displays.