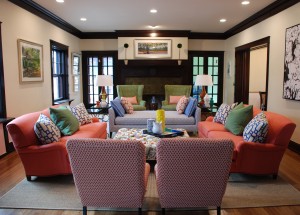 Our homes should fill us up, and give us the strength and courage to do the big, important – and sometimes difficult – things in our lives. That's why I am thrilled to share that Nell Hill's is joining with a fantastic team of talented designers to redecorate Friendship House, a transitional shelter home for women and their children who have taken the brave step toward conquering substance addiction and starting a healthy new life.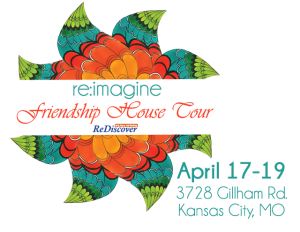 We had a blast decorating the living room and dining room of this gorgeous historic Hyde Park home, and I can't wait for you to see what we and the other design teams created for the residents of Friendship House during the ReImagine: Friendship House Tour on April 17-19. I want to invite all of you to join us for the tour to benefit the important work of ReDiscover, which provides residential and outpatient services for women recovering from alcohol and substance use disorders. To whet your appetite, here's a peek at the before and after of the rooms Nell Hill's got to redesign: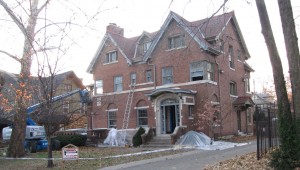 I'm a nut about old houses, and the bones of this historic home about knocked my socks off. Here is a shot ReDiscover took of the home before any of us got our hands on it. First, the construction crew had to do some repairs.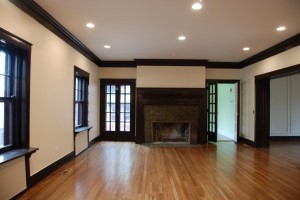 As we looked around the living room, dining room and front staircase we were asked to decorate, we knew we wanted a design that played up the beauty of the home, and that felt in keeping with its character and history.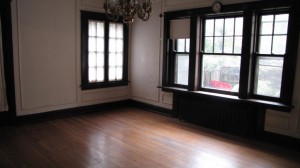 We also knew that the rooms needed to be light and bright and envelop the residents in joy. Here's a before of the dining room where families will gather to talk about the day, play games and reconnect.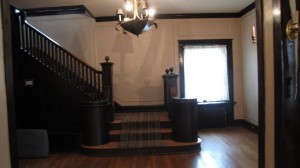 The spaces had to be family friendly, with lovely but durable finishes.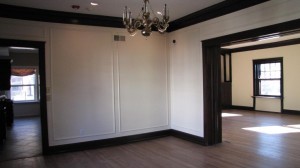 And it had to include the highest quality furnishing — beautifully made, visually arresting chairs, tables and accents that underscored the high personal value of each and every mom and kid who would call Friendship House home.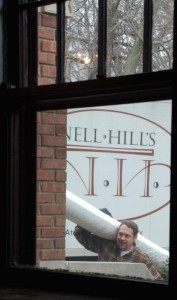 So we put our heads together and created a design plan that celebrated the lovely home and created an environment that would help the residents find hope and healing, renewing their energy every single day as they walked toward their new lives.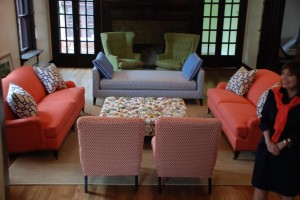 We hand selected furniture, floor coverings, artwork, lighting and accents that worked together to make the spaces warm and inviting, happy and uplifting. We took the power of color to a whole new level. On installation day, I wore a bright pink sweater, and it looked like I dressed to match this wonderful room.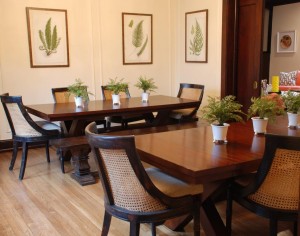 Meals at Friendship House will be busy affairs, with lots of moms and kids coming and going. But we wanted to make the room restful enough that family and friends would also want to linger for a while at the end of the day, to share stories of encouragement, laugh with one another, and maybe share a much-needed hug or two.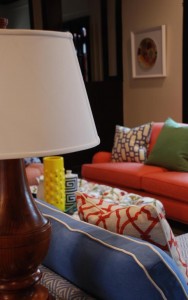 Once we had the furniture in place, we set about finishing the space with accents, like ceramic lamps, brightly colored pottery and an intriguing mix of artwork on the wall. I wanted the end-result to be just like a home, the opposite of "institutional" as you can get. I wanted the moms living here to be able to kick off their shoes, melt into a sofa and have girl time with one another. I wanted the kids to snuggle into their moms' laps to read books at bedtime, or to tell stories about their day at school.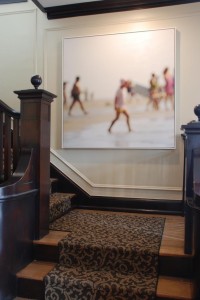 As we put the final touches on the living room, dining room and this stairway of the foyer, it was so exciting to walk through this three-story, eight-bedroom home and see how our fellow designers were redecorating their spaces. We were thrilled to be included in such a talented team of interior design superstars: HGTV design star Jennifer Bertrand, Alan Karlin Design, Katy Sullivan Designs, Deep Woods Rustic Décor, Razzberry Wimzy and Deanna Gilbert.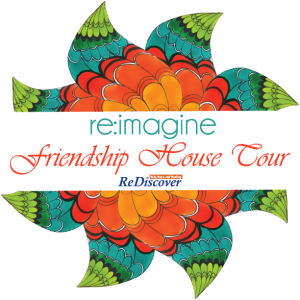 Don't miss this opportunity to see this beautiful home, reimagined, redesigned and ready to help change the lives of woman and their children. Tour tickets are $15 and can be purchased online at rediscovermh.org. Tickets are $12 for groups of 10 or more. For more information and additional ticket outlets visit rediscovermh.org or call 816-581-5800.
Next Week … Speaking of family friendly décor, in next week's blog I'm sharing my two tips for creating spaces that are high style and kid proof.