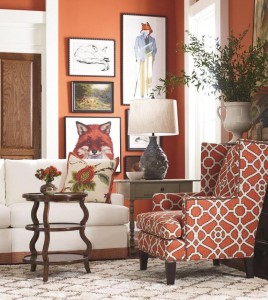 I recently asked my Facebook friends to tell me what they'd like me to blog about, and one decorating dilemma that came up over and again was: "Where do I start when I'm designing a room?" Some were moving into brand new houses and had a big (and intimidating) blank slate. Others wanted to redecorate an existing room. I love this question because at Nell Hill's we have a blast helping customers create spaces that reflect their style, celebrate their personalities and flow with their daily lives. So, how do you build a beautiful room? Here are my three steps: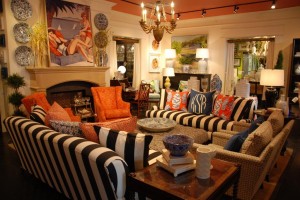 It's easiest for me to explain the design steps we go through by showing you how we followed them when creating this lovely showroom at Nell Hill's.
First, Find Your Inspiration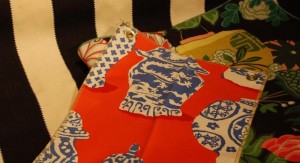 Selecting the look for a room can feel overwhelming. You may be dazzled by all the possibilities. I know I was when I decorated our little lake house. I was considering lots of different styles and colors, and I had a tough time deciding which one was right for us. But my hunch is, you are a lot farther along in your decision than you think you are. I know I was. Usually we have a few common design elements we gravitate toward, like a group of fabrics in a certain style and palette. That's usually where we start when we design rooms at Nell Hill's. Or sample design takes its inspiration from the fabrics in the photo above, which set our color palette and the style of the room.
Next, Determine What Goes and What Stays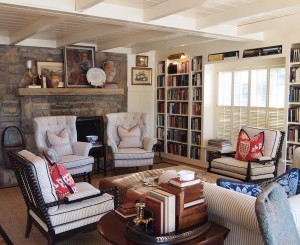 When we are designing a space for our homes, very few of us start completely from scratch. Usually we have a few pieces we want to include in the space, like a favorite sofa or a gorgeous rug or a piece of art. When Dan and I moved into our lake home, pictured above, we had a list of items that were non-negotiables, like our ottoman and a few favorite chairs. What existing pieces do you want to work into the design of your new room?
Then Build the Look Layer by Layer
My first step when designing a room is to start with the key furnishings, like the sofa, because they play a pivotal role in telling the story of the room. In our showroom, we put the lively navy and white fabric on a pair of sofas and positioned them on either side of the fireplace to create a more intimate conversation grouping in this large room.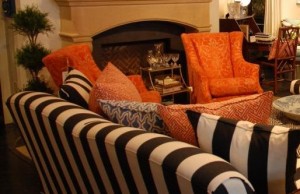 After you have picked the largest and most dominant furniture in the room, it's time select accent pieces, like the chairs. We wanted to balance our navy stripe with a big hit of coral, one of our inspiration colors, so we added these two motion chairs to flank the fireplace.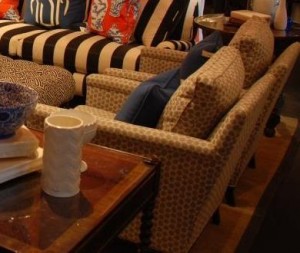 To balance the grouping, we added a matched set of chairs on the opposite side. We went with a muted dot upholstery fabric, a neutral that brought some quiet energy to this grouping while also balancing out all the bold patterns and saturated hues.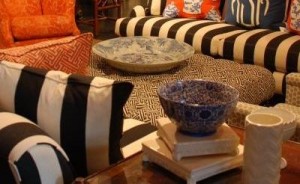 We often include upholstered coffee tables at the center of larger seating areas because they provide fabulous foot rests and a zap of color and pattern. If you want more neutral fabric on your furniture, you can go a bit bolder on your ottoman.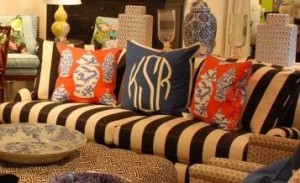 Accent pillows play a huge role in pulling together your upholstered furniture. Notice how we repeated our inspiration fabrics and mixed in a few others to make the room more interesting. Skillful pattern mixing is at the heart of a well-appointed room.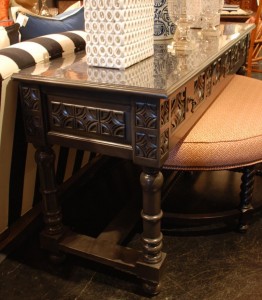 Next, we filled in with additional furnishings, like this sofa table that frames the seating arrangement. The coral geometric fabric on the stool under the table further fleshes out our color palette.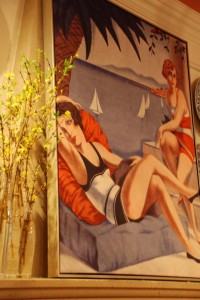 Once the furnishings are in place, it's time to make the room truly unique – truly yours –using accents. Select lamps that add to your look. Fill in with a unique rug. Pop in pottery pieces. Add touches of seasonal greens. The number of layers in a room is strictly up to you.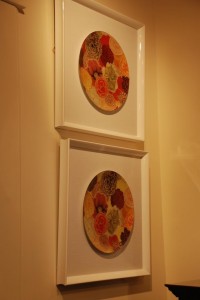 Finish with fabulous art. In my opinion, a room doesn't ever feel "done" until there is a mix of artwork on the wall.
Next Week … Do you have little ones in your home that make designing a beautiful space a bit more challenging? I'll share tips on how to design spaces that are both kid friendly and stylish.