I am a fabric junkie, and the longer I'm in interior design, the more my addiction to gorgeous textiles grows. As I design spaces for my home and those of friends and customers, I'm always blown away by the power a few yards of fabric has to take a room to new heights, to make it a truly unique expression of the homeowner's personality.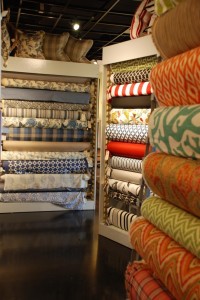 That's why I'm throwing a Spring Fabric Event at Nell Hill's Briarcliff on April 3 & 4 (I hope you'll join us!). And why our growing selection of fabric-by-the-yard has slowly taken over more and more rooms at Nell Hill's Briarcliff. We have so many great textiles in such a wide variety of looks and prices that people drive for miles to shop for fabric at Nell Hill's Briarcliff.
Here are my 5 favorite ways to use fabric to transform your home's style:
1. Cover a Headboard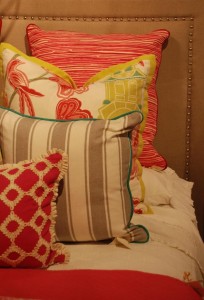 Upholstered headboards elevate the look of a gorgeous bedding ensemble and can singlehandedly take your room in so many different directions. If you are a DIY-er, get a few yards of fabric and make your own. If not, we have lots and lots of different upholstered headboards to choose from at Nell Hill's. This textured neutral headboard provides a warm and wonderful backdrop for a great gaggle of pillows.
Here, the upholstered headboard makes a beautiful, bold statement all by itself. Our talented fabric design team on the second floor echoed the fresh, fun look with an intriguing mix of pillows. Love it!
2. Add Some Splashy Pillows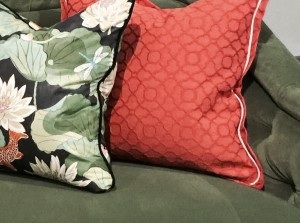 Accent pillows are like artwork displayed on your furniture. They reflect your personality and evoke a range of emotions, like excitement or tranquility. In my own home, I rely on pillows to take my interior décor from one season to the next. In the winter, you'll find rich plaids on my sofas. This summer I'll make a statement with pillows in red and navy.
Pick out an interesting mix of fabrics, fire up the sewing machine and craft a few new pillows to lighten up your upholstered furniture or bedding for the season. Again, if sewing isn't your thing, we can help out. Nell Hill's has stacks of gorgeous pillows in a variety of sizes and looks, all stuffed with high quality and hefty down fills. Don't see what you like? Pick a few fabrics from our bolts and we'll make up a custom pillow for you!
3. Perk up Place Settings with Fun Napkins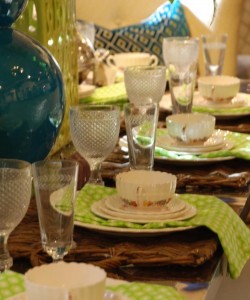 I love how real cloth napkins add to the design of a tablescape. So I have a several sets of napkins that I always have clean, pressed and ready to pull out in a jiff to splash up my table, whether it's just Dan and me for dinner or I'm entertaining a crowd.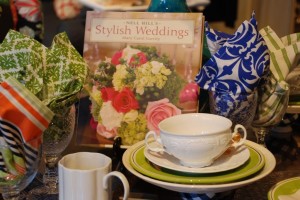 All you'll need is a bit of fabric to create a quick set of napkins for your spring table. If you are like me, and even looking at a sewing machine intimidates you, pick up a readymade set for the season. There are so many wonderful colors and patterns to choose from. Here are just a few we carry at Nell Hill's.
4. Dress Your Table with a Runner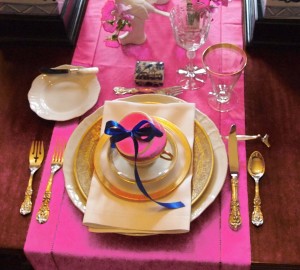 This photo was taken in my old home in Atchison right before I hosted a ladies' luncheon. These playful pink runners make the look, don't you think? Since my table was kind of long, I decided to crisscross several runners across the table's center. I love how it turned out.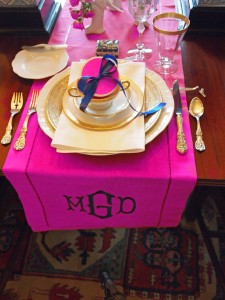 Monograms make everything more special. So I added mine to the runners at the head of the table.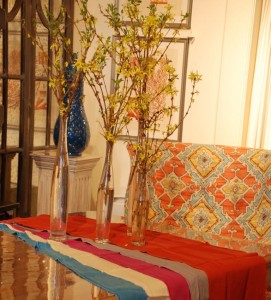 If you sew, pick up a few yards of fabric and have fun creating a unique runner. If you don't, we've got you covered at Nell Hill's. Here are a few of the colors we carry.
5. Frame Your Windows and Doors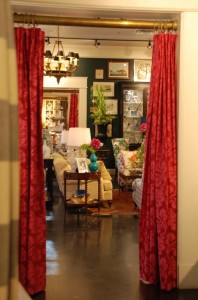 At Nell Hill's we want each gallery to have distinction, filled with furnishings and accents wed to create an arresting look. One of the ways we divide these spaces is by hanging portieres in some of the interior doors. These simple drapes hung in interior doorways add to the romance of a room. Is this something you could do in your own home, perhaps in the door to your dining room?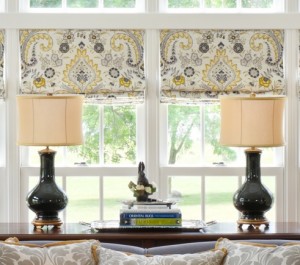 Take a look around your home and evaluate the look of your window design. Are there bare windows that are calling out for drapes? Are your existing window treatments stale and weathered? If so, all it takes is a few yards to beautifully finish the look of a room.
Next Week … When I asked my Facebook friends to suggest topics for upcoming blogs, several asked for tips on where and how to start when decorating a new room. I'll share how I approach the rooms I design.