When most of us are designing the spaces in our home, we have a wonderful vision of what we want our rooms to look like. But, alas, we also have budgets. I've learned from decorating my own home that you can get the high-style look you're dreaming of without going over budget. Here's my trick: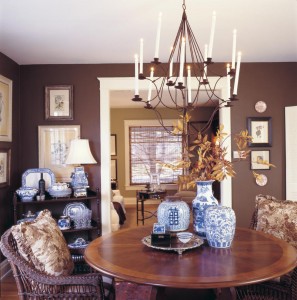 Splurge and save
My friend Cynthia, whose well-appointed homes are featured in my books (above), is the queen of this design savvy technique: Splurge on a few pieces, save on the rest. She invests in one or two fabulous items, like a piece of art or a high quality sofa, that will be the style setters for the room. Then, she balances her budget with high-look, lower-cost furnishings and accents. I like to call these "cheater" pieces because they look way more expensive than they really are.
Where do you splurge, and where do you save?
This answer is different for everyone, depending upon your age and stage of life, decorating passions and how you use your home. Here are some examples of where you can splurge and where you can save to get the look you love in your home.
Sublime Sofas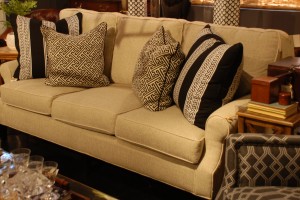 When it comes to upholstered furniture, I always urge people to get the highest quality piece they can afford, then scrimp someplace else. Why? Good furniture doesn't just look great when you purchase it, it looks great for decades. That durability is a result of the quality workmanship that goes into investment sofas. The sand tweed sofa in the picture above features a kiln-dried hardwood frame and  8-way hand-tied coils. You can select the kind of cushion you want, from feather to firm. You have lots of choices in upholstery fabrics and trim details. Those are the kinds of options investment furniture offers you.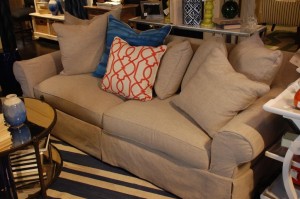 If you are just starting out in life, or you move a lot, or you have young kids, pets or a spouse who will be hard on your furniture, you may want your sofa to be your "save" piece.  This slip-covered sofa at Nell Hill's delivers a great look at a great value. It's half the cost of our investment sofa, but you will probably want to replace it in 10 years.  Until then, it will lend style to your space for little investment.
Charming Chairs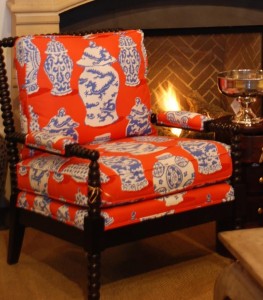 This wonderful spool chair is an investment piece that will elevate the look of the entire room and last for years. Offered by one of my favorite furniture makers, it's expertly crafted and offers lots of design options. You can select how you'd like the wood finished – painted a myriad of colors or different stains. You can pick from 1,400 decorator fabrics, like this coral and blue urn pattern that I'm crazy about.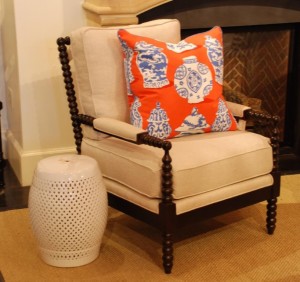 Save
When I saw this inexpensive spool chair at market, I ordered a case because it's a great cheater piece. It mimics the look of our splurge chair, but costs a great deal less. What do you give up? It's an import piece and is only available in two fabrics. The quality does not compare with our investment spool chair. But look how we brought up the look just by adding a pillow made out of our coral and blue urn fabric!
Arresting Accents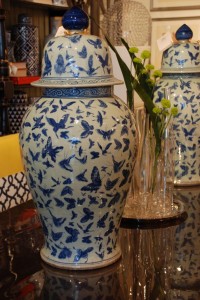 Some people love to invest in fine accents to give their interior spaces a singular look. These beautiful butterfly urns are an example of a great splurge piece. Higher quality urns usually have a creamier, richer color, while less expensive urns appear a bit grayer. The higher quality pieces also offer more unique designs, like this butterfly motif.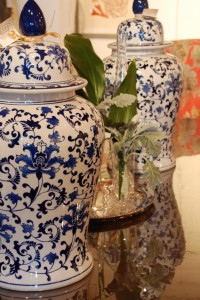 These floral urns are lovely and about 20% of the cost of the investment urn. A lot of my friends and customers mix these cheater pieces in with antique china pieces and investment pieces like the one above.
Lovely Lamps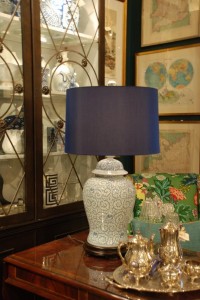 It used to be that you could find fabulous looking lamps for a bargain. Not so much any more. In fact, I think lamps are getting tougher and tougher to cheat on. The lower cost lamps just don't look as good. This beautiful china lamp is definitely a statement piece that adds oodles of style.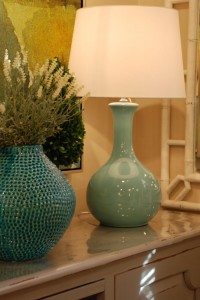 Because I am passionate about finding pieces that fit everyone's price range, I have been scouting for lamps that are lovely but more affordable. I scored with this line of porcelain lamps. With their clean lines, interesting shapes and contemporary colors, they are a great pick if you want your lighting to be the place you save on your budget.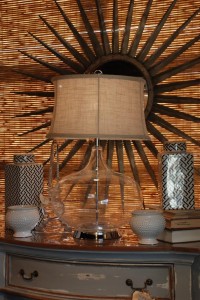 Here's another great cheater piece. I love this chunky glass lamp! It's fat and fun and will fit in with just about any décor. And, it's a great deal.
Mirror, Mirror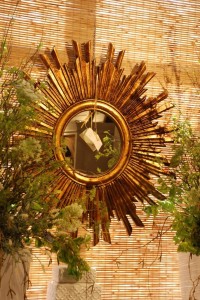 Honestly, unless you just fall head over heels in love with a high end mirror, or an antique steals your heart, I'd advise getting mirrors that are affordable. They deliver all the look at a fraction of the price.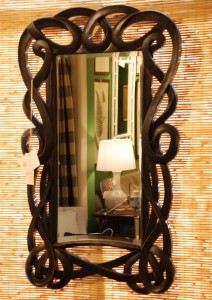 These lovely mirrors from Nell Hill's are about the same price, and are often much less than you would spend on other artwork.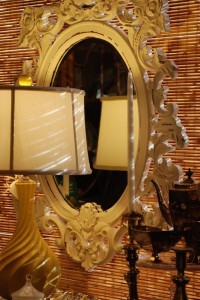 Next Week … Join me at our Fabric Event at Nell Hill's on April 3-4! As a preview, in next week's blog I'll share my top 5 ways to use a few yards of fabric to remake the look of your home.