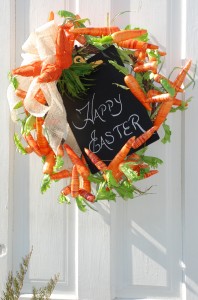 When I drive through neighborhoods, it's not my cell phone that distracts me (much). It's all the fabulous front door treatments. Your front door is a blank canvas on hinges that's just waiting for your creative spark to turn it into a mini masterpiece that delights visitors and passersby. Here are six fun, fresh front door looks we're loving for spring. 
I challenged Bruce, our director of visual displays at Nell Hill's, and Bev, our seasonal designer, to come up with six super front door designs you could use for inspiration when dressing your own door for spring. They took an old door outside in the garden by Nell Hill's Briarcliff to use as our stage. They selected some of our very favorite spring accents — newly arrived and insanely popular with our customers – as decorating tools. And, they tapped into their vast creativity to fashion these great looks to inspire you: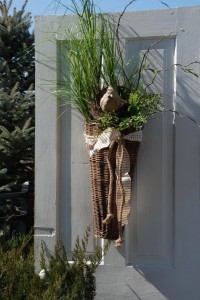 I have long been a fan of hanging baskets on front doors. They are lightweight, weather resistant and give you an ideal staging ground for myriad looks. This long, thin, dramatic beauty is perfect for front door décor. Taking their lead from the rustic twigs in the basket, Bruce and Bev started with a selection of faux spring greens, like these lush grasses I'm so crazy about, twigs dotted with emerging leaves, and ferns. The greenery made the perfect backdrop for our focal point: an adorable nest and bird. Look at the creative way they finished off the look: a ticking ribbon intertwined with a rustic rope. Love!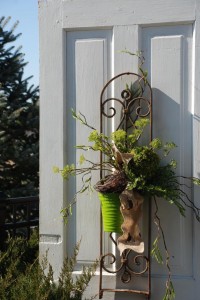 Have a door that doesn't open? Then why not go over the top with your door treatment. Bruce and Bev used this old architectural piece as a dramatic base for another unique door.  It makes a statement but is not practical for a door you're opening often. If that describes you, forget the fencing but still go for this fun display that spills from a bright bucket suspended from a hook or door knocker. The pop of green is arresting yet playful. Ribbons are a key tool when fashioning door displays – they add so much character, yet are inexpensive and easy to work with. I adore the bird design on this wide burlap ribbon.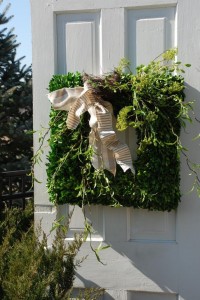 These preserved boxwood wreaths have stolen my heart this year, and right now, I have one hung on the door at my own home. They are fresh and natural and simple and clean. But a note about working with wreaths: Don't just slap them up on the door without first fluffing them up and adding in an embellishment or two. Here we wired in a few picks to give the wreath more dimension. Then Bruce and Bev finished the design with a flourish, using a double bow that weds natural ticking and stripe patterns. When you're picking ribbons for your door décor, don't be afraid to pattern mix!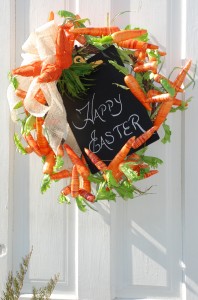 Oh my goodness I am in love with this adorable wreath. It's going up on my door next! Peter Rabbit's fantasy, it's just so playful and fun. I know if I was driving by someone's house and saw it on the door, I would just break out in an ear-to-ear grin. As with any wreath, it looks so much better with a few add-ons to give it more character. Bruce and Bev filled the center with a chalkboard to personalize with a message for guests. A light and breezy woven ribbon is the ideal exclamation point on this simple but heartwarming display.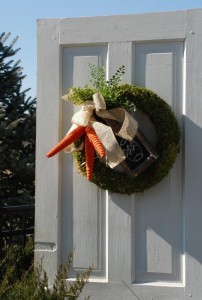 We played around with our carrot and chalkboard ideas to fashion two different looks you could try. This moss wreath is a dynamite base for a spring door. Bev and Bruce brought it to life by wiring in a cluster of bright orange carrots and a fist full of fern fronds. They built up from there, dotting in a framed chalkboard holding a seasonal greeting, and a flouncy burlap bow.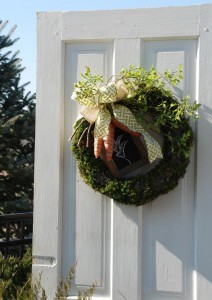 Bruce and Bev created a slightly different display on a similar moss wreath. Like the look before it, it's easily replicated. They wired in the same sweet chalkboard, just waiting for a crafty seasonal message or picture, and a bunch of bright orange carrots. Notice how Bev styled the spray of spring branches, with the twigs arching up and over the wreath and the bare ends exposed just below the ribbon. It's a nice, natural feel.
Next Week … Want to get a high-end look in your home without breaking the bank? I'll share my tips on where to splurge and where to save.