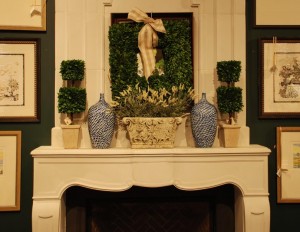 What happens when you take two talented visual designers, present them with fireplace mantels just begging to be decorated, and arm them with gorgeous spring decor? A tornado of creativity that results in four fabulous spring mantel treatments. Ready to see what Bruce, our director of visual displays, and Bev, our seasonal designer, have crafted to inspire you as you decorate your mantel for spring? 
Secret Garden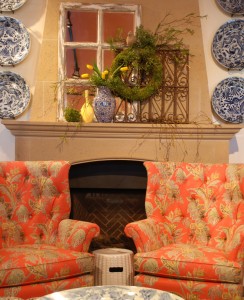 This fanciful mantel display tells a story, of the kiss of the sun on your cheeks, the sounds of birds chirping, the sweet aroma of spring blossoms. Layer upon layer, Bruce and Bev take us on a journey to a secret garden.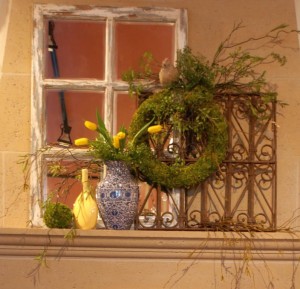 They started the tableau with a white-washed, distressed mirror that resembles a window, a great metaphor for going out to the garden. The show-stealing layer came next: an old rusty iron gate. I'm always on the lookout for unique pieces and accents for Nell Hill's shoppers, so I was delighted when I discovered some reclaimed architectural elements salvaged from a historic estate.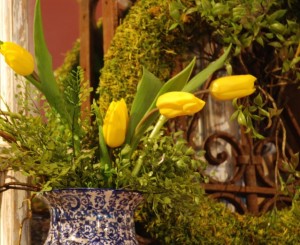 A common thread in this mantel, and the other three to come, are the fabulous greens. They give the displays fresh energy, whimsy and wonder. Take them out, and the mantels fall flat.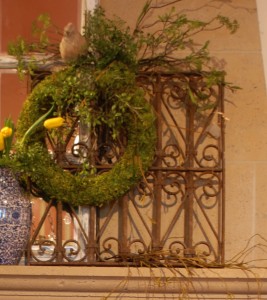 Bev and Bruce thought the garden gate was just calling out for adornment, so they dressed it up with this delightful boxwood wreath, which Bev finished out with a spray of branches. Notice how she allowed the branches to extend in the space above the display, trail down over the base of the mantel and reach out from the side? If you have tall ceilings, this is a great technique to fill in some of that wide open space.
As soon as they finished styling this display, a customer bought it for her outdoor fireplace. So many of us have outdoor fireplaces now, and a rustic display like this one is ideal because a little dust will only add to its charm.
Phalanx of Flowers
Tulips are one of the happiest flowers of spring. And this stunning but simple mantel display shows them off in all their glory. Bruce and Bev transported us to Amsterdam in the spring simply by dotting the mantel with a line of unique glass vessels holding a mix of colorful tulips.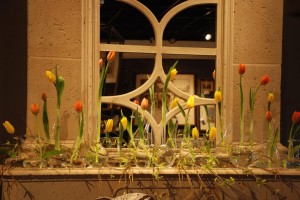 This look is crazy-easy to construct. Even if you don't consider yourself a decorating pro, you can style it with success on your own mantel.  All you need is a collection of vases, faux or fresh flowers, and a few spring branch picks.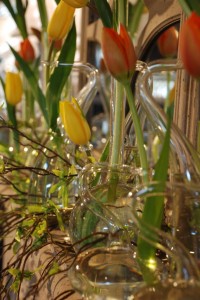 Small glass vases are one of my must-have decorating tools and I use them year round. Sick in any flower, the group the vases on your mantel, at the center of your table, on your kitchen windowsill, on your kitchen island … they are perfect anywhere and everywhere.
Boxwood Beauty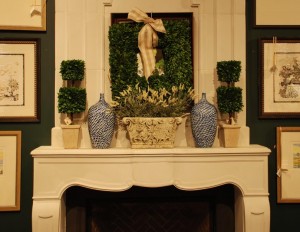 Sometimes the best mantel designs happen by accident. Bruce and Bev intended to remove the mirror that was hanging over this mantel so they could hang a wreath, but the mirror was firmly wired into place. So they got creative and hung the wreath over the mirror, then were thrilled by how the lines of the mirror framed the wreath. The display's matching sides are anchored in the center with a stone planter, then finished off by a pair of vases and boxwood topiaries.
A Touch of Green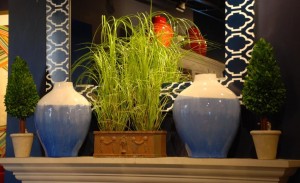 Anyone out there have a super thin mantel to work with? They can be tough to decorate, can't they? Here's a look just for you mini mantel friends. This mantel at Nell Hill's Briarcliff is only 6 inches wide, so Bruce and Bev had to find accents with big, bold personality, but tiny bases.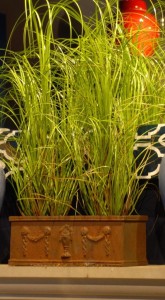 These dewy green grasses are my favorites right now for spring decorating. They look like they were ripped out of a meadow – you can almost smell the pungent aroma of cut grass. Nested into this long and thin cast iron planter, they are a great focal point.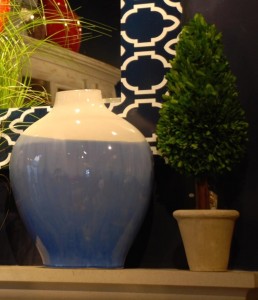 We like to include a mix of surfaces and textures when we design mantels at Nell Hill's. The vases, with their clean lines and bold color, are a nice contrast to these organic topiaries, made from real, preserved boxwoods.
Next Week … What will hang on your front door to herald spring? I'll have my favorite picks to show you.