Back in January, a friend gave me some blooming paper whites for my birthday, and every morning, Dan and I drank our coffee near the flowers so we could enjoy the fragrance of spring. Here in the Midwest, we are still weeks from warmer weather, and since I can't rush Mother Nature, I'm going to celebrate the coming of spring inside.  Wanna join me? Here's how: 
1. Come have fun with us at the Nell Hill's Botanical Event, March 6-7.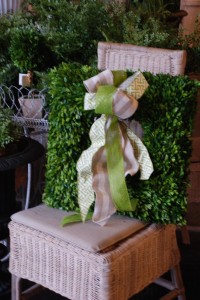 Because I love every and any excuse to have fun with my friends and customers at Nell Hill's, I'm throwing a party at both stores to herald the coming of spring. Our Botanical Event, March 6-7, is an ode to everything from the garden, verdant and blooming with color and joy. Both stores will be filled with garden inspired decorating ideas and tools to help you weave touches of this season of new life into your own décor.
2. Dress your walls in spring.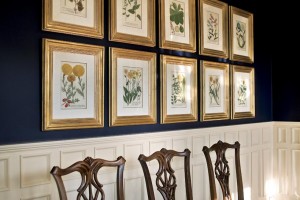 I have always had a love of all things botanical, especially when it comes to artwork. When Dan and I were newlyweds 25 years ago, the first test of our relationship was picking out artwork for our home that we could both agree on. He'd spark to something, and I'd give it the thumbs down. I'd find a piece of art I loved, and he'd not like it. But the artwork we could always seem to agree on were botanical prints, whether it was a series of paintings or framed old book plates.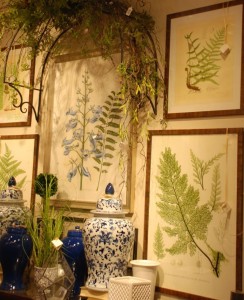 In fact, we both still love the botanicals we picked out way back then. And when we moved to our smaller house and had to pare down our belongings, those were among the pieces we knew we wanted to keep.  The photo above is just a few of the botanical prints we have available at Nell Hill's.
3. Invite spring to the table.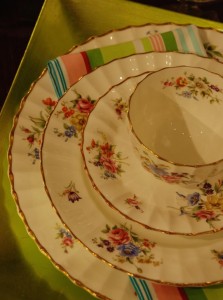 One of the fastest, easiest and most effective places in your home to decorate for spring is your dining room. You can go all out and decorate the room, or just dot in a seasonal accent or two into a place setting or centerpiece.
Do you have any vintage dishes with floral flourishes? Reinvent them by wedding them with contemporary pieces, like table linens, accent plates or chargers. To give these beloved floral dishes a fresh look at Nell Hill's, we just added in a bold striped napkin and a shiny green charger.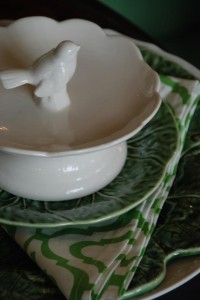 Majolica plates are one of my favorites for spring. At Nell Hill's we paired this majolica dinner and salad plate duo with a larger white dinner plate used as a charger and this adorable footed bowl featuring a bird right in the center. Reminds me of a bird bath!
You don't have to go all out to add a sprinkle of spring to your table. How about just setting the table tonight with lovely paper botanical napkins? Seasonal paper goods make it easy. We have a lot of lovely ones to choose from at Nell Hill's.
4. Zip up your displays with plants and flowers.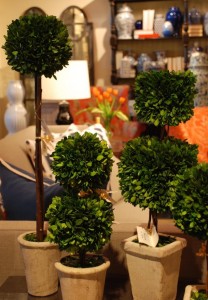 Sometimes all you need is to add a bit of green to your décor to get you through these late months of winter. Boxwood topiaries are one of my faves right now. Made from real boxwoods that have been preserved, they are lovely to look at and easy to work into your existing, year-round displays. Since they come in different shapes and sizes, you can mix several together for a powerful look. Cluster three or five at the center of your kitchen island or dining table. Bookend your mantel with a triad of different boxwoods. Give your powder room a spark by putting a group on the counter next to the sink.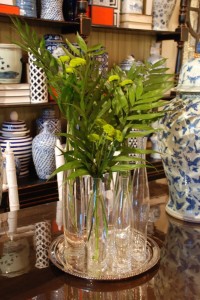 I really like the lifelike greens we're carrying this season at Nell Hill's. Their bright, fresh color makes me smile.  The good news is, you don't have to be a skilled floral arranger to decorate with them. Check out this fun but simple arrangement we designed at Nell Hill's: We clustered a group of small glass vases on a pretty tray and inserted faux palm fronds. Boom! Stop there, or add some stems of fresh flowers, like we did. These make another simple but dramatic display for your table, kitchen island, bookcases or mantel.
5. Indulge in floral fabric flourishes.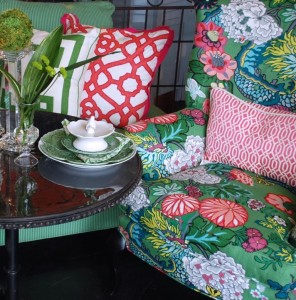 Floral fabrics are hotter than ever, and we love them at Nell Hill's. You can find gorgeous floral textiles that span the spectrum from soft and romantic, to stylized and electric prints. For spring year round, add some floral fabric to your bedding, or toss a floral pillow on your sofa or chairs.
On this sweet bed at Nell Hill's, the floral duvet doesn't feel overly feminine, thanks to the addition of the solid faun and cream pillows.
Next Week … How are you going to decorate your mantel for spring? We created four fabulous looks at Nell Hill's to inspire you.