Our homes are sacred places where we restore and reinvigorate ourselves. I've found that for a home to fill you to the brim, it needs to be a place where you feel fully yourself. The key to creating a haven is to thoughtfully decorate so your spaces reflect your unique personality, passions and lifestyle.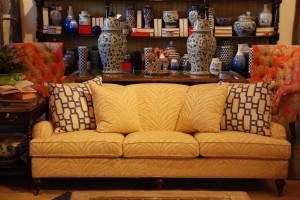 There are lots of design techniques that will help you achieve this, but right now, pattern mixing is one of my favorite ways to help people put their thumbprint on their décor. You can turn a generic space into a singular celebration of your distinct style simply by pulling together a unique assortment of fabrics. 
Pattern mixing is a design term that basically means tumbling together an array of textiles with different patterns, colors and textures to create a layered but integrated look. The fabrics you pick to accessorize a space, whether it be the mix of accent pillows on your bed or sofa, your window coverings or table linens, has gotten to be as important a step in the design process as selecting the furniture itself.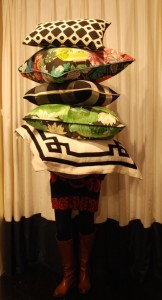 Coming up with just the right collection of textiles can be tricky. So here are three steps we follow when we pattern mix at Nell Hill's:
1. Combine Three or More Patterns
It's time to toss aside those old rules that forbade us from mixing together a wild assortment of patterns. Pulling together patterns that might clash, but somehow don't, is at the heart of this technique.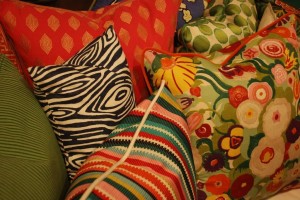 Experiment by throwing lots of different fabrics together – even patterns and colors you are just sure wouldn't play well together in the sandbox—because sometimes the most unlikely of pairings are the most sublime.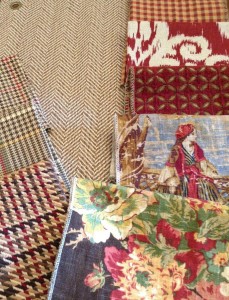 When we create a family of textiles to use on a sofa or bed at Nell Hill's, we pull from some of our favorite pattern groups: Florals and botanicals, menswear patterns like plaids and checks, stripes; solids, geometrics and toile.
2. Select Different Scales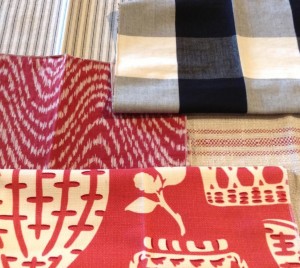 Opposites attract when pattern mixing, so it's key to wed a wide spectrum of pattern sizes. Having too many small scaled patterns or too many large scaled patterns will torpedo your look.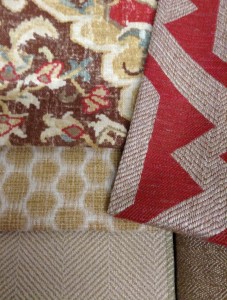 We like to include a fabric or two in a small, repetitive pattern, like a thin, two-toned stripe. Then we bring in a medium scaled pattern, like a floral or geometric print. And we finish off with a statement fabric with a big pattern, like a toile.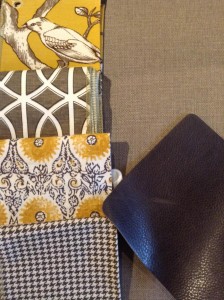 In this clean, cheery grouping, the color palette is very limited, but the wide mix of patterns makes the collection exciting and inviting.
3. Thread Together Several Colors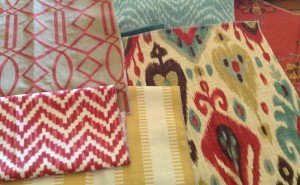 The design trend today is away from matchy-matchy, where every tone you use in a room has to be just the same. And I'm thrilled. I've long been a fan of spaces that look evolved, and unexpected. I like to pick a general palette of colors, then bring it to life is an assortment of shades, like we did in this group above at Nell Hill's.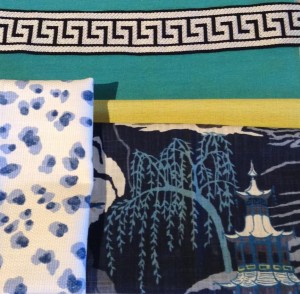 Picking the right color palette for your spaces can allow you to do mighty things. Here's an example: I worked with a customer the other day who wanted to visually connect her adjoining kitchen and family room. Her kitchen island was turquoise, accented with citrine. And her family room had gray furnishings that she wanted to enliven with blues. So we pull together a palette that brought these colors together, pictured above. The navy toile, with its touch of citrine and turquoise, pulled in the kitchen hues, and added some zip to the gray furniture. We banded the pillows in the solid citrine fabric. Then we did a solid turquoise pillow trimmed in this great Greek key. This playful blue cheetah print in another accent pillow finished it off with a fun flourish.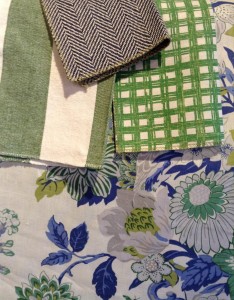 How far you go with your color palette is up to you. Some people love lots of bright colors blended together.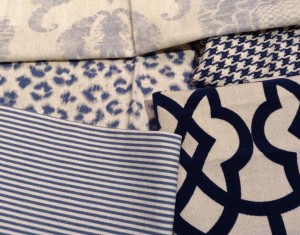 Others like to keep their color palette limited, play with variations on just a few tones, like navy and cream or black and white.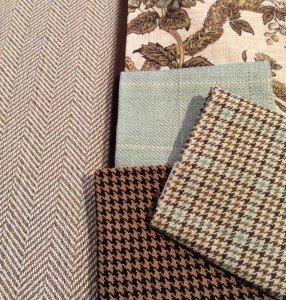 Others want to blend a handful of quieter tones using different fabrics from the same family. Your job is to find that mix that's right for you.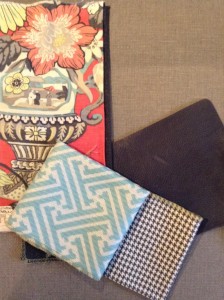 Remember as you experiment with pattern mixing, there are no hard and fast rules. Play until you come up with the combo that sends your heart soaring.
Next Week … In late winter, I have a deep-down need for flowers, plants … anything that promises spring is near. I'll show you how to bring blooms into your home.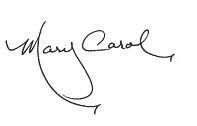 PS Our Wood Furniture Sale starts TODAY! All furniture made from wood is 20% off through March 15. This is the perfect chance to get that new Nell Hill's hutch, bookcase, dining table and chairs, side table, etc. you've been waiting for!