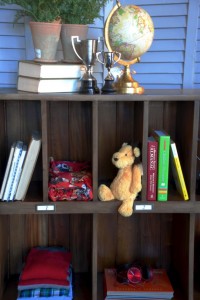 In my fantasy world, I have acres and acres of storage in my home. Nothing is cram-packed into too-small spaces, and I have scads of open drawers and cabinets in which to effortlessly organize my essentials. But back here in the real world, I live in a bungalow with very little storage. So I have gotten really good at finding creative ways to not only store and stash stuff, but to also add to the look of my décor in the process. You can do it too! Here's how: 
If you live in a home like it do, where there is not a lot of dedicated storage space, the secret to fitting in all your stuff is to select furnishings that not only bump up the style of your rooms, but also have the horsepower to double as storage containers. Here are my favorites (all of which will be 20% off Feb. 15-March 15 during our wood furniture sale!).
Creative Cubbies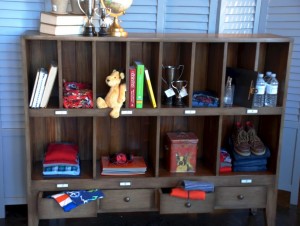 Organization has gotten to be an art form, and I could not be more thrilled. Designers are creating furniture that makes our daily lives easier by giving us tools like this fabulous chest. With a zillion cubbies, it is an awesome addition to just about any room in the house:
 

By the back door

. We all need a good organization tool by the door we go out and in every day. Fill the cubes with all the stuff you need during the day: kids' backpacks, your purse, books to go back to the library, outgoing mail …
 

In the kitchen

. This is a great way to not only store but display pretty pots, pans, serving pieces, stacks of dishes, cookbooks …
The nursery, child's room or playroom

.  First, anchor the chest to the wall to make it safe. Then fill it with stuff like diapers, books, clothing, toys.

Laundry room

. This is one of the hardest working rooms in the house, and you probably need a spot to stash soap, the iron, folded clean cloths.

Craft room

. Crafters always need spots for stuff like pretty paper, fabrics and all their tools.
This wonderful chest at Nell Hill's comes in several different colors and is really reasonably priced. Just give us a call for info: 877-746-4320.
Large Chests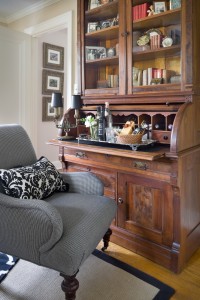 Just about every room, whether it's small or large, can use the drama of a large bookcase or hutch or sideboard. These bold pieces anchor a room, gives it lots of character AND offers tons and tons of storage.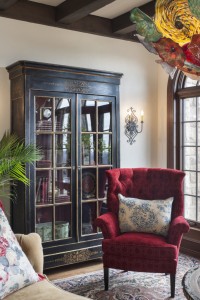 Bookcases are one of my favorite organizational tools. Because Dan has so many books, I've had lots of opportunity to experiment with how to decorate them. I like to mix a variety of items on the shelves, not just books. Fill a shelf about half full, then create a display in the open area using items you need to store, like pretty serving dishes. Tuck in an attractive basket full of items you need to stash away out of sight, like photos and papers, or extra table linens.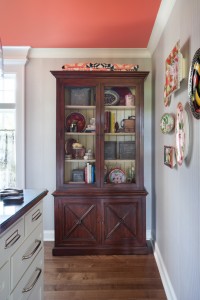 We dish-alcoholics are always looking for spots to display our dishes and store others. Nothing works better than a hutch. I love them in traditional spots, like your dining room or kitchen, or in surprising places, like a hallway or living room. How about putting one in your bathroom to hold towels and bath products, or in the laundry room filled with supplies?
I like to liberate chests of drawers from the bedroom and use them in more public rooms, then treat them as storage containers. In my home, I sandwiched this beautiful chest into the spot between our built-in bookshelves and the hallway. The drawers are filled with my table linens.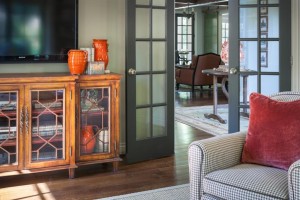 Sideboards or buffets are a natural in your dining room, where they can hold spare dishes, silver and linens. But they also are a great pick for other rooms where you need storage. Put one in your family room to hold the TV, filling the cabinet below with DVDs or video games.
Built Ins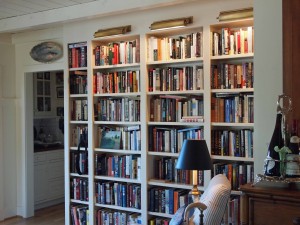 If your home has built-in bookcases and drawers, fabulous! Fill 'em full. If not, consider adding them. When Dan and I renovated our little lake house, we knew we needed to build in lots and lots of shelves to hold Dan's zillions of books.
In our little dining space, right off our kitchen, we build a row of drawers under the bookcases and this sweet little window seat, where we could stash more stuff.
Since many of my kitchen cabinet doors are glass, I have become a master at packing them full of dishes, but arranging them so they are visually appealing.
Next Week …  A great way to put your thumbprint on your home's decor is by mixing together patterns that express your style. I'll give you three steps to demystify the complex art of pattern mixing.