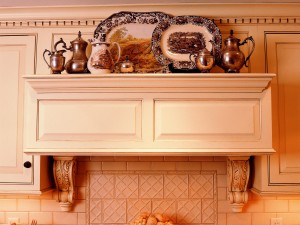 If the only time you see your china plates and platters is when they're filled with food, you're missing out on a sensational decorating tool. Wash off those gorgeous works of art and use them in your everyday décor. Here are three ideas to get you started.
One glance at my storage cupboards will reveal the embarrassing fact: I'm addicted to dishes. Whether they are costly antiques or thrift store finds, I love them all. Through the years, I've found lots of ways to use dishes in my decorating so I can surround myself with eye candy. Here are my three favorites:
1. Hang Plates and Platters as Art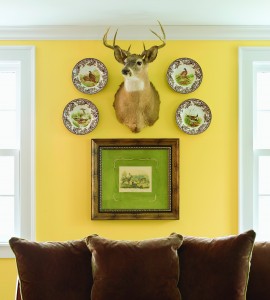 Whether you have a full set of beautiful patterned dishes you never use or a number of unique singles, hang them on the wall to transform your artwork displays. The round shape and curved edges of dishes do wonders for breaking up a sea of square or rectangle artwork, adding texture and dimension.
Showcase a few individual plates you've collected here and there by tucking one or two into a montage of artwork that crawls up the wall, down the hall or over the doorway. Or, fan similarly sized dishes (whether they are a set or a mixture of plates that sport the same look) around a central piece of art, like a painting, mirror or even a hunting trophy.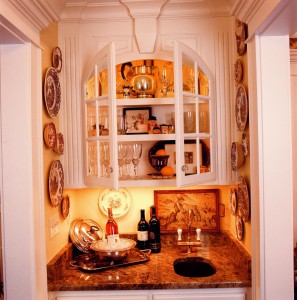 Sometimes more is less … and sometimes more is better, like when you pick out a number of great plates and group them together to create a dramatic display. In the photo above, my friend Lisa filled the walls of the alcove that holds a wet bar with some transferware plates from her collection. The patterns are dissimilar enough to make the arrangement interesting, yet uniform enough to makes it powerful. Note that the plates are not hung in rows, but seem to be randomly placed. Not only is this approach easy on the eye, it's easy to create – no measuring, no stress.
My friend Nancy collects saucers, and she has hung them helter-skelter along the soffits in her kitchen. They seem to be dancing along the wall, pretty and playful. Another friend of mine has hung a row of plates at eye level around the perimeter of her dining room. It's like a plate rack, but without the rack.
When you're amassing a large grouping of plates, play with your design. You may be drawn to a grid with crisp lines and rows. Or, you may prefer the plates take on a shape of their own, like a paisley shape or a circle or oval. If your display is less structured, include a variety of sizes and mix finer pieces with those that are less expensive.
As you can see, the sky's the limit when it comes to hanging plates. Stock up on a stack of plate hangers, pull out the hammer and nails, and have fun experimenting.
2. Use Plates and Platters as Layering Tools in Displays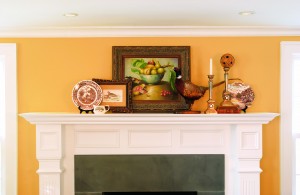 One of the tricks we use at Nell Hill's when we design displays is to incorporate some sort of artwork into the background. The artwork provides necessary vertical height and is an ideal backdrop. Plates propped in easels are one of our regular go-to tools for this purpose because they are the perfect layering tool.
Get a few easels and add a plate here and there in a variety of places throughout your home. Include one in the display on your mantel, like my friend Lisa did in her home in the photo above. Stick one on a side table, an entry table or a nightstand, paired with other accents. Or build a display out of plates alone, layering a variety of sizes and styles together.
Who says storage has to be boring and utilitarian? When you are filling your hutch or china cabinet with dishes and serving pieces, prop a few plates on end to make the arrangement look like art. Rest single plates on easels as backdrops or layer several together, placing the largest plate or platter in the background and working your way forward, with the smallest in front.
3. Put Plates and Platters to Work as Trays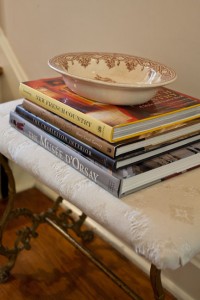 Since plates and platters were designed to hold food, why not put them to work in your home holding other stuff? I think displays look their most lovely when they are grounded on a tray or platter of some type. What better use can you find for an amazing platter than putting it out where everyone can see it? That's what I did in my living room. On top of my coffee table ottoman, you'll find a large wooden tray. Perched on top of that is a beautiful blue and white platter. The platter holds a silver vase that I like to fill with flowers when I entertain. The display is so simple, yet looks stunning.
Dishes of all sizes and shapes also make excellent organizational tools. In the photo above, my friend Marsee put a shallow bowl atop a stack of books, giving her an excellent spot to stick her cell phone and car keys. Where could you use a bowl or plate to fill with odds and ends? Maybe you could put a hand painted plate in your powder room to hold soaps. Or a platter on your entry table to collect outgoing mail. The options are endless.
Next Week … It's time to decorate your home for spring! I'll have some of my favorite tools and tips for welcoming this beautiful season into your home.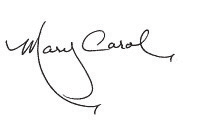 P.S. Don't miss a bit of Nell Hill's news – stay up to date on my favorite finds, new arrivals at the stores and all our special events by checking the Nell Hill's Facebook page every day. You don't have to have a Facebook page yourself to look in on the fun, but if you're already on Facebook, "like" us today!