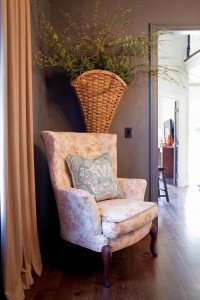 It's time to start the celebration: Winter is giving way to spring! Depending upon where you live, your garden may be coming awake, filled with blooming bulbs and flowering bushes. If not, it won't be long now. Take time this month to welcome spring by making your home as fresh and pretty as the scenery outside your door. Here are six of my favorite things for spring to inspire you.
1. Pretty Pillows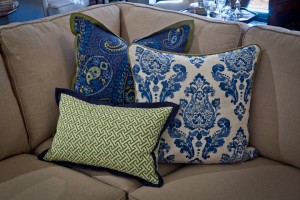 Never underestimate the power of the pillow to transform your home for a new season. One of the first things we do to get both of the Nell Hill's stores and Garrity's Encore ready for spring is to replace all those warm and cozy winter textiles with the bright and breezy fabrics of spring.  Pillows are a great way to freshen up a room without going to the trouble of slip-covering a sofa, which can be costly and a hassle to take on and off. Try doing the same thing in your home this season – it's a simple step that yields a big visual impact.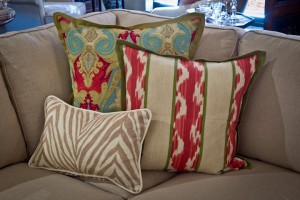 Start by getting accent pillows made with concealed zippers so you can slip out the down pillow form and insert it into the new season's pillow cover. Before you store away the off-season pillow cover, have it cleaned so it's fresh and ready to go in six months when you transition your pillows back to fall.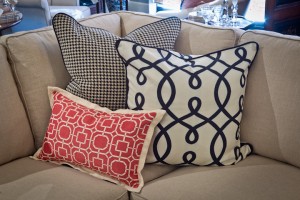 This spring, people are crazy for color, and plenty of it! The traditional but fresh color combination of navy, apple green and white is making everyone's heart rate go up — I just sold a stack of pillows in this favorite palette to my last two customers. If you're not a fan of navy, pair the apple green with robin's egg blue. I love it!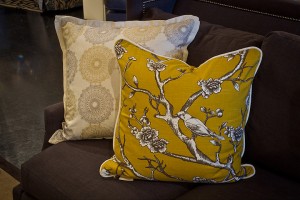 I also can't get enough of coral and marigold right now. Everyone who comes into the stores is feeling the love for these two happy hues.  Put them together, or pair them with navy and green. Take your cue from the color combinations outside your window: lilac, periwinkle, daffodil yellow, peony pink.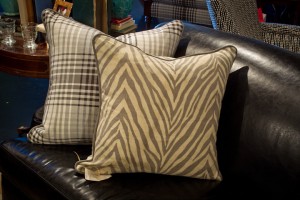 Another great look for spring this year is layering together several different patterns of soft neutrals. How about a palette of cream and light gray? Or cream and white?
Our amazing line of custom pillows will be available soon through Nell Hill's Online!
2. Clusters of Cheery Pottery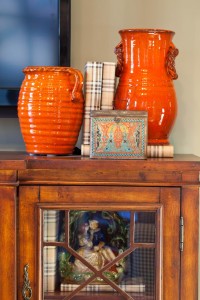 You know how it feels when you open your windows for the first time in the spring, and that cool, fresh breeze sweeps in and scatters the winter blues? That's how I feel when I use bright pottery in my home décor this time of year. Inexpensive and expressive, these vases, urns and bowls are unbeatable when it comes to value and impact. Here, my friend Anne used a few pieces of Clementine orange pottery to add some sunshine to the corner of her TV credenza. This room is full of neutrals, so this little pop of color feels like a bright ray.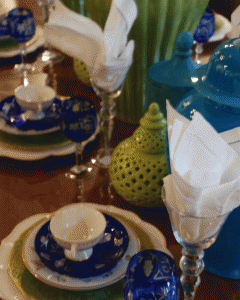 One of my favorite color combinations this spring is apple green and turquoise pottery paired together. We just set a table at Nell Hill's with clusters of vases in these two great colors and together, they just smacked you awake.
Cluster a few different sized and shaped vessels on an end table or a night stand. The beauty of these little pieces is you can pull together several for a big impact or just tuck one tiny vase into an existing display on your bookcase for a more subtle effect.
3. Yummy Fresh Fruit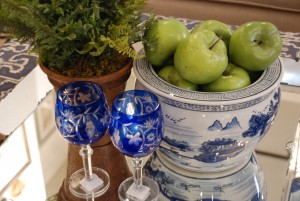 You can't beat spring decorations that are as functional as they are fun. One of my favorite centerpieces this time of year is a beautiful bowl filled with apples. Dan and I are huge apple lovers, and now that we're both on diets, we're trying to keep piles of apples and other fruit out where we can see it so we are more likely to grab a healthy snack instead of a high-calorie no-no. Try it with strawberries, grapes, kiwis, pears or oranges.
4. Bright Table Linens
This spring, I'm decorating my dining room table with a new table topper. These are so inexpensive and easy to make, you've got to try it. Start with a yard and a half of decorator fabric. I picked a bright green and white key pattern from Nell Hill's Briarcliff because I liked its fresh, transitional feel. Then, finish the edges either by sewing a seam, using fabric glue or adding a decorative trim. I finished my fabric square with a one inch flange with mitered corners made out of navy linen. Now, just place the topper on the diagonal, like a diamond, at the center of your table and decorate it at will. I'm using my topper to hold an assortment of Asian blue and white vases and urns. When summer rolls around, I'll switch out the blue and white pieces for a cluster of perky green pottery.
5. Heavenly Scented Candles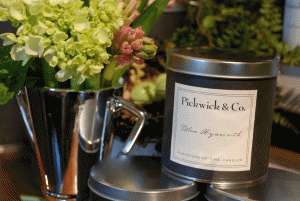 Spring is definitely a feast for the eyes, with all the flowers and bushes dressed in opulent blossoms. But it's just as much a delight for the nose. How can you walk past a lilac bush and not want to pull up a chair and just sit there, sniffing, for hours? Before the blooms are out in full force, I fill my home with the perfume of spring through scented candles. My absolute favorite this year is one of the Pickwick & Co. candles we sell at Nell Hill's: Blue Hyacinth. This amazing candle puts me over the edge for spring, and everyone who walks by the lit candle in the store has to grab one for herself.
6. Welcoming Door Décor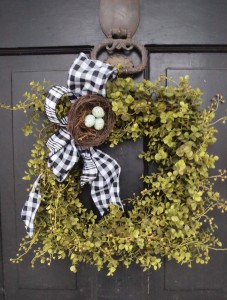 I'm a huge believer in dressing up your door for each season. It's crazy easy to do – takes just a second or two – but brings a smile to the face of everyone who sees it. While I like to do all kinds of inventive things to my door, like decorating it with plates, baskets, mirrors and artwork, wreaths are one of the best deals going if you want a tool that gives you huge eye appeal with little to no work.
When it comes to spring wreaths, I love it all. But my top pick this season is a wreath made out of boxwoods that we're carrying at Nell Hill's. Boxwood greens are just right for this awkward transitional period, when it's not fully spring but it's no longer winter. You can hang this simple green wreath with no adornment and it will look fresh, clean and classy. Or you can punch it up a notch by tying it to your door knocker with a black and white ribbon.
Next Week … Customers ask us all the time why the artwork displays at the Nell Hill's stores and Garrity's Encore look so great. I'll share the insider's secrets for creating fabulous artwork displays with you next week.
P.S. Don't miss a bit of Nell Hill's news – stay up to date on my favorite finds, new arrivals at the stores and all our special events by checking the Nell Hill's Facebook page every day. You don't have to have a Facebook page yourself to look in on the fun, but if you're already on Facebook, "like" us today!