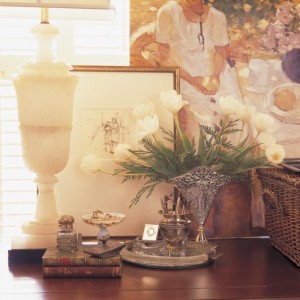 June is sublime in Kansas. During the long, sunny days, I throw open my windows and enjoy the warm breeze then spend the evening on my patio, surrounded by fireflies. This is my month to celebrate the romance of summer. Want to join me? The first step is to make your home its romantic best. Here's how: ,
1. Create a space just for you.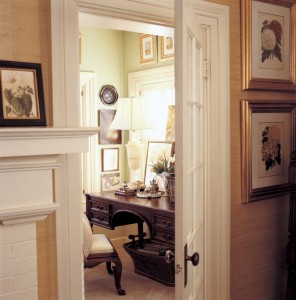 The Man Cave gets lots of press, doesn't it? I don't begrudge guys their special retreat. But I also think women need a sacred spot that is their very own, where they can refill. The photo above is of one of my special spaces. The old porch off my bedroom used to be packed with all the stuff I didn't know what to do with. Then a few years ago, I decided to turn it into my office retreat.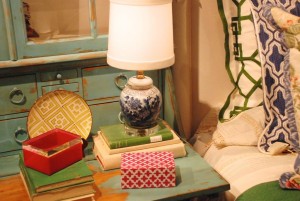 Is there a room, nook or corner in your house that you can make your own? It may be a spare bedroom you turn into a craft room, or a screed porch, or even a spot in your bedroom where you can escape into a great book. This month, carve out a space that is all yours.
2. Add beauty to utilitarian spots.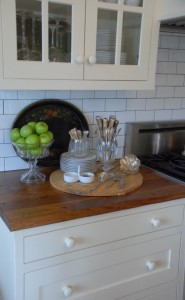 Every room in your home should feed your senses, even those that are the workhorses of daily life, like your kitchen or laundry room. It just takes treating the utilitarian areas  of your home the same way you do your living room. The secret is the details.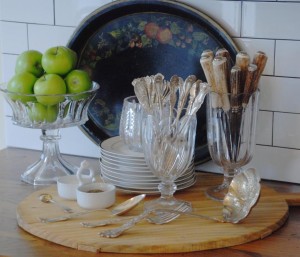 When I redid the kitchen in my little lake house, I wanted to make the countertop displays functional yet beautiful. So to make our mealtime grab-and-go area as lovely as possible, I made it into a display using some pieces from my china cabinet. Dig through your cabinets for pretty glasses and plates you can use as a silverware holder or to arrange fresh fruit for a snack on the run.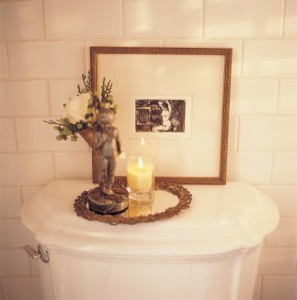 Where else can you add a touch of beauty? Why not create a lovely motif on the back of your toilet stool? Arrange your dishes artfully in your china hutch or on open shelves in your kitchen or hallway. Stack your linens beautifully in your bath. Every single spot has the potential to be lovely, when you use your creativity.
3. Find pretty places for pretty things.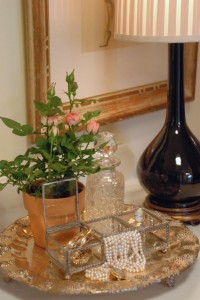 Little boxes make my heart beat faster, especially when they are filled with beautiful things. Instead of using a conventional jewelry box for the rings and necklaces I wear every day, I place my jewelry in a sweet glass box in my bedroom. The simple storage makes for a romantic display, I think.
4. Surround yourself with people you love.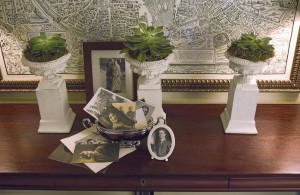 One of my favorite things to do when I visit a friend's home is to walk around and look at the family photos on display. The carefully chosen pictures give a glimpse into the most meaningful moments in their lives and the people they cherish. Snapshots of my family and friends, of favorite vacations and memorable celebrations, will always be a part of my home's décor.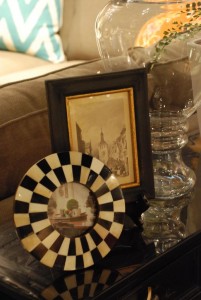 I don't want a million photos in my home, but I have to have a few. Some of my favorites are of vacations I took with my 92-year-old mother when she was in her 60s. The memories of those adventures with Mom are some of my most precious. Showcase your pictures in frames that accentuate your home's décor, so they become a seamless addition to your look.
5. Indulge in beautiful aromas.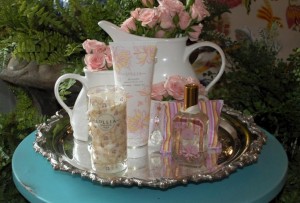 When I was at market, I was drawn to this gorgeous line of luxury bath products like a bear to honey. My love affair with Lollia started with the gorgeous packaging. The rep gave me a few samples to try and, oh my, I was smitten. I had to start carrying this line at Nell Hill's.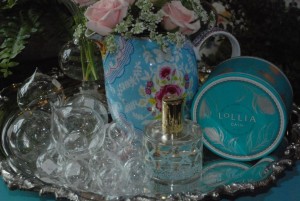 I adore all the fragrances in the line, but my fave right now is the "Calm" lotion (wonder why?). The company's website describes the scent this way: "Serene meadows of blooming hyacinth, earthen rooted vetiver and fresh cut iris, cooled by setting citrus sunlight and delicate floral waters."  My description: Heaven. This is one of my new go-to gifts for all the people on my list.
My other aroma romance is with Pickwick Candles. I've blogged about these amazing candles before, which are produced just blocks from Nell Hill's Briarcliff. Blooming Tulip, which is made exclusively for Nell Hill's, is my can't-get-enough-of-it scent.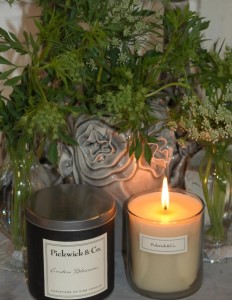 Everyone who has caught the Pickwick Candle fever has their favorite. But for most of us, the list is long.
6. Smell the flowers.
There is nothing more indulgent than filling your home with fresh flowers, and there is no better time of year to do so than in the summer. I like to take snips of the hosta leaves and hydrangea blossoms in my garden and tuck them into pretty vases and poke them in around my home.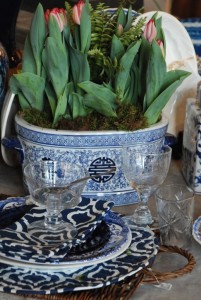 One of the ways I can get myself to grocery shop is to bookend the visit with two treats. The first is the floral section, where I pick up a bouquet of flowers or a blooming bush I can put in a cachepot on my buffet or dining table. The second is the magazine rack, where I thumb through home décor magazines for inspiration.
7. Use your prettiest pieces every day.
When Nell Hill's designers are hired by customers to help them refresh their home décor, rearranging their furniture and accessories to give their spaces a fresh new look, they are always amazed to find stacks of gorgeous dishes and accents shut away in cupboards. Don't make the same mistake in your home. Bring out all your beautiful things and use them in your daily life. If you are afraid to serve nightly meals on your heirloom china, use it as part of your décor.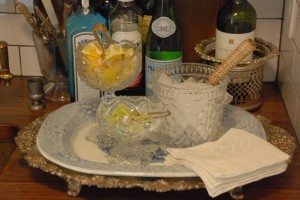 For example, to dress up the countertop bar at my lake house, pictured above, I polished one of the grape-leaf patterned silver trays I collect, topped it with an old blue and white transferware platter and accessorized with glass compotes. I can't help but smile every time I pass by this simple but stunning display of some of my favorite things.
Next Week … I use ticking and buffalo check a lot when I design because there is so much you can do with these humble fabrics.