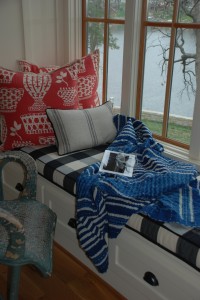 When I was dreaming of how to decorate my little lake house, I had a garden of options to chose from. Owning home furnishings stores loaded with looks you adore is like being a kid in a candy store, for sure. Any of the styles, color schemes and pattern mixes we spotlight at Nell Hill's would have been fabulous, which made the decision making in my decorating journey even more fun.
After long, delicious deliberation, I decided to go with the love of my life: an evolved, traditional style brought to life with the help of black and white ticking and buffalo plaid. Here's a glimpse of how I used these two modest patterns in modern ways to make my new home a haven. 
Timeless Upholstered Furniture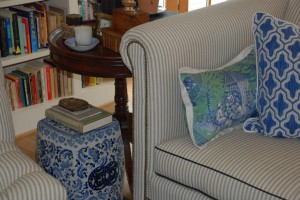 Our lake home is cozy, so our life will happen in a few snug rooms. It was essential that key furnishings in these spaces be versatile enough for me to alter their look on a whim, whether for the changing of the season or to weave in new colors and patterns that catch my fancy. I knew a simple black and white ticking was the perfect pick, so I washed the entire living room in it. In the winter, I dressed up the furniture with tartan plaid pillows. For summer, I swapped them out for a hodge-podge of more modern pillows, pictured above.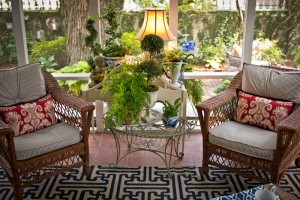 I first fell in love with formal furnishings upholstered in ticking back when I was in my 20s. I had visited an acquaintance who had inherited several heavy, ornate antiques. The look wasn't for her, so she lightened and brightened the pieces by reupholstering them in ticking.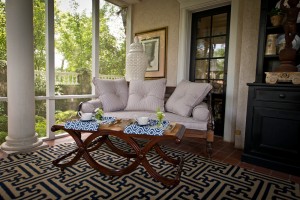 The idea of formal furnishings done in modest patterns captivated me and I couldn't get it out of my brain. So many years later, I began to experiment with the power of ticking in my own home. I did the porch cushions in this subtle stripe because it acted almost like white furniture, embracing every color and pattern you put with it, yet still added a hint of pattern.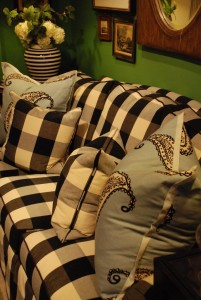 Every time we cover a piece of furniture in ticking at Nell Hill's, it flies off the showroom floor. So I began to feature other simpler fabrics on formal pieces. That's when my love light started to burn brighter for black and white buffalo plaid. This four-inch check is a big, statement fabric that plays well in the sandbox with everyone else. It makes me swoon.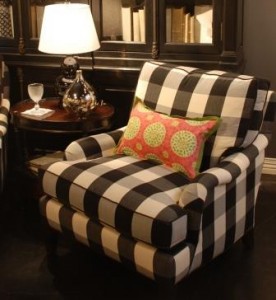 Like ticking, furniture upholstered in buffalo check can be dressed up in lots of different ways, depending upon what kind of pillows and throws you pair it with, the other furnishings in the room and the wall color.
Restful Bedding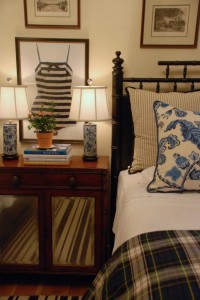 Ticking and buffalo plaid are also ideal additions to bedding. They provide threads of texture and pattern without competing with showier accent fabrics. The shot above shows how I used ticking on a bed at my lake house. Ticking pillows are just right year round, and here, act as a backdrop for summery blue and white pillows.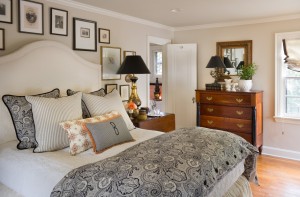 My friend Marsee took a similar approach when designing her own bedding. Like me, she loves a simple color palette in her bedroom, and, like me, gravitates to all things black and white.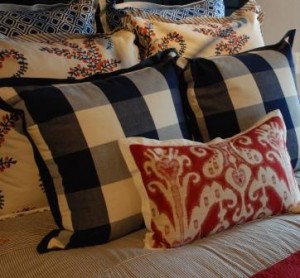 If you want to go bolder, include shams or a duvet made from buffalo check. The plaid euros in this ensemble at Nell Hill's Briarcliff give this bed energy. They look sensational matched with the red pieces on the bed.
Stunning Window Treatments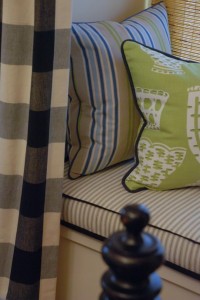 I picked buffalo check for the draperies in a bedroom at my lake house because it is such a chameleon; it looks lovely paired with winter or summer accents. This restful window seat next to the bed blends the timeless beautify of the buffalo check drapes and a ticking cushion, made lighter with two summer pillows. In the winter, I'll switch the pillows for rich plaids and add in a throw.
Next Week … Summer is a wonderful time to celebrate your friends with a special gathering at your home. I will share tips and photos from a ladies luncheon I hosted at my home a few weeks ago.