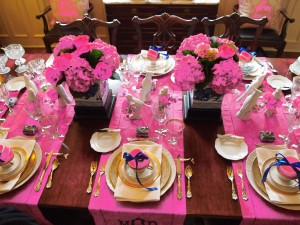 Sometimes you just need to surround yourself with a klatch of best friends. And, with your life so crazy busy, sometimes all that's keeping you from pulling everyone together is a good reason. Here's one: It's summer! OK, now that you have a mission, no more excuses. Get your BFFs together and have fun. Catch up on life. Laugh until you cry.
I just hosted a summer luncheon of friends at my house, and here's what I did to make the setting bright and beautiful. It doesn't take a lot to make a magical moment, if you have a plan: 
Pick a Theme that's Easy to Execute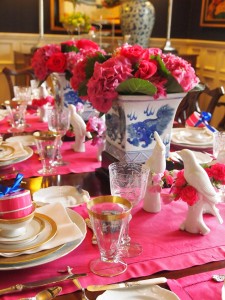 Since my luncheon was going to be a group of women, I decided to embrace the estrogen and make this a frilly affair. My theme was girly-girl, and I brought it to life with lots of flouncy flowers and oodles of pink. Since I break out in a rash if I depart from my favorite color, blue, I added in some navy to balance out the sugar.
If you are struggling with a color scheme for your event because you feel it has to match the décor in your dining room, don't! You'll be surprised how much rein you have with your party color palette if you look at all the colors that are really in your room. I struggled with this when I picked the colors for my luncheon, and was pretty sure I would need to pull out the Persian-style rug under my table for fear it would clash with all that bubblegum pink. But it was amazing how great the pink looked with the navy, coral and rusty orange in the rug.
Create a Low-Work, High Impact Centerpiece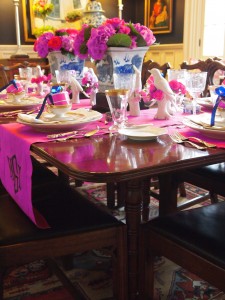 I planned to serve the luncheon of salad and chilled soup already plated, so I needed less room on the table for serving pieces. That gave me the entire center of the table to play with for the centerpiece. Since we ladies love to talk, I knew the centerpiece had to allow for lots of cross-table conversation. So I went for a simple but stunning treatment. I filled two blue and white cachepots with hot pink flowers, set them atop risers to give them more presence, and dotted the area around them with some sweet white porcelain bird vases, each filled with little nosegays of pink flowers. Done!
Let Your Table Linens Make a Statement
Oh my goodness but I had more fun planning the table linens for this event. We are doing so much with monograms at Nell Hill's now, and I couldn't wait to add some to the table. Instead of using a large tablecloth, I came up with the idea to crisscross the table with some of the hot pink linen table runners we are selling at Nell Hill's, a fun departure from the 52" tablecloth I often use. I decided to place our monogram at the ends of each table runner and use navy thread to pull my color scheme together. At the ends of the table, I used matching hot pink place mats, since runners wouldn't work there.  I am so crazy about these place mats and runners, I ordered them is a rainbow of fabulous colors for Nell Hill's, including lime green, navy, turquoise and white.
Mix up Your Dishes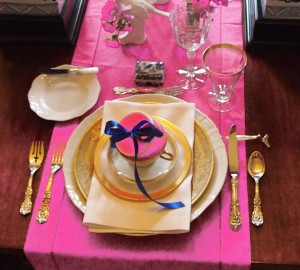 When I entertain, I frequently use my gold edged white china. You just can't beat these elegant but basic plates because they go with just about everything. I started with a large, plain white dish used as a charger, then layered up with a dinner plate, salad plate and cup and saucer. To add a touch of elegance, I like to put the knives on knife rests (It also saves your linens from being ruined by butter stains).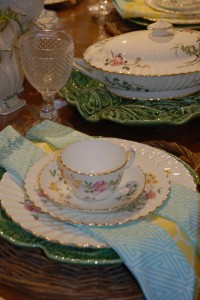 What lovely dishes are languishing in your china hutch? Bring them out and invite them to the party. Don't stress if you don't have enough to have a matched set for each guest. I only have six table settings of my gold rimmed china, so I used different plates at the ends of the table, pulling everything together by using the same chargers.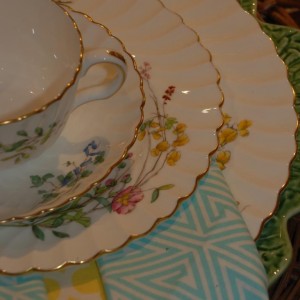 This is the time to bring out your girly vintage dishes. If you have an odd assortment of partial sets or pretty plates you've picked up through the years, mix it up.
Treat Each Guest to a Little Gift
One of my favorite things to do when I entertain is to give my guests a gift, a small memento to help them remember our time together. I had lots of fun with this for my girly luncheon. I found some little hot pink boxes at the dime store that resembled old hat boxes. Inside each one I placed an inexpensive blue and white porcelain box.  I collect small boxes, and blue and white porcelain is one of my favorite things in the world, so, really, I shared a bit of myself with them.
Next Week … With summer in full flush and Independence Day just around the corner, I'll have ideas for how to weave red, white and blue into your décor.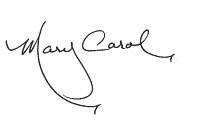 PS Our special order Upholstered Furniture Sale is going on right now through July 15. Save 20% on all our upholstered furniture at Nell Hill's Briarcliff!