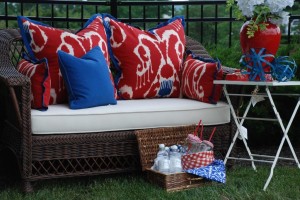 What are some of your favorite summer memories? Mine was my first – and last — attempt to be a beauty queen. One 4th of July, our tiny country club in Atchison held a beauty pageant for little girls. Even then I was into props, so I borrowed the neighbor's poodle, slipped on my plastic high heels and sashayed around the pool for the judges. I lost. To a pretty little girl with long blonde hair. Not surprising, since one of my favorite summer games was to play cowgirl and roam the neighborhood – our ranch.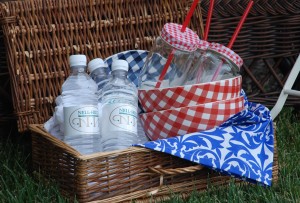 There is so much nostalgia layered into summer, isn't there? Independence Day fireworks, watermelon and fireflies. This summer, salute those sunny, lazy days of your youth and celebrate a bit of Americana by using red, white and blue in your décor. Here's how: 
Accent with a Pop of Red, White and Blue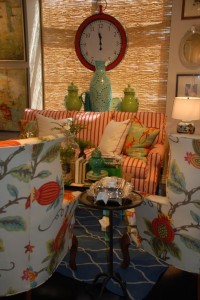 When we think about decorating with America's colors, we often imagine a stars-and-stripes filled country look, right? Here's my challenge to you: Tip that stereotype-filled apple cart over and experiment with all the glorious ways you can present red, white and blue together in your décor. Check out the room scene above, taken in one of our galleries at Nell Hill's Briarcliff.  The blue rug and the red and white striped sofa applaud these glorious colors, but make them fresh and new.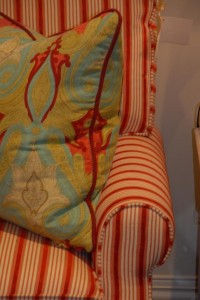 The secret for stretching our beloved color palette out of its well-worn groove is to also toss in a bouquet of unexpected colors, like we did here by adding this paisley pillow in coral, citron and turquoise.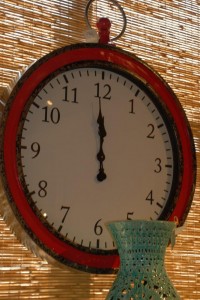 Big clocks are huge this summer. And my heart hammers hard for this lovely red rimmed time piece. Using artwork like this, that features just a tiny band of red, is an ideal way to poke in subtle touches of our patriotic color scheme.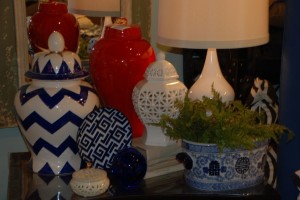 Check out this fabulous table display of red, white and blue that our visual design team created at Nell Hill's. It is vibrant with energy and does a great job of highlighting our color scheme in a new and different way. Why does it work so well? The wide mix of objects in the tableau pulls in divergent shapes, sizes and patterns, which are knit together by repeating colors.
Does your home have a color palette that doesn't currently include red, white and blue? No worries! Check out this example of how we dotted in this color triad using a few accents. You wouldn't think this primary color pair would work so well with the emerald and pumpkin colors in the room, but it does.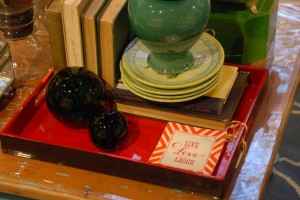 One more example of how you can go small but get great results with our hero colors.
Set the Table for Summer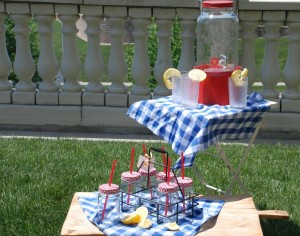 I think summer tables should be fun and casual, simple to execute.  And pulling in red, white and blue through your dishes, table linens and serving pieces is an easy way to give your table an instant summer feel. When you are planning a summer picnic or backyard BBQ, our color combo is as natural as corn on the cob and apple pie. To me, they say "summer."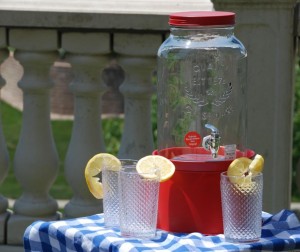 Pick out some serving pieces that look fun and fresh in red, white or blue, like our happy beverage urn at Nell Hill's. Then, fill it with lemonade or ice tea.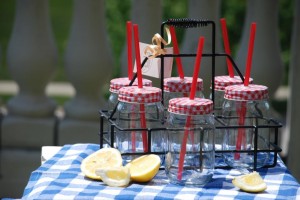 Your table linens and glasses can help carry out your patriotic color palette. I'm crazy about these red and white gingham topped cups, inspired by Grandma's Mason jars, which were always filled with delicious pickles and jams, lovingly made from summer veggies and fruits.
We began carrying this darling line of dishes a few years ago at Nell Hill's, and they continue to be popular sellers and one of my very favorites for adding some charm to a table. You can mix red and blue together for a playful table.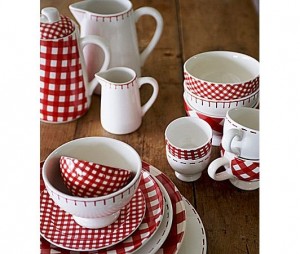 Or, you can showcase just one color: red …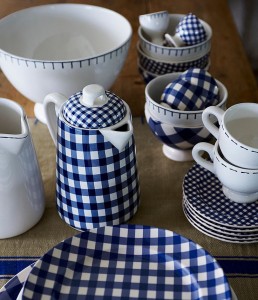 … or blue.  I love these dishes paired with wicker chargers, or fun summer placemats and napkins. They are just so happy!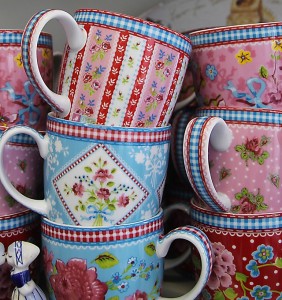 Want a more romantic feel to your red, white and blue display? Mix our proud trio with its softer shades of pink and pale blue.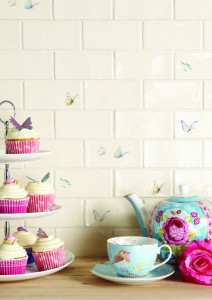 The line of Pip dishes we've been carrying at Nell Hill's for a few years is a perfect way to give the colors new life. These dishes are so gorgeous, even the food I prepare looks good on them!
Next Week … One of my favorite ways to celebrate my family and heritage is to use family heirlooms in my decorating. I'll show you how to do the same in your home.