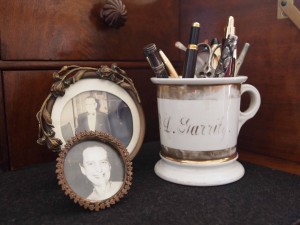 I'm a sucker for sentiment. So for me, a beautifully appointed home is more than a collection of well-chosen furnishings. It's a tribute to who you are and what you hold dear, filled with the objects that help tell the story of your life. If you wander through my home, you'll see treasures here and there that have been passed down through my family, each a link to the people I love. These heirlooms of old are comingled with wonderful new pieces I have acquired, which will become the heirlooms for future generations of Garritys.
What about your home? Have you dotted your décor with old or new heirlooms that brighten your spaces and pull at your heart strings? Here four of my favorites to consider:  
Well Crafted Furniture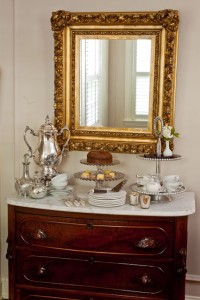 Those of us who love antique furniture can be eternally thankful to the craftsmen of old who fashioned these pieces so well that they have stood up to the rigors of time and still look beautiful. The take away is: When something is well made, using high-quality materials, it's a keeper for generations to come.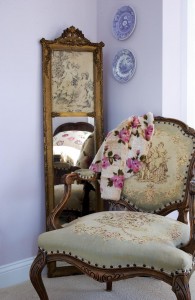 Chances are, you have some pieces like this in your home, whether it's a chair you inherited from your grandmother, an antique you've discovered in a shop or a darling vintage piece you picked up for a song and refurbished. Put them front and center in your décor! Sometimes people ask me if it's OK to mix up different styled furniture, such as including an antique chest or chair in a room that features more contemporary décor, and the answer is an emphatic yes! My favorite interior spaces are an eclectic assortment of different pieces that look as they've evolved over time.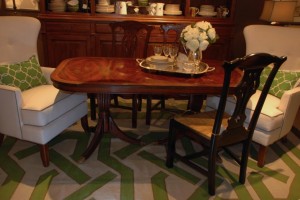 When you purchase new furniture for your home, whether a sofa or a dining table or hutch, stop and ask yourself if this is the kind of timeless, quality piece that you will be able to hand down in future years. While some pieces of furniture in your home will have a shorter lifespan, like a trendy table or chair, the bigger pieces should last a lifetime (or two or three).  My advice is to invest in the highest quality furniture you can afford. For example, at Nell Hill's, we carry upholstered furniture that is so well made, from the kiln-dried hardwood frames to the hand-tied springs, that they will remain lovely through the years.
Intriguing Artwork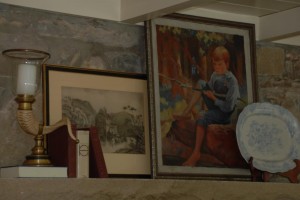 Your fireplace mantel, that place of honor in your home, is the perfect spot to spotlight your heirloom artwork. The photo above is of the mantel in my little lake home, and the artwork enshrined there is very, very special to me because I have stared at it all my life in my parents' home. The painting of the boy fishing was done by an Atchison, Kans., artist, given to my father years ago by the artist's own father. The other piece is a charcoal done by my Great Aunt Christine. When my mom moved from our childhood home, she gave these pieces to me, and it's heartwarming to get to see them every day, once again, a bit of Mom and Dad that will be with me forever.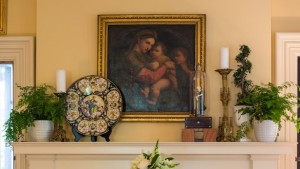 Artwork doesn't have to have sentimental family ties to be an heirloom. Perhaps you've collected a few pieces by local artists or finer works from area galleries. If so, you have a timeless treasure worth passing down. Similarly, artwork doesn't have to be worth a lot to be an heirloom. Like the art from my parents' home, it can simply be a lovely or intriguing piece that is special to you.
Sentimental Pieces and Collections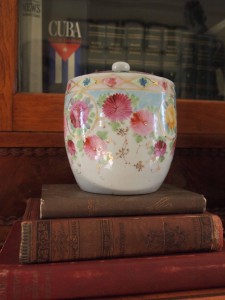 Both Dan and I really enjoy collecting items from our childhood. In fact, we have become hogs about it. For example, the lovely porcelain cookie jar in the photo above was Dan's great grandmother's. As fine and frail as it is, it was one of the few things to survive her early years as a pioneer, when the family lived in a dugout. I will always treasure this testament to all Dan's ancestors endured, and survived, as they helped tame the West.  You'll find it showcased in a prominent, but safe, place in my home décor.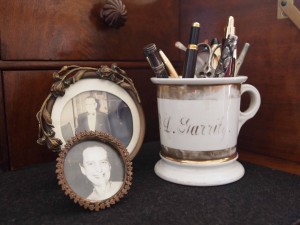 Dan and I have been blessed to have received lots of wonderful heirlooms from Dan's mother, like this old shaving mug, which I also display as part of the ever-changing tableaux that polka-dot my home. Many of these pieces weren't worth much when our ancestors purchased them, but now they are priceless treasure to us. I don't consider myself the owner of these bits of family history, just the caretaker to keep them safe and honor them in my daily life, until it's time to pass them on.
Now it's your turn. What sentimental pieces can you spotlight in your décor? It could be anything! Display old family photos, vintage linens or collections. We framed a calendar that used to hang in one of Dan's ancestor's stores. Are there pieces that are brand new that will be heirlooms in your family's future? The dessert server in the photo above is filled with little boxes I've collected through the years, gifts for my descendants.
Beautiful Silver and China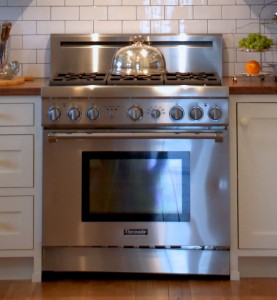 Silver, china and crystal are the quintessential heirlooms. And, they are marvelous additions to your everyday décor. Check out how I've used this gorgeous silver buffet cover in my lake house kitchen, in the photo above. This beautiful cover helps conceal the less-than-lovely burners on my stove, and become an elegant focal point in this utilitarian spot.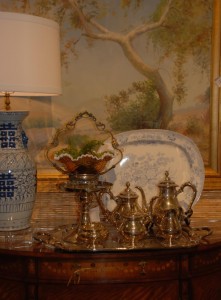 If you don't have china, silver or crystal that have been in your family for generations, no worries. Acquire your own gorgeous collection and showcase it in your home's displays. A simple silver tea service elevates the look of a side table, making it a visual heaven. Who cares if it's brand new!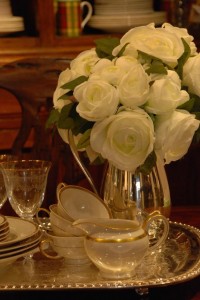 I got hooked on silver trays when Dan's mom gave me a few from her collection. Since then, I've been adding new pieces, using these stately beauties every single day in my decorating and entertaining. Don't have your own? We have a fabulous selection at Nell Hill's!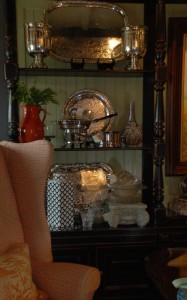 When you think about it, many of the items that people in previous generations used to fill their home weren't of great value when they purchased them. It's only through the generations that these pieces have become costly. Case in point: depression glass. What lovely accents can you weave into your home right now that will become the collector's item in the future?
Next Week … Good lighting is a key ingredient of a well decorated home. I'll share the lighting I selected to illuminate our little lake home when we remodeled.