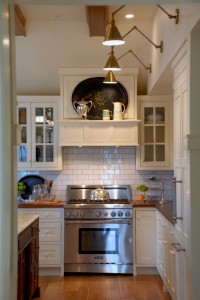 I've learned through the years that the right lighting in the right spots transforms a room. So when it came time to select the fixtures for our lake home redo, I followed these three tips to ensure the lighting was a bright spot in my décor: 
1. Kitchen Lighting Should Work Hard but be Beautiful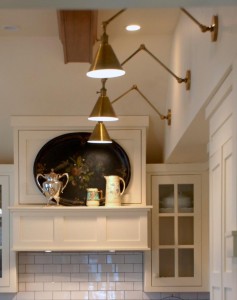 I swear the kitchen in my little lake home could have been used as the set for I Dream of Jeanie. Mid Century modern, I'm sure it was the height of style when it made its debut back in the '50s. But I knew this turquoise tribute to domesticity was not going to work for me. So Dan and I teamed up with an architect to bring the all-important space into this century. His plan included lighting suggestions that completely nailed my vision for the room.  I got these lovely fixtures in the oiled brass finish at Nell Hill's.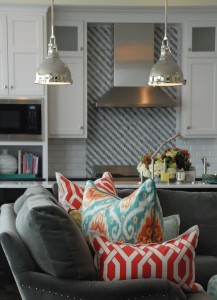 The lights in your kitchen need to provide the illumination necessary to chop your veggies without cutting your fingers, plus add lots of style. These pendant lights in my friends Matt and Kristin's kitchen succeed on both levels. With their contemporary take on a traditional silhouette, they are the perfect pick for this young family.
The island is the hub of the kitchen, so it needs a killer focal point. I love this interesting chandelier that brings oodles of charm to my friend Anne's traditional kitchen.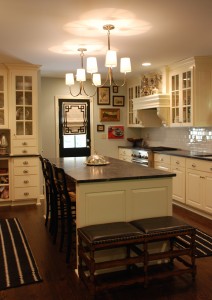 When our daughter Kelly decorated her kitchen, she picked this pair of simple, clean chandeliers to brighten up her island. Since you can't change your lighting very easily or inexpensively, it's key to pick fixtures that will stand the test of time. Kelly scored with these classics.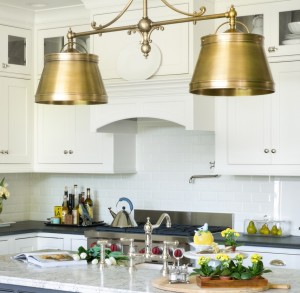 If your kitchen is a neutral color, like my friend Julie's, you can pick a fixture that stands out a bit. I'm crazy about the oiled brass finish that's so hot right now. It's warm but not shiny.
2. A Little Glow Makes a Room Warm and Wonderful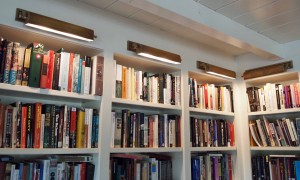 The ceilings are low in my lake house, and the rooms can feel a little dark. So our architect suggested we install library lights over the bookcases in our living room. I thumbed through the stacks of lighting catalogues we have at Nell Hill's, like I do with our customers who want to select just the right fixtures for a space, and found the perfect picks.  In the evening, when they are turned on, the lights give the room a warm, welcoming glow, as if we have a dozen candles burning.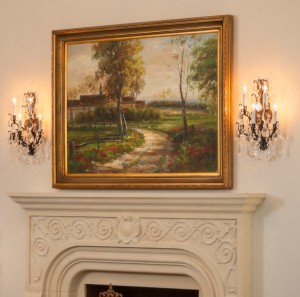 Sconces are a classic way of adding a little illumination to a room. My friend Beth employed sconces as an art element over her fireplace. They are a beautiful parenthesis to her lovely artwork.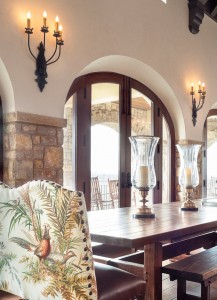 Beth's dining room boasts towering ceilings, so she needed some soft lighting to make the area around the table more intimate. Once again, she turned to sconces.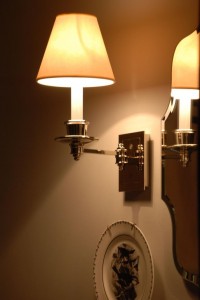 Kelly picked a pair of classic sconces to frame the mirror in her powder room. They give off a warm light that makes everyone look good!
3. Overhead Fixtures Should Add to the Ambiance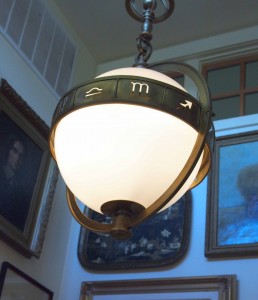 Back in the day, the trend was to pick matching light fixtures for the entire home. Today, the doors are wide open and we're mixing fixtures in a gamut of finishes and styles. This intriguing globe was already hanging in our lake home when we bought it. I loved its quirky look, and even though it isn't my usual style, I knew I wanted it in the mix.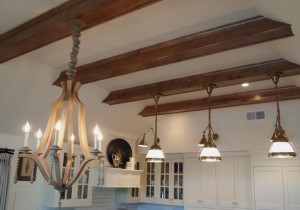 Since the lake house's kitchen and eating area flow one into the other, I made sure the lighting harmonized. The white wooden chandelier on the left is over our little dining table.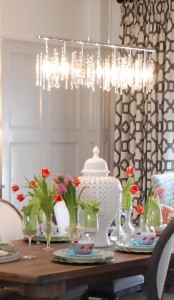 The chandelier over your dining table sets the tone for the entire room. I am crazy about the fixture Matt and Kristen used in their dining room. It's modern and edgy, a great pick for their transitional home.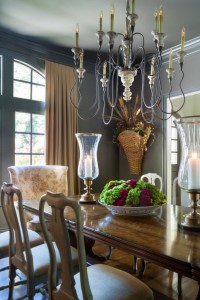 Anne's dining room is elegant and dramatic, and her unique chandelier adds to the mood.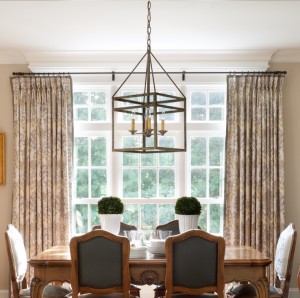 Julie's dining room is light and bright, a collage of formal and informal pieces blended together. This rustic lantern makes the space feel relaxed and approachable.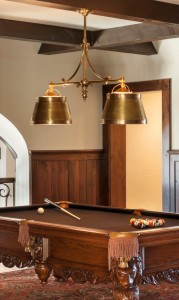 With lots of downward light, this fixture brightens Beth's gaming table without over illuminating the room. It's one of our most popular at Nell Hill's.
Next Week … Window treatments finish a well-designed room. I'll show you my favorite looks.