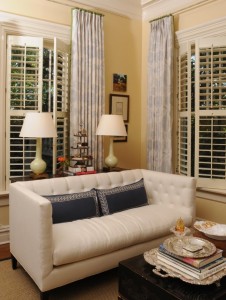 "There is something different about the house," our daughter Kelly said after she and her husband, Britt, spent the day with us. "I don't know what it is, but it feels cozier."
If I ever doubted the power of window treatments to add the perfect finish to a room, here was proof positive. I had just dressed our living room windows with paneled drapes after years of letting the windows fly solo with shutters. Often, the window treatments are one of the last things we do when we decorate a room, but a room just isn't "done" until the curtain call. Need to cover a window or two in your home? Here are three of my very favorite looks. 
Made in the Shade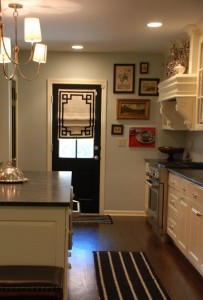 The Romans are still conquering the world – the world of window coverings, that is. Roman shades, a classic, are super hot now.  When Kelly and Britt moved into their darling home, I couldn't wait to see what they would do with their décor. You can tell by Kelly's charming kitchen, pictured here, that gorgeous window treatments are a key part of the plan. Love this Roman shade on her back door! Simple, clean, gorgeous.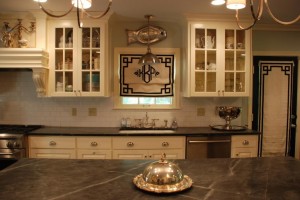 Kelly repeated the design on the window over her sink and on the doors that lead to her backyard. Isn't it amazing how the monogram elevates the look of the entire space?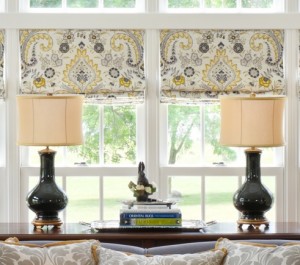 When my friend Julie was picking window coverings for her home remodel, she knew she wanted to use this plucky yellow and gray fabric. We featured this killer room on the cover of my newest book, Nell Hill's: Rooms We Love, and have gotten more comments about these stunning shades. An eye-grabber in a room filled with high points, the shades gave her another opportunity to bring color and pattern to the space.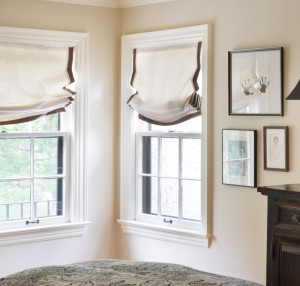 Shades are an ideal option for a room with awkward window placements, like the windows in my friend Marsee's room, where drapes would look uneven.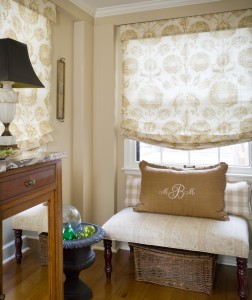 Another great perk about shades? If you have pets, they can't soil or destroy them.  Fido can't rest against them, like he can long drapes, and the cat can't use them to sharpen its claws!
Panel Discussion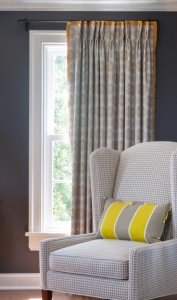 Beautiful drapery panels are my all-time favorite way to finish a window. There is something about the way they frame a window, the perfect borders to a great view.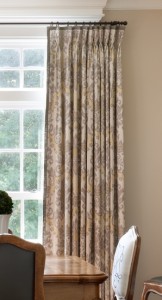 Panels can fill any role you have for them to play in your room. They can be almost invisible in the overall scheme of the décor, just adding that last, warm layer. Or they can explode with personality, the stars of the show. You can use them to interject new colors or patterns, or have them repeat a theme in the room. The sky is the limit, so you can let your creativity run wild. If you need help, give us a shout. At Nell Hill's we are pros at helping people select just the right fabrics and finishes to bring their dreams to life.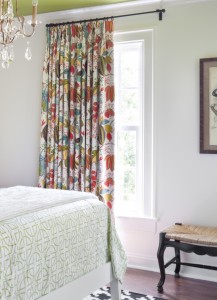 My favorite way to hang panels is a few inches below the ceiling molding, then hemmed in the spot where they just break on the floor, like a man's trouser. I'm partial to pinch-pleat tops and sides and bottoms finished with a contrasting welt, a Greek key band or a mini pleated flange.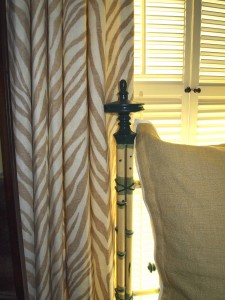 Whether you want to go bold with your drapery fabric or pick a quieter color and pattern, like I did in my bedroom, pictured above, make sure you get a fabric you will love for years to come. Drapes are an investment, so you don't want something you will grow tired of in a year of two.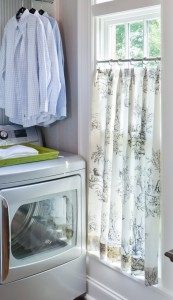 If you have a window in a hard-working room, like my friend Julie's laundry room, check out simpler window treatments, like these adorable café curtains. They add miles of charm to the space but don't get in the way.
Layer upon Layer of Lovely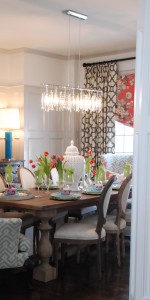 Often in decorating, more is less. But, sometimes, more is definitely more! On windows, well-done layers can be transporting. Check out the fabulous treatment my friends Matt and Kristin did in their home. Since their dining room is a bit subdued they decided to go BIG on the windows. Love it!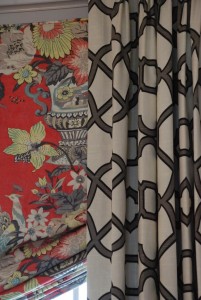 When you think of pairing a ballooning shade with curtain panels on a window, you probably imagine a heavy, dated Victorian look, right? But these two decorating visionaries perfectly executed the look by picking clean, modern fabrics with traditional roots. We sell these fabrics by the yard, and many more, at Nell Hill's Briarcliff.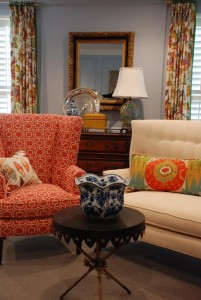 In addition to helping people decorate their homes, we love to work with businesses and even living groups, like college sororities. This photo is of the window treatments we did when we redecorated the main living area of the Pi Beta Phi chapter house at the University of Kansas.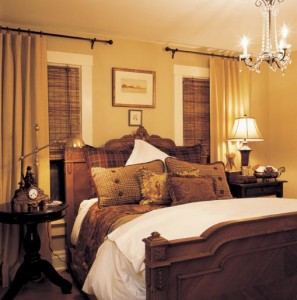 One of the bedrocks of the Nell Hill's looks is to pair the rustic and refined. Nothing brings this to life, when it comes to window treatments, like rich panel drapes over bamboo blinds.
Next Week … Coral is hot right now, and for good reason. This grown-up-girl version of pink adds pizzazz to every décor.