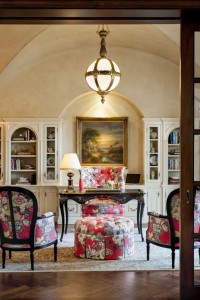 Sassy but soft, coral, the big-girl version of pink, is turning heads and winning hearts in the decorating world. Since the first time I saw a dining room done completely in coral, this sugar-and-spice tone has tugged at my heart. The perfect blend of pink and orange, coral is fresh and fun without being too feminine or youthful.  It's just right for those who want to add some warmth and energy to a room. Here are two great ways to bring coral into your home. 
Add Transfixing Textiles Awash in Coral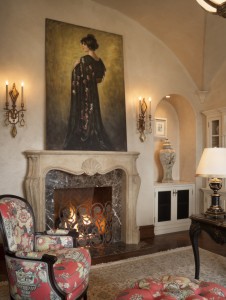 As the co-founder of the Global Orphan Project with her husband, Mike, my friend Beth does life-changing work in her office, literally. Beth is passionate about providing orphaned and abandoned children around the globe with the love, shelter, education, job training and hope they need to become agents of transformation in their own communities. She spends a lot of hours in her home office helping guide this amazing ministry, so I'm glad it's a space that fills her emotional tank. To give this elegant space a spark, she washed it in coral fabric.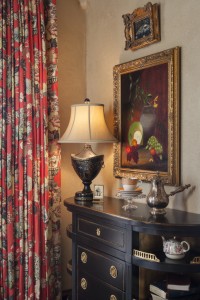 This beautiful Williamsburg print, recolored in today's hip colors, is repeated over and again through the room's upholstered furniture and window treatments. Stunning! Not into the wall-to-wall repeat? Just cover a pillow or two in a coral fabric and you'll be surprised by how much loft it gives the space.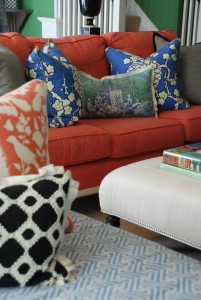 Matt and Kristin covered their sofa in a solid coral fabric, then festooned it with accent pillows in a medley of surprising colors. This room, with its Shudder Window green walls, mix of upholstered furnishings and tossed salad of pillows, shows how versatile this bold color really is. It adds to the buoyancy of the room, but doesn't take over.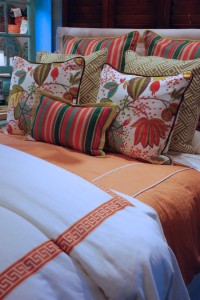 Coral is one of our favorite tones to work into bedding at Nell Hill's. Check out this playful bed, which mixes in coral and green through a variety of bold patterns, then balances them out with calming neutrals.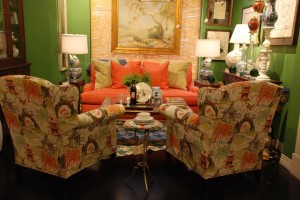 Wow! That's the word that pops into my head every time I see these gorgeous chairs at Nell Hill's Briarcliff. The sofa at the back of the room is a solid coral, a great easel for an interesting assortment of pillows. It's a robust second fiddle to the pair of club chairs upholstered in this intriguing coral-rich fabric that is a nod to tradition yet reimagined for today.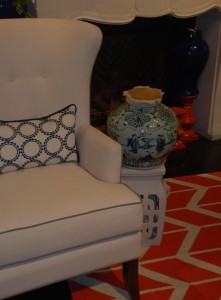 Bring in additional warmth, color and pattern in your room with an area rug that features sunny coral.
Paint Your Walls Coral to Stage Your Room for Beauty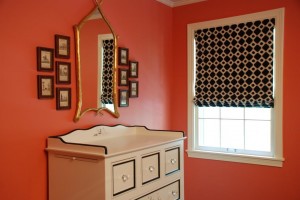 Have I shared my BIG news with you all yet? We have a brand new granddaughter! We are so stupid excited about the arrival of baby Maeve, we can hardly think straight. Kelly wanted Maeve's nursery to be feminine, but not frilly and cliché. After lots of deliberation, she decided to paint the walls Peony, a lovely shade of coral that's from my Mary Carol Artisan Paint line. Black and white fabrics and upholstered furniture look absolutely perfect with these vibrant walls.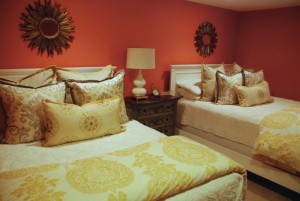 Coral walls aren't just for baby's rooms. Matt and Kristin show how perfect this wall color is for all ages. Their guestroom, also painted Peony, illustrates how many colors look great with coral. The yellow and gray bedding matches the cheerfulness of the wall color step for step, and the white quilts add some serenity.
Even though coral walls may seem more contemporary, you can take them in a more traditional direction, too. All we did was fill the walls of this room with classic artwork and furnishings and it looks stately.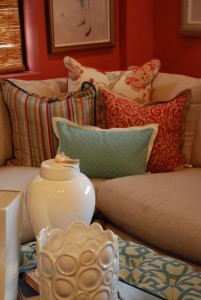 We painted this gallery at Nell Hill's Briarcliff in Peony and had more fun decorating and redecorating it to show all the millions of directions you can go with coral. This fetching grouping is grounded on a cream sofa. Then coral and other playful colors are sprinkled in through accent pillows. Isn't it amazing how this strong color provides a powerful backdrop, yet melts into the background?
Next Week … Moving into a smaller home can be a challenge, but it also provides lots of decorating possibilities. I'll share some tips on how to downsize, and turn your snug new nest into a visual hug.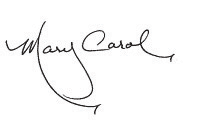 PS Don't miss our Wood Furniture Sale going on now through August 15 at both Nell Hill's locations. All our wood furniture, from bookcases to dining tables, is 20% off!