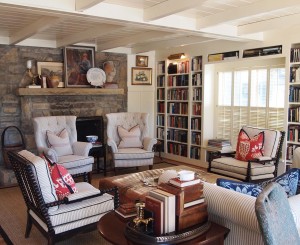 My life changed the day I visited a friend who had downsized into a charming home perched on the perimeter of a little lake on the outskirts of Kansas City. I fell in love with the quiet community of small, unassuming homes built decades ago around the sleepy lake. After commuting a few hours a day between our Atchison home and Nell Hill's Briarcliff, I was ready for a close-in location where we could stay when in Kansas City. Within days, Dan had found a little fixer-upper on the lake and, ready or not, we began our downsizing adventure.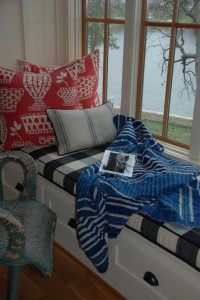 If a smaller, easier home sounds like heaven to you, too, I've got great news: Your new nest can be just as big on style as the larger home you're leaving behind. Here are 5 tips I'm following as we transition to our new home.  
1. If you can, modify your new home to fit your needs.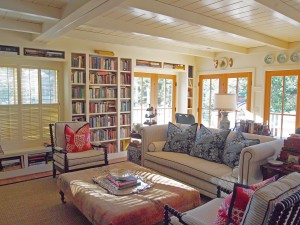 The flow of our lake home comfortably fit the sweet elderly woman we bought it from, but Dan and I knew it was not going to work so well for us and how we do life. So we connected with a good friend who is an architect and got to work figuring out how to modernize the home and add our own personality. The remodeling project has taken over a year, and while I was ready to pull my hair out a few times, I'm glad we did it.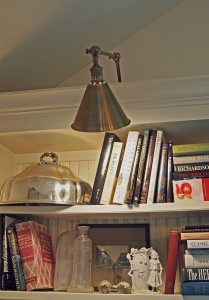 If you have a chance to remodel or build your smaller home, list out the things you absolutely have to work around. One of ours was books. We needed homes for Dan's gazillion volumes. So we lined the walls of the living room with bookshelves. Another was dishes. I needed plenty of cabinets to hold my collection. I've since learned you can pack a lot of dishes into a small space!
2. Rethink your decorating style because this is a good time to change it if you want.
You may have had the same style for years, or your look may have evolved over and over again as your life stages and tastes changed. Either way, moving into a new place gives you the ideal opportunity to reevaluate your décor and, if you want, take it in a brand new direction.
After decades of being in the same home, the prospect of a decorating "do over" was tantalizing to me. I toyed with lots of different looks until I knew exactly what I wanted. My goal for this cozy cocoon was for it to feel relaxed and casual, like an 80-year-old family home that had been cherished by multiple generations, the scene of lots of love and memories.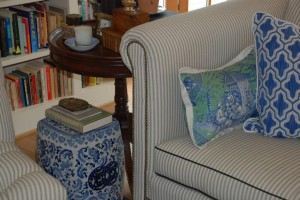 I stuck to my traditional moorings, but took my look in a less formal direction. I wanted each room to be evolved and interesting. To dress down my formal upholstered furniture, I recovered the pieces in ticking, one of my favorite fabrics.
3. Only keep pieces that you absolutely love. Get rid of the rest.
As we have slowly moved our things into our lake home, I've learned a lot about myself, what I want and need, and what I don't. We could not fit all our furnishings into the much-smaller home, so it was time to make some hard but exhilarating choices.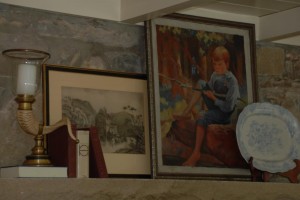 My basement in my Atchison home looked like an episode of Hoarders. I had packed the space with boxes of accents I never, ever opened. Why was I hanging on to these items? I decided to give things to family and friends, and to the great nonprofit organizations that provide gently used furnishings, household items and clothing to help others. It has been one of the most cleansing, freeing experiences I've had in years.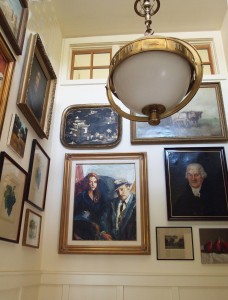 How do you know what to take and what to let go? Dan and I came up with our list of "must have's". His was books. Mine was artwork and dishes. We knew all of these treasures were going with us. The rest of the things we owned would have to fit in around, or find a new home. Dan told me, "Mary Carol, there is no way you are going to be able to pack all that art onto the walls of the new home." I sad, "Watch me!" I am proud to say, it's all there!
4. Use every inch of your space.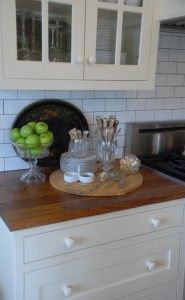 When you move into a small house, like our 2 bedroom lake cottage, you have to put every inch to good use. Gone is the luxury of having a room "just for show" or furnishings and accents that look lovely but don't contribute to your daily life. After living in a historic home that's short on closet space, I'm good at making the most of storage space. So when we remodeled, we built in lots of shelves, drawers and cabinets. It's amazing how much you can squeeze in when the storage space is configured well.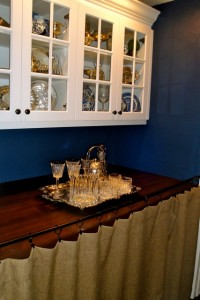 Think through how you can get dual use out of the spaces in your smaller home. Can you use a spare room as both an office and guest room? Would your laundry room also act as a craft room? Or a butler's pantry? In the photo above, my friend Cynthia cleverly covered her washer and dryer with a curtain and counter top to make it a gorgeous serving spot for parties. Genius!
5. Remember that it will take some time to adjust your life to fit your new home.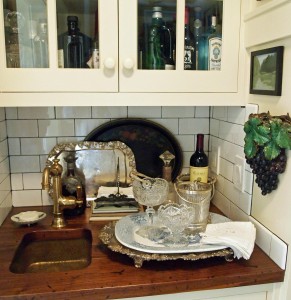 We've been spending more and more of our time in the lake home. And as we do, we're figuring out how to adjust our life to the space's limitations. We love to entertain, but in giving up our large formal dining room, we've had to figure out a different way to seat our guests. The eating area off our kitchen  seats six or eight, which means in the winter, we will be having smaller dinner parties. In the summer, when we can throw open the doors and let the party spill out onto the patio, we can host a larger group.
Next Week … The holidays will be upon us soon. Get ready to entertain loved ones by outfitting your home with the right dining table and chairs. I'll show you how to pick the perfect pieces.