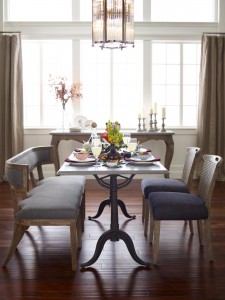 I love to eat, and I love to laugh and talk with friends. So having people over to my home for meals is at the top of my fun chart. Whether you're pulling together a last-minute luncheon with a few friends, a family birthday party or a holiday gathering for work, a great meal starts with a great table. Your dining table and chairs not only have to look sensational, they have to work for your home and life. Here are three must-do's for getting a dining set you'll love: 
1. Make sure the table fits the space.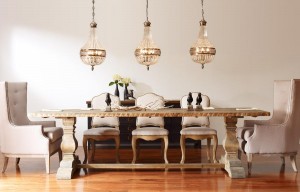 The biggest mistake I see folks make when they pick out dining furniture it to get a set that is too big for their space. Their heart is in the right place: They want a table that can fit as many guests as possible. But what they end up with is a dining room that's packed to the gills with furniture. Not only is a too-full room unattractive, it doesn't give guests the space they need to push out their chairs or to walk around the table when others are seated.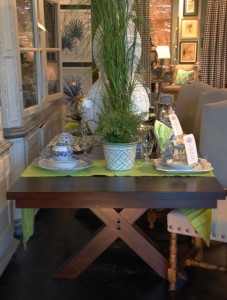 To make sure this doesn't happen to you, before you go table shopping, measure your room. Then map out how much floor space you have for the table and chairs. If getting a lot of folks around your table is a top priority, pay special attention to the table legs. A center pedestal or trestle table will allow you to seat more people with ample leg room than a table with four large corner legs. The table in the photo above, taken at Nell Hill's, is one of our most popular sellers.
2. Pick a table and chairs that fit your home's style (but don't be afraid to change things up a bit).
When we moved into our little lake house, we gave up a formal dining room. Our dining area now is a cozy spot nestled next to the kitchen and living room, and our large, formal dining table was not going to fit. That heirloom went to our daughter, and I started a quest for a table and chairs that were small enough to fit the spot and that would match the casual, rustic aesthetic I was going for.
I opted for a table that had a rougher, farm house finish, so if we beat it up, we'll only add to its character. The chairs I selected seemed perfect to me for the old-family-home feel I wanted in this space. The weathered wicker chairs, with their worn, painted patina, looked like something your grandmother would have on her large, wraparound porch. I fell in love on the spot. Casual, distressed tabletops stained in a deep, rich brown are really popular right now.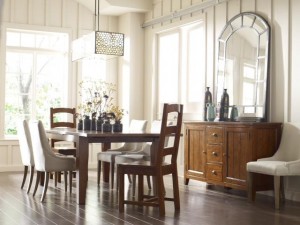 When it comes to dining chairs, there is no one style that is most popular right now: Anything goes. You can come up with boundless combinations for your dining seats, and at Nell Hill's, we are having a blast helping our customers create distinctive looks. The photo above is a great approach. Pick a matched pair of chairs to place at the ends of the table, then select complementary chairs for the sides. Here, traditional wooden chairs are married to more contemporary upholstered chairs. Clean, simple and gorgeous.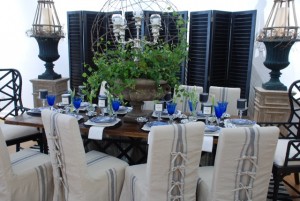 For a more layered look, cover your chairs with slipcovers, like we did here. Slipcovers give you a chance to add color and texture to your table treatment, warming up the room. Another great idea? Cap the table with wing back chairs. I absolutely adore this treatment, and it's one of our most popular at Nell Hill's. If this is the look for you, make sure the wing back chairs are high enough for you to sit comfortably. Another popular pick is to use a bench on one side and chairs on the other. Want to ramp up the drama? Use a settee or banquette on one or both sides.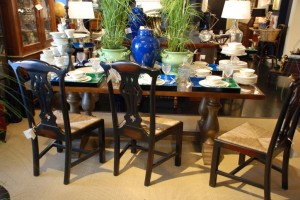 If you prefer a clean, uniform look with your chairs, no problem. You still have lots and lots of looks to choose from today.
3. Pick the highest quality table you can for your budget.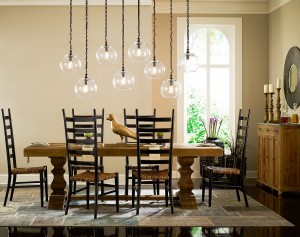 Most of us don't change out our dining table and chairs very often. And there's a reason for this: They can be a big investment. When it comes to purchasing investment furniture, I urge all my friends and customers to get the highest quality pieces they can afford. If you find pieces you like that are superior quality, but cost a few hundred dollars more, I advise you bite the bullet and get the better made pieces. When you spread the extra cost over the decades-long lifespan of a well-made table and chairs, it isn't really that much. But oh-my-goodness you will feel a keen sense of regret if you lower your quality standards and get pieces that come loose, scratch or break after a few years.
Right now, all wood furniture – including dining tables and chairs – is 20% off at Nell Hill's during our Wood Furniture Sale. Hurry – the sale ends August 15. 
Next Week … The decorating world is striking gold! This metallic is hot, hot, hot.