Rich, regal and oh-so-luxurious, gold is back with a vengeance in the world of home décor. I am thrilled, because my love light never dimmed for this precious metal and its ability to warm up a room and imbue it with style. Depending upon your passion for gold, you can go high lux and use it to wash a room. Or you can add just a glint here and there to thread in a tiny touch of luster. Here are the top 5 ways we're decorating with gold right now at Nell Hill's: 
1. Turn on a gold lamp to give a room a glamorous glow.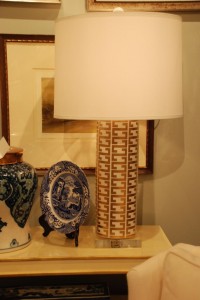 When I design a room, I often use accent lamps as a tool to pop in contrasting color, texture or pattern. It's a simple way to give a space something special and unexpected. If you want a touch of  glam in your décor, dot in a gold lamp or two. My favorites right now are styles like the one in the photo above at Nell Hill's – cleaner silhouettes with a mat or rubbed finish.
Isn't it amazing how just switching the color of a lamp shade will completely change the look of the lamp, and the room? This beauty is another popular pick at Nell Hill's, and for good reason. The black shade and gilt base make it tempestuous, the perfect drop of drama to make a room more interesting.  What makes these gold lamps so much fresher and more interesting than the super shiny brass that was so popular 20 years ago? Contemporary lines, with a shape that is beefy, not spindly. Also, these unique lamps stand alone, not in the matched sets we used to see in living rooms in the '70s and '80s.
2. Use bold and brassy gold accents to add zing to your spaces.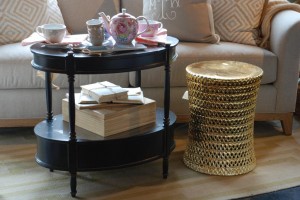 Lots of home accents right now sport a bright, brassy, high luster finish. This shiny garden stool brings a splash of glam to this lovely living room setting at Nell Hill's. We are all about pairing the precious with the everyday, the regal with the rustic at Nell Hill's. So we are having fun braiding these brilliant metallic accents into rooms that also feature lots of natural fibers and organic lines. The surprising balance makes the space feel exciting.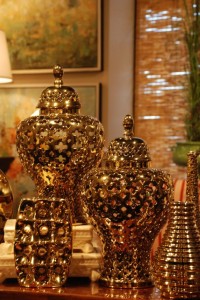 Oh boy do I love these kicky gold pottery pieces! You'll see them used over and again, in fun and unusual ways, in our fall décor at Nell Hill's this season. What better base for the deliciously rich colors of fall and the holidays than sparkling gold? With both modern, funky lines and traditional shapes, the vases in the photo above work in any setting. If you have a traditional look to your home, like I do, consider giving it a B-12 shot by putting a cluster of trendy gold pieces on your mantel, coffee table or buffet.
3. Amp up the value of your artwork displays with gold framed art.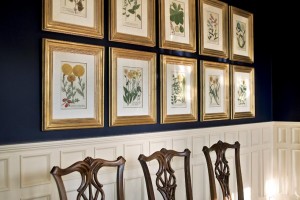 I love artwork framed in gold. The finish is timeless and classy, and seems to perfectly set off the works of art it showcases. This photo is of the grid of botanicals that hangs on my dining room wall in my Atchison home. The matched frames help make the presentation cleaner and more powerful. But when it comes to creating art montages, one of my favorite treatments, the secret to success is to toss together a wide berth of dissimilar frames, mixing together all kinds of sizes, styles, shapes. Be sure to poke in several gold framed pieces to give your treatment a bit of warmth.
4. Set your table with gold dishes for memorable meals.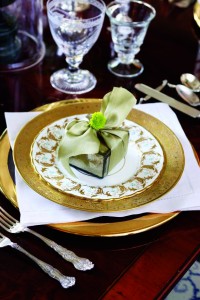 Gold and cream dishes: Be still, my beating heart! This color combo is timeless and transcendent. The photo above is of my antique china, my go-to when I entertain. While I am a confirmed dish-oholic who never met a set I didn't lust after, I go back to this set over and over again because it is so versatile. I can dress it to the max by pairing it with crystal goblets, silver and white linens. Or, I can pull it down by using twiggy wicker chargers and casual linens.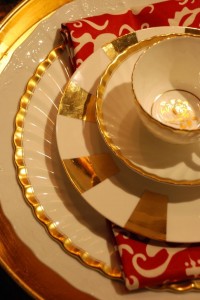 It's fun to see our young customers, in their early 20s and starting their own homes, gravitate toward a hipper version of gilt dishes, like these. The key to keeping gold fresh is to mix it with different plate styles and unexpected splashes of color, like we did here.
5. Reconsider fixtures in gold finishes.
For a while, it seemed that everyone with a home built during the age of brass was scrambling to replace all their hardware with nickel and silver. Stop! I've never ascribed to the theory that every light fixture, door pull and hinge in your home has to sport the same metal. I have long loved a mixed up, evolved look where lots of different finishes work together to give a home singular appeal. When we remodeled our lake home, I picked oiled brass fixtures for my kitchen. (You can see the style of the faucet for my kitchen sink in the photo above.) But I also adore nickel, silver, bronze, you name it.  Decorating trends  always come and go, and that ebb and flow gives us a constant infusion of ideas that help us keep our spaces fresh and relevant. But, I urge you to never feel like you have to redo your home every time the designers run in a new direction. Your home should be filled with what you love.
Next Week … It's time to start decorating your home for fall! I'll have three gorgeous fall mantel looks to inspire you.