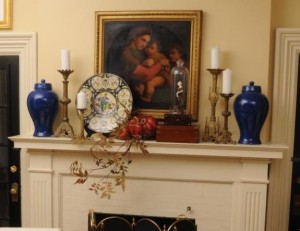 My favorite season of the year is just weeks away: Fall! I start pulling out my fall décor when it's still beastly hot in Kansas because I just can't wait to fill my home with all the colors, textures and aromas of autumn. If you want to celebrate this glorious season in your home décor as well, the perfect place to start is your fireplace mantel, one of the most visible spots in your home. Here are three beautiful looks we created at Nell Hill's to inspire you. 
Glorious Garlands of Fall Foliage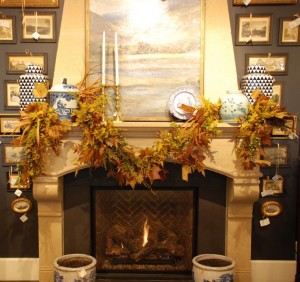 For some reason, we only think of dressing our mantels in the majesty of garland during the holiday season. But garland is a glorious treatment for every season, a sure head-turner. This luscious, layered display is perfect for an elegant living room, where you'll want a look that's as dramatic as the décor.
We started by selecting a mix of classic pieces to showcase on the mantel top. I'm nuts about blue accents mixed with the warm golds, oranges and browns of fall foliage, so we placed similar but not matching blue and white jars on either side of the mantel. They mirror the cachepots flanking the hearth below. I'm all about mixing contemporary and classic pieces, so we added in this bookend of black and white jars in a decidedly modern pattern. We wanted to keep the symmetry of this display, yet add a bit of visual variation. So we selected a pair of gold candlesticks and a pretty plate propped in an easel to fill in our center space.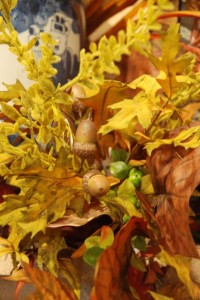 If you've shied away from decorating with faux foliage because you find it intimidating to work with, don't be. It's easy as pie when you know the secret. First, you have to work with each individual stem, fluffing it out, twisting and turning the branches so they appear just as they would grow in nature, a bit wild and willy-nilly. To create this garland, Zack at Nell Hill's linked together individual stems, one to another, like pipe cleaners, until he had formed a chain. Then he poked in accent picks to give the garland more interest and dimension. We love to add in picks that have nuts or berries, or contrasting flowers or grasses.
If you have some fall picks that are starting to look a bit tired and frayed, this treatment is a great way to get one more year out of them. Use the older picks for the garland, then purchase some new, bright picks for your accents.
Tumbles of Gourds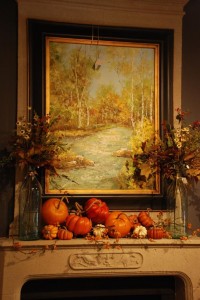 Do you like a cleaner, simpler and more edited look on your mantel? Here's a great treatment to try. It's a more relaxed display that still has a big impact. We started with a pair of clean, clear glass vases that have a bit of an aged patina, thanks to the tiny tint of green. We filled the vases with rustic fall picks, mixing colors, textures and styles so it looks like items you might gather on a fall nature walk. Then we filled in the central space with a tumble of assorted faux gourds, held in place with a twist of bittersweet vine.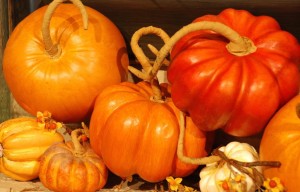 We use faux and fresh gourds interchangeably at Nell Hill's. When I use fresh gourds at home, I opt for diverse colors and shapes. The more quirky the gourds, with nobs and twists and irregular color patterns, the better. If you want to create a  display then leave it be for months, pick faux gourds, like those shown here, so you don't have to worry about them biodegrading on the mantel. I've had this happen to me, and it's gross!
Tell a Story with a Tableau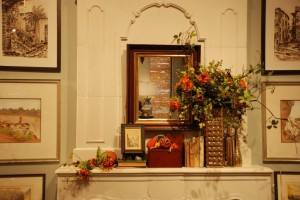 I adore a tableau that tells a story, drawing in your guests for a closer look, engaging them in the moment. The tale can be complex, with each element contributing to the narrative. Or it can be simple, like our treatment here. Our goal was to invoke a feeling of history, celebrating the past through a few iconic images. Our tools were weathered books, a reproduction wooden storage box and artwork done in sepia tones. Because I like to add a touch of the unexpected, we picked a cluster of contemporary gold vases filled with a brilliant bouquet of fall flowers and greens.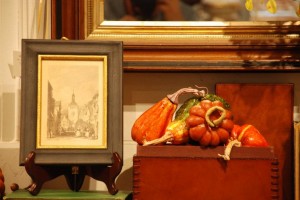 What do you have on hand that you could use to tell a story on your mantel this fall? An old photo of your ancestors? A plate, platter or bowl that has been in your family?
If you love to decorate for Halloween, you could turn your tableau into a macabre saga. Pick out a pair of old candelabra and dust them with fake spider's webs, complete with a plastic spider or two standing guard. Put a faux skull on top of a plate. Or tuck a rubber rat into your foliage. Let you inner child run free with this one!
Next Week …I love to decorate my dining table for fall because this wide open plane is the ideal stage for the colors, textures and images of this beautiful season. I'll have four table designs to inspire you.