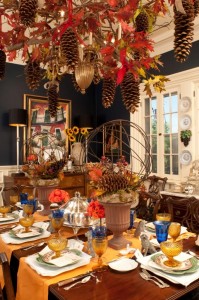 One of the best places in your home to showcase the bounty and beauty of autumn is on your dining table. I think of this wide open plane as a ready-made stage just waiting for a show-stopping presentation that celebrates the colors, textures and iconic images of fall. We had a blast at Nell Hill's creating four different fall tables to inspire you: 
Hunting Lodge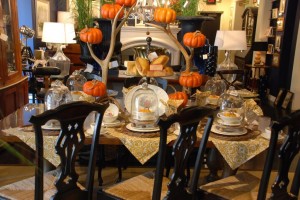 The Nell Hill's style is to mix rustic and refined elements together to create a multi-layered display that's rich and rewarding to view. This table scores on all levels. The casual table sets the tone, with its warm wood tones, black accents and mix of organic materials. We started with a dramatic centerpiece, tall and breathtaking, but not so large as to make cross-table discussion impossible.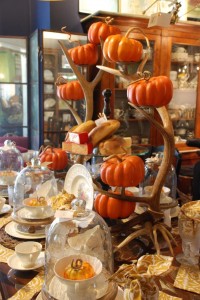 I'm in love with these faux antler candlesticks! Fall is my favorite time of year to pull in hunting lodge pieces like these because they look so wonderful with the autumnal color palette. For fun, we topped the candle holders with little faux gourds. We filled in the natural arch made by the antlers with a tiered server, which adds to the visual height of the centerpiece and provides a great place to serve dishes.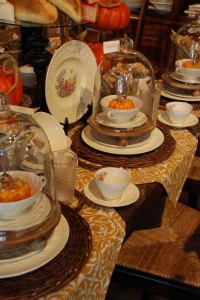 For a fabulous visual feast on your table, layer up your place settings, mixing formal pieces with the everyday, like we did here. Napkins turned on the diagonal are ideal – and easily laundered – placemats, giving you a chance to bring in some fun pattern to soften things up. These wicker trays are some of my favorites, and I use them season after season on my own table because I like how they ground the place setting and contrast with formal dishes.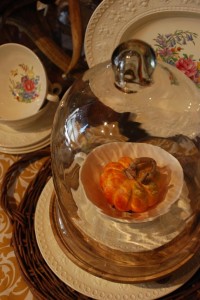 Want to elevate the look of your table a few notches? Cover each place setting in a cloche. Anything put under a cloche is instantly transported to the sublime. Try this Nell Hill's trick: Top each place setting with something unexpected, something whimsical, like we did here, tucking a gourd in a cup.
Fabulous Fall Colors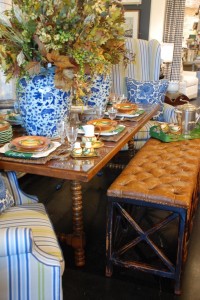 Blue and orange is a killer combo for fall decorating, and this lovely table does one better by adding in shades of green. We took our color cue from the gorgeous leather benches and intriguing winged back host chairs. Because I can't resist blue and white pottery, these matching jars were a natural pick to create this simple but stunning centerpiece. All you need is one, two or three gorgeous vases, cachepots or ginger jars filled with faux fall foliage, and boom, you're done.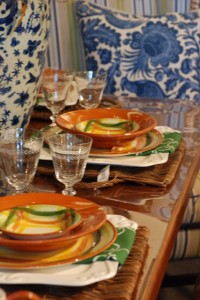 To create an intriguing table setting, we mixed bold, contemporary dishes with fine, traditional glassware.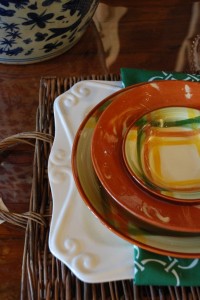 Notice how the super cute napkins rest beneath the dinner plate, then tuck under the large white charger? Experiment with napkins – there are so many inventive ways to thread them into your place settings.
You don't have to fit all your serving pieces on the table when you entertain (good news for those of us who like to go a little crazy with the centerpiece!). In fact, I jump at the chance to use a serving tray, like this vintage cutie.
Berry Pretty Fall Vines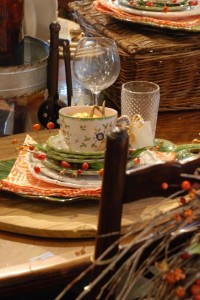 The flowers and berries of fall provide lots of inspiration for fall displays. We added a small berry dotted wreath to our tower of dishes for a fun twist. (Notice the little gourd peeking out from the coffee cup?) The wooden chopping block used as a charger gave us another way to bring in organic materials to this clean table treatment. What do you have on hand you can use to ground your fall table settings? We have used chalkboards, trays, thin rounds of wood, mirrors, and even sod!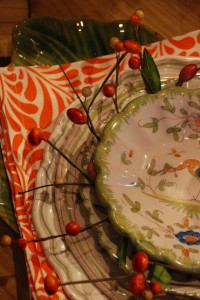 I like to mix several dish patterns when I build place settings, like we did here. The white, green and orange palette feels as crisp and clean as a fall day.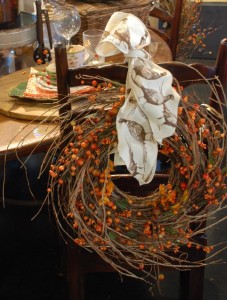 Honeysuckle vine wreaths are a perfect pick for fall. You can use them all over your home in unique ways. Hang them from the backs of dining chairs with fall ribbon, from window sashes, interior and exterior doors, the garden gate.
Vintage Charm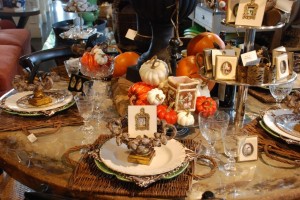 Make the memories of your dinner party last by giving your guests small gifts. I like to include these little tokens in the design of my table, like we did here with these picture frames.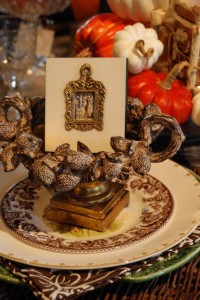 Propped in acorn festooned fall bowls, the frames may be small, but they are the stars of the show on this table, giving it vintage charm.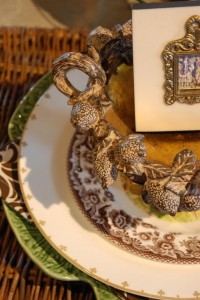 To carry on our theme, we picked a trio of dishes that celebrate the past: Majolica leaf chargers, gold rimmed china dinner plates and brown transferware salad plates. The cloth napkins, with their contemporary pattern, are unexpected but perfect.
Next week … When you have beautiful bedding, jumping into bed each night is a dream come true. I'll have 7 stunning looks to tempt you.