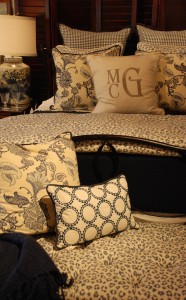 On a chilly fall or winter night, my favorite thing to do after a long day at work is soak in a hot bath then burrow into a cozy, soft, warm bed. I'm out like a light! Since we spend so many hours of our lives ensconced in our beds, especially when the days are shorter, make sure your bedding is irresistible. At Nell Hill's we like to create bedding ensembles that are a delight to the senses, so soft, warm and beautiful you'll never want to get up. Here are 7 stunning looks we created just to inspire you as you design your own dreamy bedding: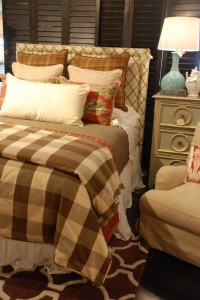 Orange is a paramount autumn color, whether it's radiating from fall foliage, a jack o'lantern or the crackling fire in your hearth. That's why we spotlighted this consummate color in this yummy bedding. I'm crazy about buffalo plaid, so we started this ensemble with a fluffy duvet. The creamy white in the romantic bed skirt, sheets and accent pillows lets the duvet and pillows steal the show.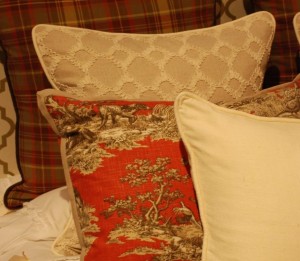 We use lots and lots of plaid in our bedding designs for fall and winter. This beautiful brown plaid pulls in just a thread of orange, tying in the orange toile perfectly. Don't you just love the crewel pillow sandwiched in between? Available in several color-ways, this fabric has been one of our biggest sellers at Nell Hill's Braircliff.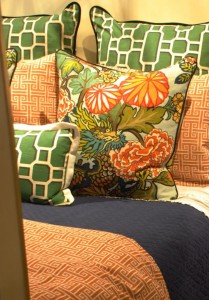 On this unforgettable bed, orange and emerald green make a roaring statement. Full of flash and dash, this bed turns up the volume by bringing in a cornucopia of contemporary patterns, from fresh geometrics to this gorgeous chiang mai pattern, a traditional print reinterpreted for today.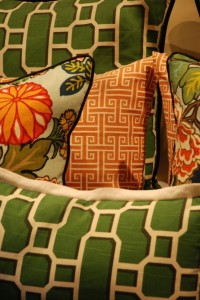 When you create a custom bed, you get to add unique finishes to each piece, like monograms, buttons, flanges and ruffles. At Nell Hill's, we encourage customers to pick complementary fabrics for each side of a pillow so they can remake the look of their bed by simply flipping over a pillow or two.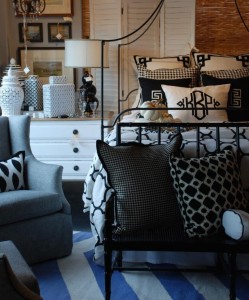 Black and white transcends seasons. I think it looks perfect all year round, all by itself or sparked up with one or two additional accent colors, like blue or green. We layered up this gorgeous bed for winter by outfitting it with a thick duvet, resting over a black matelasse quilt. To lighten up this bed for spring and summer, fold back the duvet to the bed's bottom so it just provides a layer for visual effect.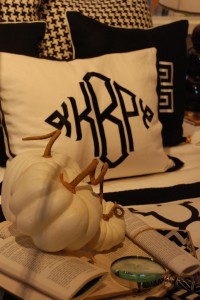 We are nuts over monograms at Nell Hill's! There are so many fonts, shapes and colors to choose from at Nell Hill's Briarcliff, you can create a monogrammed accent pillow that expresses your unique personality. I love how this monogrammed pillow plays off the Greek key pattern on the pillow behind it.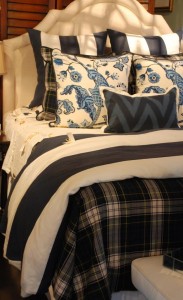 Nothing says winter to me like watch plaid. Love it! One this bed, we combined something old and something new, mixing our timeless plaid duvet and euro shams with a trio of contemporary fabrics, kicked off with this bold, fresh navy and white striped duvet and pillow pair.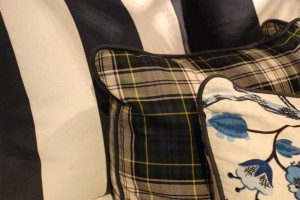 We tumbled together a mix of blue tones, which are repeated in the contemporary and classic fabric patterns. This is a perfect ensemble to showcase against this headboard, which upholstered in cream.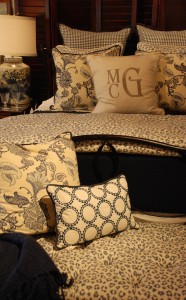 I want to curl up on this bed every time I see it. It's another interpretation of one of my all-time favorite color combinations – blue and white. Animal prints are a great way to bring subtle pattern and a dash of fun into your bedding. We launched this look with a navy and cream cheetah print, using it for the duvet, euro shams and the bench that is cozied up to the foot of the bed. Even though it's used in a greater concentration than any of the other fabrics in this grouping, the animal print is understated enough that it almost acts like a backdrop to the bolder patterns in the pillows.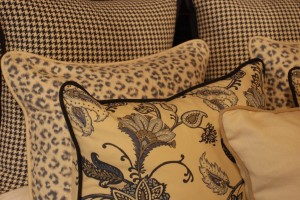 When we work with customers to create pillow combinations, we suggest working in a mix of patterns that can include plaid, check, stripes, geometrics, floral and toile. It sounds like it could be visual chaos, but by keeping our color palette tight and repeating key colors and patterns, the overall affect is harmonious and exciting.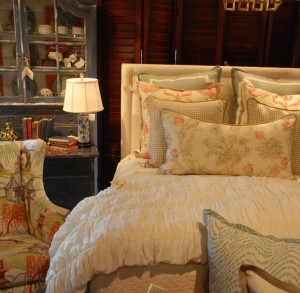 Winter bedding does not need to be dark or heavy. This romantic bedding is proof of that. The ruched quilt, light and soft as a cloud, is topped by a chorus of whisper soft fabrics made up into a soothing set of pillows.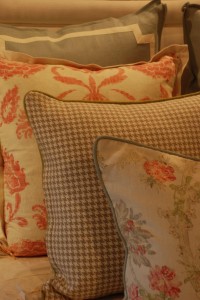 Here's our wide mix of fabrics again: A solid pillow of cream and gray, an ikat in coral, a hound's tooth in tan and cream, and a vintage floral that combines all our pastels.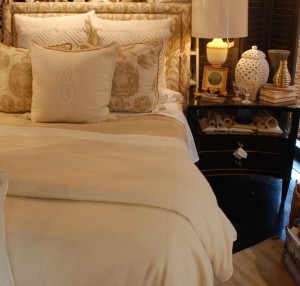 I am over the moon about upholstered headboards because they bring another voice to the story you tell with the textiles on your bed. This beautiful ikat headboard is so intriguing, it needs a spirited but subtle bedding ensemble to show it off. We created this gorgeous grouping of blankets and pillows in tones of cream and tan to echo the colors in the headboard.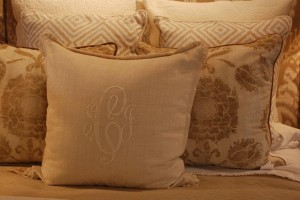 When you have a statement bed, your bedding needs to be subtle enough to not compete with the furniture, yet strong enough not to be overshadowed. I think we found the "sweet spot" with this lovely pillow combination. Notice how the cream matelasse shams create a margin between the headboard and pillows, as does the tone-on-tone monogrammed accent pillow. Heaven!
Next week … How are you going to dress your front door for fall? I'll have some ideas for creating a look you will love.