For those of us who live in climates where it gets beastly hot in August, September, with its cooler breezes, in an engraved invitation to venture out of the air conditioning and start enjoying your back porch again. It's time to turn this private outdoor space into an oasis for fall. Here's how:
Sink into Comfortable Outdoor Furnishings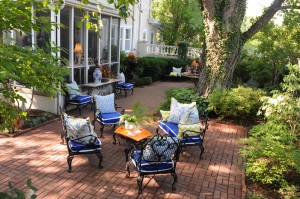 It's hard to kick your feet up and linger with a beverage, friends or a good book on your porch if your furniture is hard on the bum. So when I designed my courtyard space in my Atchison home, I filled it with lots of furniture that could withstand everything Mother Nature dishes out, then topped it with squishy soft cushions and piles of pillows. If you have a big area out back, create a few smaller conversation clusters to make the space feel more intimate and inviting.
I used to be a slave to my outdoor cushions, pulling them in when it stormed so they didn't get soaked. It's not that I liked high-maintenance outdoor cushions. It's just that, at the time, I didn't like the look of outdoor fabrics so I upholstered my cushions in normal fabric. All that's changed now! The makers of outdoor fabric saw the light and today they are milling gorgeous fabrics that are soft on the eyes and the touch, every bit as beautiful as those you'd have inside your home.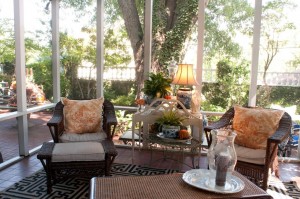 My screened porch is my oasis. This is where you'll find me before or after work, chilling out with Dan or the cats, charging my battery. I use indoor furniture on the porch because it's protected from rain and sun. For my seat cushions, I picked a simple ticking that goes with everything so I can change out my pillows seasonally. For fall, I tossed in this sublime orange toile.
My friend Anne's patio is sheltered, so she can get away with furnishing it with these awesome wicker chairs, a Nell Hill's favorite. Notice how Anne mixed a wide variety of colors and patterns on her porch furniture. Get creative when selecting your pillow mix! This is your chance to pull in bold colors you might not want inside, like a bright orange or cobalt blue.
Replace the Spent Summer Flowers with Fall Displays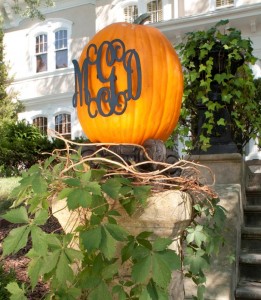 By the end of summer, the flowers start to look kind of nasty, brown and leggy and spent of blooms.  To get your patio ready for fall, pull out all the raggedy flowers and put them in the compost. Then, replace them with simple but stunning fall displays. The photo above, taken at one of my fall open houses, is one of my favorite treatments, and it's super easy to do. Rest the pumpkin on top of a large planter, then press in a metal monogram (they come with prongs on the back that secure them to the pumpkin). We can special order these monograms for you at Nell Hill's!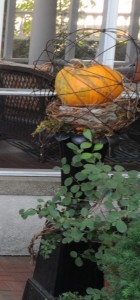 Here's another fun treatment on my back patio. It's simpler to create than it looks. Just top a planter with a riser of some sort (we used one of the popular capitals from Nell Hill's), plop on a pumpkin, then ensconce the treatment with a wire orb. Thread in some bittersweet or other fall vine, and, boom, you have a killer treatment in minutes.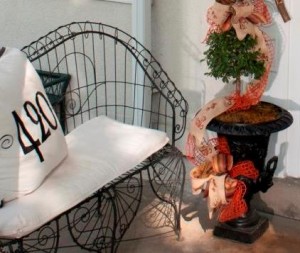 The topiary that flank my front porch usually still look good in the fall, so I just dress them up a big for the season. Try twisting fall ribbon around your topiaryor toss a tumble of gourds on the soil at the base of the plant. Easy and gorgeous!
Add Fall Flourishes in Strategic Spots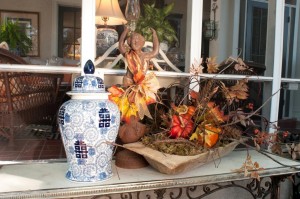 The beauty of seasonal decorating is you can do as much or as little as you want. In my home, I just add some lovely fall displays in key spots, and the house feels remade for fall. The same is true for your outdoor rooms. The shot above is of the console table in my courtyard, which is always on my checklist of places to spruce up for the season.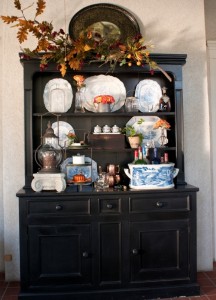 So is the big wooden hutch on my covered porch. Here, I used three simple tools to give it a fall feel:  gourds, petite bouquets of fresh flowers and a spray of faux fall foliage.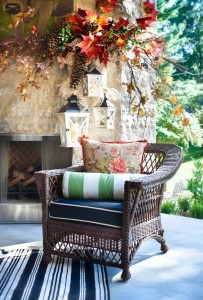 If you have an outdoor fireplace, decorate it as beautifully as you would your indoor fireplace. Anne festooned her mantel with fallen branches, fall picks and seasonal ribbon. Gorgeous! The show-stealer is the cluster of lanterns hanging from the branches, don't you think?
Throw a Fall Fete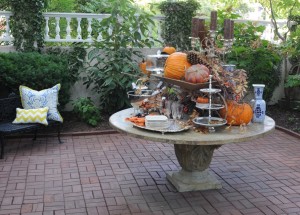 I love to entertain outside in the fall. The air is cool, there aren't as many bugs, and the shorter days mean you can add lots of candlelight to make your outdoor dining room magical. Don't be afraid to use your beautiful pieces outside. That's what I do! Set your table with your fine silver serving pieces, crystal and china. The juxtaposition of the refined and rustic is a pillar of the Nell Hill's look.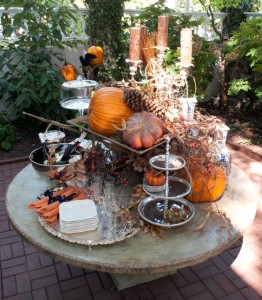 When creating your tablescape for your fall party, go for the drama. On this table, we started our lavish centerpiece with a decorative wheelbarrow. We filled it with a cornucopia of fall goodies, like pumpkins, candelabra and blackbirds perched on a vine.  The height and mass gives this a big wow factor. The food and beverage services are every bit as lovely, thanks to the silver serving pieces, like the tiered dessert server, punch bowl and tray.
Next Week … How are you going to decorate your front door for fall? I'll have ideas to inspire you!