Your front door is a decorating bull's eye that snags the attention of everyone who passes by your home every day. Wow them this fall with one of these five simple but stunning front door treatments we created to inspire you: 
Special Delivery: A Mail Box Filled with Fall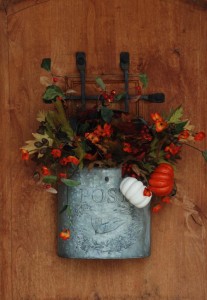 Perfect! That's what I thought when I spotted these little tin mailboxes at market. They are the perfect door décor.  They are lightweight enough to easily hang from your front door knocker or a door hook. Their neutral color and styling means you can use them for every season of the year, fall, winter, spring and summer. And they give you just the right amount of room to fill with pretties – not too much, not too little. They won't fade or lose their luster when exposed to the elements, so you can use them for years.  Perfect!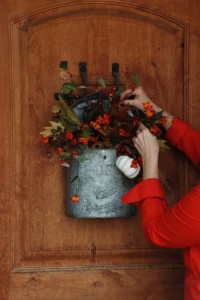 LuAnn is our Monet of floral design at Nell Hill's. She's a true artist who uses faux foliage picks, vines, fallen branches and ribbons to create all the floral masterpieces you see at Nell Hill's. When we got the shipment of these sweet mailboxes in, she started going to town and we were all wowed!  Here she is, creating our inspiration door treatment using these darling mailboxes. My favorite way to use this tool is to fill it with about 20 interesting fall picks, intertwined in a light and airy bouquet. Once you have a fall look you love, you can tweak it a bit for Halloween, maybe hanging cutout words from the branches, like "BOO!"
(In a few weeks I'm going to blog about decorating your front door for the holidays, and we'll show you how to remake these fabulous boxes for winter or Christmas looks – stay tuned!)
A Simple Wreath Can Say it All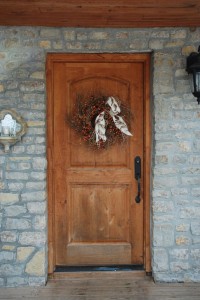 Wreaths are still the simplest door décor out there, and we still love them at Nell Hill's! My head-and-shoulders-above-the-rest pick this season is this sweet twig and berry wreath. The spiral of twigs gives the wreath exciting movement, and it seems to fill the door. The perky berries add polka dots of fall's best colors. And, best yet, the wreath is super inexpensive!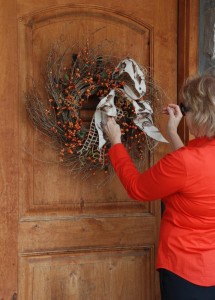 You can hang the wreath all by itself. But to bring it up a notch, add a gorgeous seasonal ribbon or two. Here, LuAnn is dressing up our demo wreath with a double layer loop, the cheater treatment we use all the time at Nell Hill's. Tying the perfect bow is beyond my capabilities, so I started finishing wreaths in this simple loop, tying it off and letting the tails trail down in soft folds.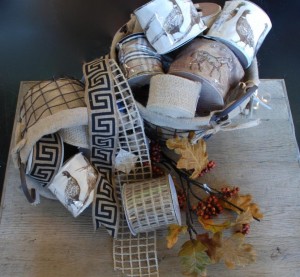 Seasonal ribbons are always a hot seller at Nell Hill's because a spool or two allows you to bring a bit of fall to all sorts of spots in your home. Since I like rustic texture in the fall, I adore the burlap and the netting ribbon. It's great used as a back layer for one of our patterned ribbons, like the pheasant, Greek key or tartan plaid.
A Spray of Leaves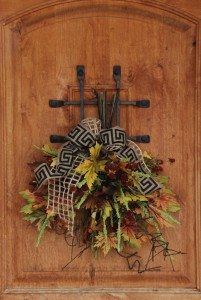 This is another easy-to-create fall door treatment that carries a big bang. I love it! Basically, it's a bouquet of fall foliage picks, tied up with a ribbon, then hung upside down. Told ya it was simple!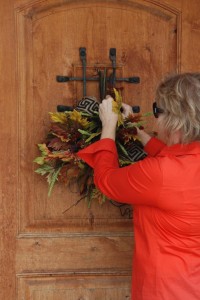 LuAnn selected about 10 different fall pics, mixing a variety of colors and textures. She wired them together and added a bow made of our Greek key and open weave ribbons. The finished treatment is simple, lovely and easy on the eye.
A-Tisket-a-Tasket – Check out These Fall Baskets!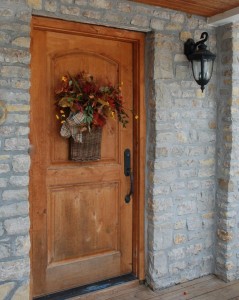 These wicker wall baskets are another perfect door decorating tool. They are charming, inexpensive and come is a variety of sizes, so whether you live in a cottage or an estate, there is one to fit your door.
Start by putting a little nail or hanger on your door. This will be the hardest part of decorating my door at my lake house. Dan has a phobic reaction to putting nails in wood, whether it's a door or the fireplace mantel. So, I spare him the pain by waiting until he's gone to get out the hammer and nails. Our brand new door is still pristine, not a nail hole yet. He's crazy if he thinks it's going to stay that way!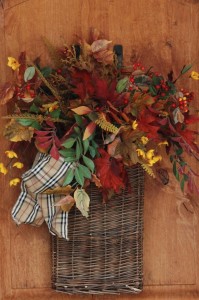 When you fill the baskets, select a variety of faux picks. Pull in some foliage, grasses, flowers and berries. Twist and turn the wires so the picks look natural, how they would really grow. Then arrange them so some ascend above the basket, some hang down over the basket edge and others fill in the middle ground. Finish with a visual pop by inserting a ribbon.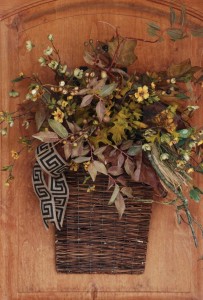 Here's another look LuAnn created, this time using a tighter color palette of greens and browns. Beautiful!
Monogram Magic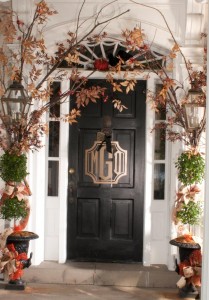 I am crazy about monograms right now. I love how they allow you to personalize your home décor. So when I had my Atchison home open for tour last fall, I decided to decorate my front door with a dramatic metal monogram. I loved the effect! Best yet, you can completely change the look of the monogram just by misting it with a different color of paint. We can special order one for you, too, at Nell Hill's!
Next Week … Rich and opulent, teal has captured my heart. I'll show you how to introduce this galm shade to your own home.