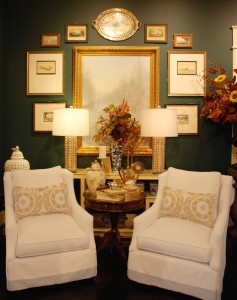 Like you all, I love to keep up with the top designers and see what inventive new things they are doing in interior design. So the other day, when I happened upon a room that designer Miles Redd had completely washed in teal, I nearly swooned. It was so beautiful and dramatic, I couldn't get enough of it. That moment, teal became my heartthrob and I got busy designing a gallery at Nell Hill's that showcased my newest color crush.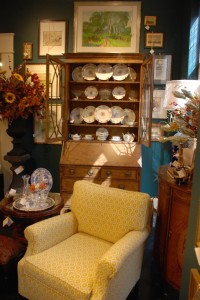 Years ago, when I was selecting my very favorite hues to include in my Mary Carol Artisan Paint line, I knew the Perfect Teal had to be among them. We mixed up the most gorgeous teal tone I've ever seen and called it Commercial Street, named for the main drag in my hometown, Atchison, Kans. It was on Commercial St. that my folks had their clothing shop, where I worked long hours as a salesgirl and fell in love with retail. It's where Nell Hill's Atchison still stands today.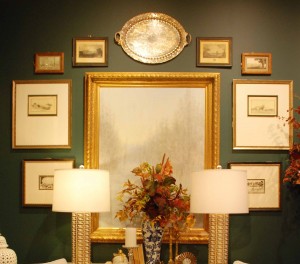 My first step in my visual ode to teal was to repaint our largest gallery at Nell Hill's Braircliff in Commercial Street (featured in all these photos). Next we filled our color lab with furnishings that look their absolute best with teal. I was blown away by how long that list ended up being. Orange, gray, navy, coral, purple, nutty browns. Who knew teal was such a chameleon and that it took on a new life depending upon what you paired it with. My favorites? Gold and white!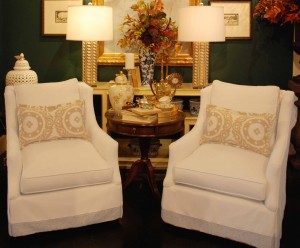 These white chairs, surrounded by gold and white accents, wrapped up in a sea of teal, are to-die-for gorgeous! These light and bright furnishings cocooned in these deep, moody walls feels like a ray of light breaking through a stormy sky. Just wait and see what we do with this room during the holidays!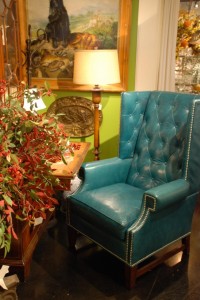 You don't have to paint your room teal to enjoy this powerful color. Bring it in through your furnishings. These teal leather chairs are hot sellers at Nell Hill's. Traditionally masculine, yet also edgy and contemporary, they are an ideal pick for a study, family room or even your bedroom suite.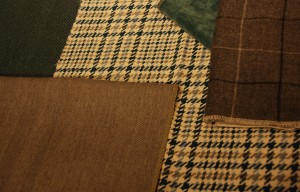 Scott, one of our uber-talented designers, and I pulled together some swatches from our fabric room at Nell Hill's Briarcliff to show you how to build a textile story in your room that features teal. This grouping of classic patterns still feels fresh, thanks to their contemporary coloring and scale. Pick one of the solids, like the brown herringbone, for the sofa. Add in a pair of matched club chairs in the watch plaid or teal herringbone. Finish with a liberal number of pillows in the hound's tooth check, teal velvet and a mix of all the others.  Gorgeous!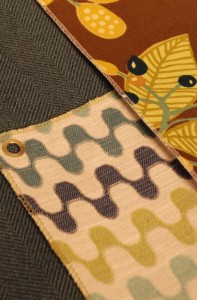 If your home is more contemporary, here's a fun way to weave in teal. Cover your sofa in the teal herringbone. Add in some chairs in the geometric or floral. The third fabric would make a great upholstered ottoman. There are millions of possibilities!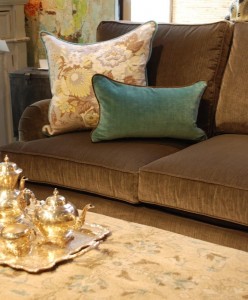 How would your sofa look with a teal pillow or two? Sometimes a dab or two of a strong color like teal is all you need. This scrumptious chocolate brown velvet sofa was the perfect easel for our teal inspired pillow artwork, one pillow showboating some saturated color, the other, just a whisper.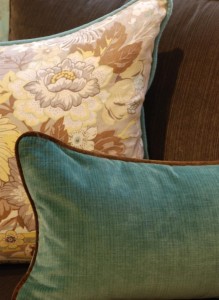 Notice how we had fun with the trims on these custom pillows. The solid velvet teal pillow is corded in the chocolate brown, and, conversely, the floral features a teal cord. Just this tiny little touch makes the grouping more unique, one of the great benefits of custom accent pillows.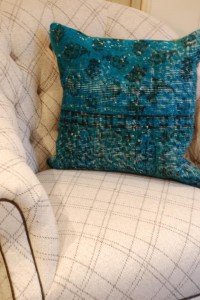 If your look is a bit more boho, have we got a teal pillow for you! I love this natural cutie, available at Nell Hill's. It looks comfortable in a formal living room, but could easily be at home in a college dorm room or a teen bedroom.
Next week …I love to help customers build Pinterest perfect rooms. The first step if often choosing the color palette. I'll show you all the directions you can take black and cream.