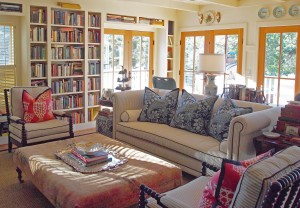 At Nell Hill's I love to help customers create the Pinterest-perfect rooms of their dreams, turning a board full of ideas into livable spaces that reflect their unique style. Usually, the magic begins in our fabric room, where we discover their crush: the colors and patterns that make their hearts thump. Armed with a few key inspiration fabrics, layer upon layer, we bring the room to life. One of my favorite palettes to start with when building a beautiful room is black and cream. There are a million ways you can take this timeless twosome. Here are 4 of my favorites: 
Palette 1: Black and Cream all by Themselves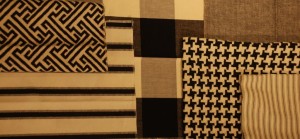 The combination of black and cream is so striking you don't need to add a thing to it to achieve perfection. I pulled together a group of my favorite fabrics to illustrate how much energy and passion you can generate with just these two colors. If I was using these fabrics to design a living room, I'd cover the sofa in the buffalo plaid or ticking (depending upon how much pattern you want). I'd do an ottoman in the Greek key. I'd upholster some side chairs in one of the stripes. Then I'd toss them all together in a mix of pillows.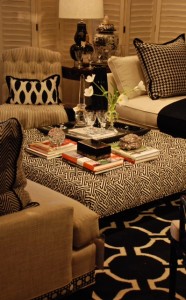 In this chic black and cream inspired grouping at Nell Hill's Briarcliff, we started the conversation collection with furniture covered in a triad of creamy white fabrics. Instead of going matchy-matchy and using the same fabric for the sofa and chairs, we mixed a solid cream, a textured linen and a black and cream ticking. The spice in the room comes through the zippy black and cream area rug, geometric ottoman and inventive mix of pillows.
Palette 2: A Dash of Red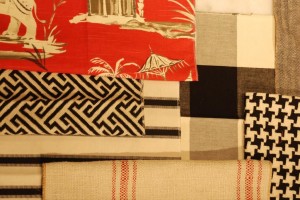 Want a little sizzle and pop in your space? Add a dash or two of red to your black and cream base. You could stay with a neutral blend of black and cream upholstered fabrics, then add in pillows in the stunning Asian inspired red toile and simple red stripe. Or, you could enliven your room by covering a chair or two in the red toile. The toile would also look amazing on an ottoman, arresting attention and adding energy.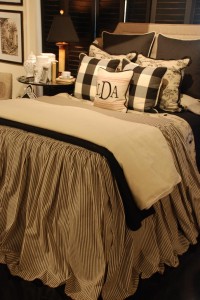 We used this color trio on one of our bedding ensembles this fall at Nell Hill's. The bedding is washed in the dreamiest mix of black and cream fabrics, dotted with the tiniest thread of red.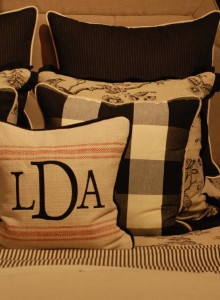 The modest red striped pillow feels like an exclamation point, applauding the masterpiece of fabrics that make up this ensemble.
Palette 3: Pretty Preppy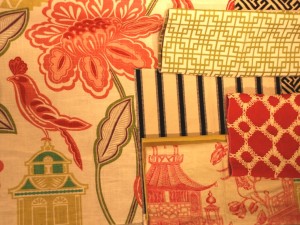 Black and cream does not have to be staid and serious, as you can see from our smashing fabric samples above. We were going for a more transitional approach when we selected the fabric samples in this grouping. These very traditional patterns – toile, floral, stripe– have been given a new voice through cleaner graphics and vibrant, saturated colors like chartreus and magenta. Proof positive that bright colors can also be sophisticated. This grouping would make a gorgeous bedding ensemble, with the colorful fabrics spotlighted in a duvet and accent pillows, broken up by euros done up in our black and cream fabrics.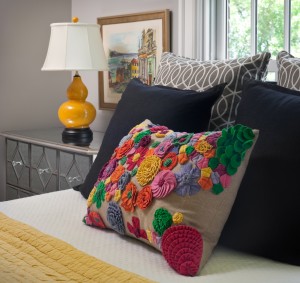 In this playful bed in my friend Julie's home, the single row of black pillows acts almost like the lines of a coloring book, showing off the bright and happy artwork of pillows.
Palette 4: Singing the Blues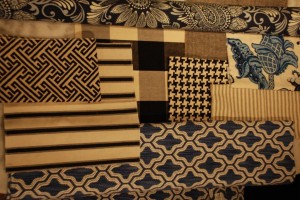 If there is one thing I love more than black and cream, it's black and cream with lots of blues poured over it. Navy is super hot right now, so I used it generously in this sample fabric palette. If I was doing a living room in this grouping, I'd cover the sofa in the black herringbone, the accent chairs in either the black and cream ticking or, for a bolder look, the navy paisley. The blue trellis pattern would make a wonderful ottoman. The rest of the fabrics could find a home in the room through window coverings and accent pillows.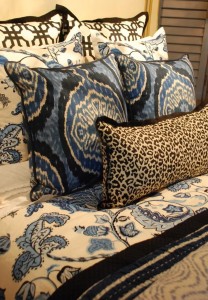 Here is a gorgeous bed using a different mix of black, cream and blue. Recognize the floral from our swatches above? Here it's tossed in with a fun animal print and ikat. Yum!
Next Week … If you're a dog lover, this blog's for you: how to decorate around, and for, your best friend.