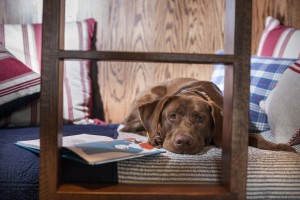 Dan and I don't fight over who is the head of the household. That power position is undisputedly held by Lyric, our golden retriever. We inherited this sweet pooch from some dear friends, and within minutes, she had stolen our hearts … and taken over our home. After a few dog-free years, piles of hair and muddy footprints are once again a part of my life.  I've gotten pretty good at not only decorating around a dog, but also celebrating our canine companion in our décor. Here's how you can, too: 
Pretty Protection from Your Pooch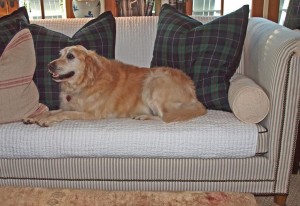 Meet Lyric. When we adopted her, Dan was determined that this golden would be his dog, since our last dog bonded more closely with me. So he set about winning her affections by spoiling her rotten. It worked. She follows him like a shadow throughout our home. She goes with him to work, riding shotgun in the front seat. In fact, I refuse to ride in his car anymore because it's so doggy. Our sofa, Lyric's favorite bed, would be just as bad if I hadn't figured out my favorite dog-hair-protection trick: Cover the back and seat of the sofa with a washable quilt.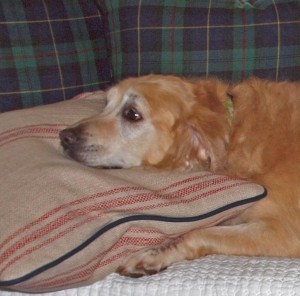 Instead of covering your gorgeous sofa with a sheet to protect it from your pets, try my trick instead: Get a twin sized washable quilt, drop it behind the sofa about 8 inches then drape the remainder over the back and seat of the sofa, tucking it in at the back of the cushions. If your dog sleeps on the sofa, tuck the tail of the quilt under the front of the cushions. If your dog sleeps on the floor but rests against the sofa, extend the quilt to the ground, like a skirt. When the quilt gets dirty, hairy or smells like dog, just throw it in the wash. I have a stash of three quilts so I always have a clean one in the wings in case we have unexpected guests.
Another great option is to cover your upholstered furniture with outdoor fabrics that clean up easily. Some of our customers like to get slipcovers made for their furniture or seat cushions that they can zip off and launder.
Best of Show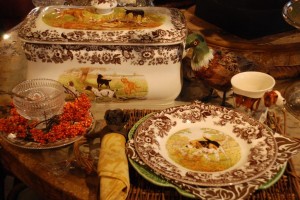 People who love dogs – and even those who do not – often like to use images of dogs in their décor. I'm crazy about hunt club styling, especially in the fall, so I couldn't resist these Spode dishes that feature hunting hounds. The fall colors are ideal for our richly layered tabletop.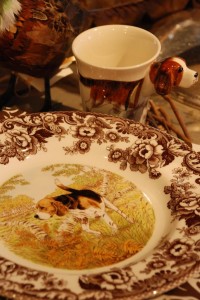 When I do a thematic tablescape like this one, I like to have a bit of fun by poking in a whimsical element or two to make guests smile. These zany 3D dog mugs were just the ticket!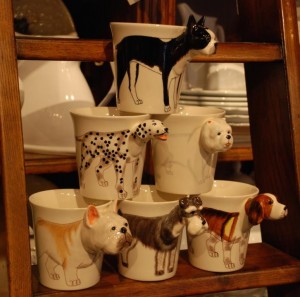 You could mix and match an assortment of breeds or set the table with your favorite.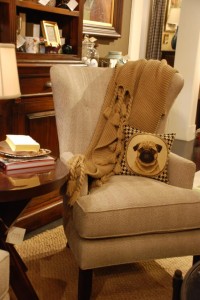 Accent pillows are a great way to add a bit of your own personality–and your dog's–to your décor.
How about tossing in a pillow that features your dog's breed? (Could you say no to these eyes?)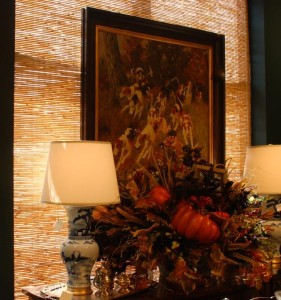 Artwork featuring dogs is a classic. Pick a large piece to hang over a buffet or sofa.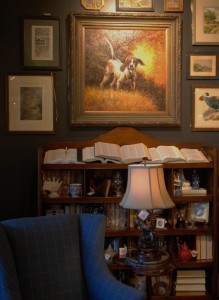 Or create a display that pulls in diverse works of art that revolve around a central theme, like we did here at Nell Hill's.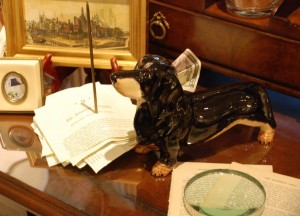 Like any thematic décor, a little bit goes a long way, so pick and choose your dog-related accents wisely. Maybe a figurine on an end table?
Some Dog-gone Cute Stuff …
I'm always on the hunt for unique home décor, distinctive pieces that will set your home apart. This year at market, I lost my heart to Seven Barks Fine Goods and their crazy cute line of dog-themed paper products. Their tag line says it all: "Fabulously fun. Seriously useful. Dedicated to our four footed friends."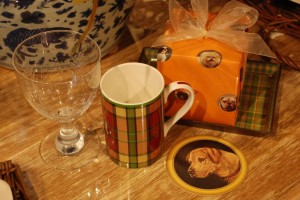 Designed and produced in the United States, these high quality stationary products feature vintage images of dogs and are made from recycled paper. We are having fun working the products into our fall displays at Nell Hill's, including a dog-themed dining table.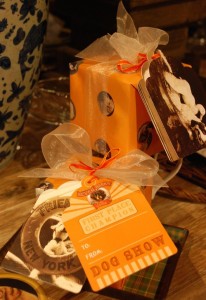 If you are planning a dinner party, wrap party favors in this cute gift wrap. If you are going to a dinner party, hang a dog-tag on a bottle of wine for the host.
Treats for Fido & You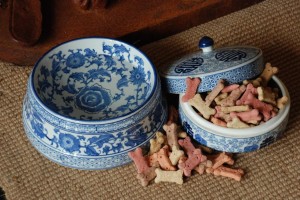 Dog essentials don't have to be boring. In fact, they can enhance your décor. Lyric uses these blue and white ceramic dog bowls. I also like to keep dog food and dog treats in pretty containers, like this lidded jar or glass apothecary jars. Where do you keep your dog's leash? Instead of stuffing it in a drawer, hang it on a pretty hook by your door.
Many dogs like a private place to curl up and take a nap. Instead of a kennel, why not treat Spot to his own pup tent?
Finally … Let's Clear the Air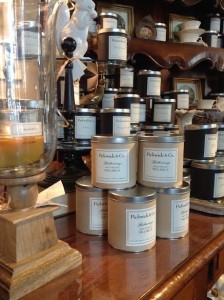 Let's face it: Dogs can be stinky sometimes. If guests are coming, or if you just want to clear the air, light a Pickwick & Co. candle. This fall, Pickwick created a scent just for Nell Hill's called Gathering, a beautiful blend of cloves and oranges. It will be burning in my home this fall so that Lyric is not what guests smell when they come to visit.
Next Week … I'll have a step-by-step guide to creating an appetizer display that will dazzle your guests.