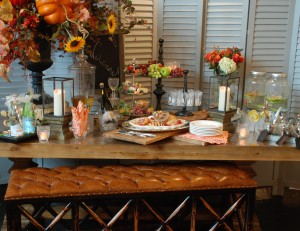 Hors d'oeuvres, anyone? Whether it's a casual TGIF with best friends or a formal holiday gathering of work associates, having folks over for appetizers and drinks is a lot easier than hosting a full blown dinner party, and it's just as much fun. My secret to party success?  Keep the food simple, but make the display sensational. You'll wow your guests and save yourself lots of time and stress.
It's easy to design a gorgeous appetizer display if you have the right tools and know a few tricks of the trade. To show you how, Marsee and Donna, two crazy talented members of the Nell Hill's visual display team, designed this sensational appetizer buffet to show you how. Here is what you'll need to recreate the look:
Platters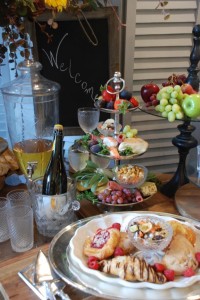 I can't get my hands on enough platters. And if you like to entertain – or just present your daily diet in a more delicious way – you'll need a few, too. Instead of putting our dessert pastries on a plain old plate, our design team did a beautiful double-decker treatment, stacking a white platter on top of a silver one.
Tiered Servers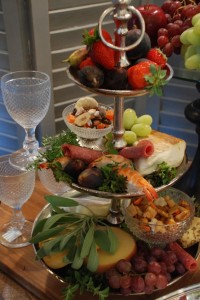 The key to making simple food, like cheese and crackers, fresh fruit and shrimp, look amazing is to display it with Capital-D Drama. Nothing helps you achieve this in a jiff like a tiered server.  Our easy-peasy food picks look fit for royalty, thanks to this gorgeous server.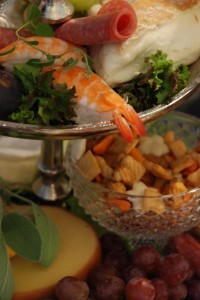 I like to mix up the selections on each shelf of the server, like we did here, so that guests slow down and drink in the display as they decide what yummies to try. To make the selections even richer, put some items in dessert cups, like we did here. All that's in them is some snack mix, but don't they look sensational?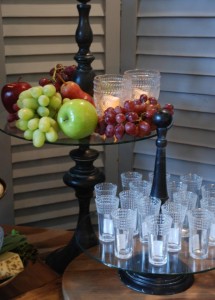 This statuesque beauty brings lots of height to our buffet, one of the secrets to creating visual drama. Notice how we also used a server to hold the drink glasses? Anything put on a server just looks lovely, I think.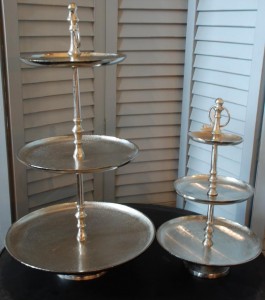 Here's a bonus: When you are not entertaining, you can also use your servers in your decorating. In my home, one holds a display of little boxes and picture frames. For easy storage, most servers can be broken down into several pieces.
Drink Dispensers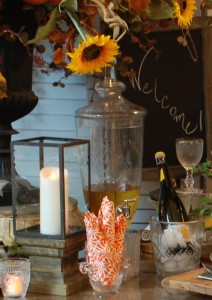 No matter what the beverage, it just tastes better when it is dispensed from a lovely urn. These etched glass  servers are among my favorites. I use them when I entertain for gatherings large and small. When there's no party at the Garrity home, I use them in my decorating. In the fall, I fill mine with a mishmash of faux fall gourds.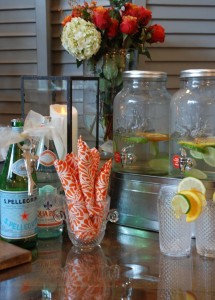 Urns are great because they allow guests to serve themselves, so you don't have to play bartender all evening, freshening drinks.
Aren't these Mason-jar inspired servers fabulous? They've been a popular pick at Nell Hill's.
Caddy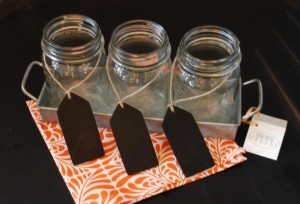 Caddies are great tools for collecting items that might otherwise spread across the top of your food bar. Plus, they are cute!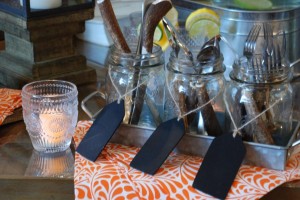 This adorable Mason jar inspired collection, snuggled into a vintage looking tin tray, gave us the perfect place to present the forks, knives and spoons on our buffet. You could also fill the jars with different sauces for a BBQ, fresh veggies for a picnic or breadsticks for a pasta bar.
Ice Bucket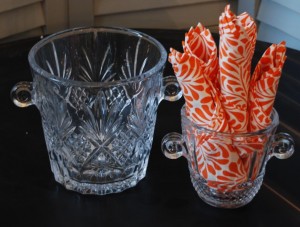 If you are serving chilled beverages on your buffet, keep them at the right temp in a gorgeous ice bucket. When you're not entertaining, use the bucket in your décor. Fill it with flowers. Put it in your powder room to hold spare toilet paper. Use it as your catchall for the daily mail.
Trays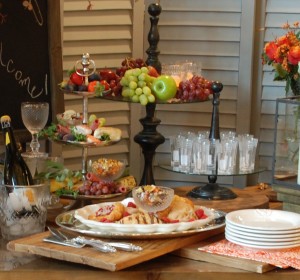 Trays are one of the most essential tools for entertaining. And, if you ask me, for life! I use trays all over my home, in lots of different ways. Depending upon how formal you want your appetizer display to be, you can use a host of different kinds of trays, from silver gallery trays to chopping boards, like we used here.
These chopping boards come in a variety of sizes and shapes, which allowed Marsee and Donna to use them as both serving pieces and risers to give our service elements different heights.
Serving Pieces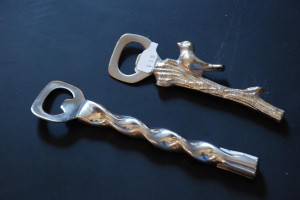 Nothing spoils the look of a lovely food service like tossing in your well-worn everyday serving pieces. I keep a separate set of serving pieces on hand just for entertaining so they look fresh and beautiful.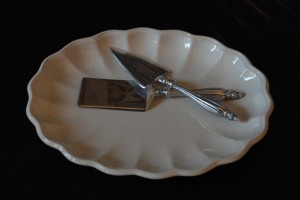 Be sure you have the right pieces for the food you're serving, like a special cheese slicer or cake server.
Linens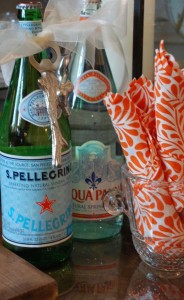 Isn't it amazing how much our cute fall napkins add to the overall look of our hors d'oeuvres display? I recommend having a supply of several different kinds of cloth napkins, cleaned, pressed and at the ready for entertaining.
Decorative Finishing Touches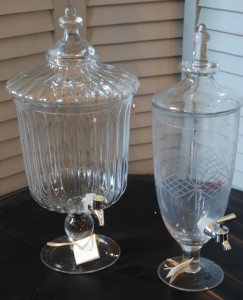 Finish off your appetizer buffet with a few beautiful accents. Put a few hurricanes on risers, insert pillar candles and you're done! Or, fill the hurricanes with fresh flowers or fall branches.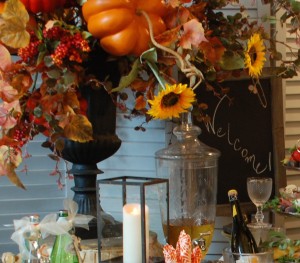 We wanted to make a big fall statement on our sample buffet, so we placed an iron urn on the table and filled it with fall branches and florals. You could do the same with any kind of holder, like a temple jar, cachepot or apothecary jar.
Bonus: A Pretty Apron!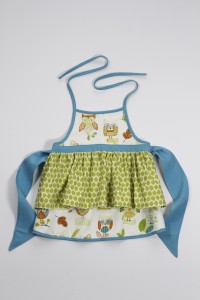 Protect your clothes while you're whipping up your buffet by wearing one of our new aprons, created by Nell Hill's for the GO Project. Designed by the Nell Hill' team using our fabric, the aprons were handcrafted by women in Haiti who work at the GO Project's sewing centers, earning a living wage so they can provide for their families and stimulate their local economies. Every penny of profit the GO Project earn on these aprons goes to support orphaned and abandoned children. We are so thrilled to support this amazing outreach. You can get the aprons at Nell Hill's or at the GO Exchange, www.goproject.org.
Next Week … Beloved, beautiful and comforting, brown is a timeless classic. I'll show you how to use this neutral as a base for your home décor.