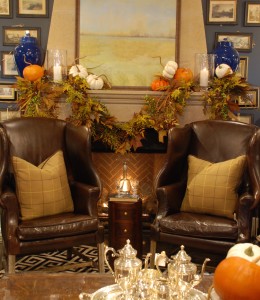 The world looks fabulous wrapped in the colors of fall. And at the base of this beautiful bouquet of radiant color is brown. Earthy, warm, soothing and satisfying, brown encourages us to slow down and snuggle in. And eat hot, buttery popcorn. Or, is that just me? But, I digress. Here are my favorite ways to work this dramatic but undemanding neutral into your home decor. 
1. Pair Brown with Lighter, Brighter Colors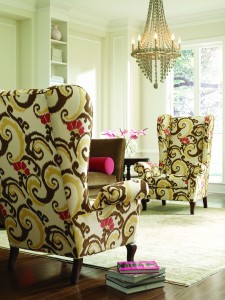 A few years ago, brown was da bomb. So much so, that we saw people going overboard with this dramatic neutral. Folks were washing their homes from ceiling to floor in brown. Before long, customers came into Nell Hill's looking for a way to let the light into their overly cozy cocoons.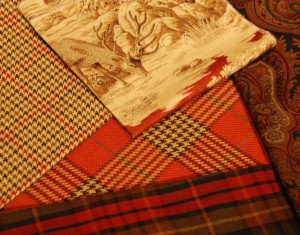 It didn't take much to make the Brown Houses, as we began to call them, more visually appealing. The trick? Pair brown with lighter, brighter colors. In the photo above, we created a palette that is perfect for a living room, dining room or bedding ensemble using fabrics featuring browns, creams and pops of warm reds. Switch the red for navy and you have the same stately look.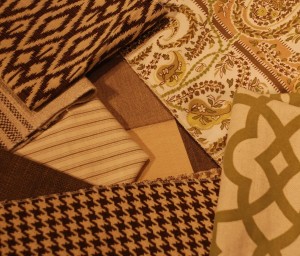 Brown also looks great mixed with brighter, bolder accent colors. In this mix of fabrics, we added in a liberal amount of cream, then threaded in a bit of sage and celadon. I also love turquoise, apple green, fuchsia (any pink, actually), orange and yellow with brown.
2. Bring Brown Alive through Pattern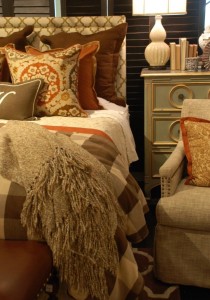 There are lots and lots of shades of brown in this bedroom grouping at Nell Hill's Briarcliff. The secret to keeping a focused palette interesting and alive is to swirl the colors together with lots of different patterns. The buffalo check in brown and cream sets the stage here.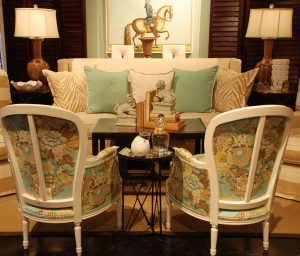 This dreamy living room suite at Nell Hill's Briarcliff found the perfect fulcrum between brown and blue. It's soft and stately, yet livable and warm. The mix of patterns in the furnishings is the key to success.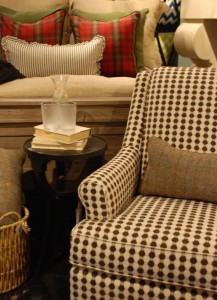 Brown doesn't have to be traditional. This adorable chair, with its sparky brown dot and transitional silhouette, is an energetic shout-out to brown's younger, fresher persona.
3. Use Brown to Spotlight Lighter Accents and Artwork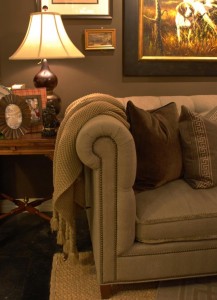 Great artwork can get lost on a light colored wall if you are not careful. But when you hang lighter pieces against a moody, dark canvass of brown, holy smokes! It pops!
In my friend Cynthia's cottage, the light cream trim keeps the dark walls from feeling heavy or dull. And, wow, does it look great with her casual dining room furnishings. The brown is content to recede into the background and let the individual elements in this room shine.
4. Add Brown to Make Spaces Soothing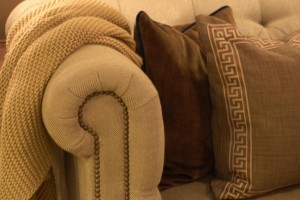 Warm and wonderful, the brown pillows on this comfy cream sofa look ready for your Sunday nap.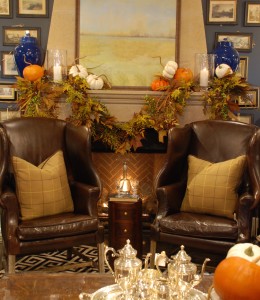 My top 10 list of decorating faves? A pair of brown leather winged back chairs flanking a fireplace. Be still my beating heart! The light stone fireplace, blue walls and plump plaid pillows keep these chairs from feeling too dark. All this serene setting needs is you, a cup of tea and a good book.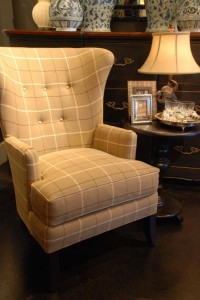 Here's that same soft, soothing watch plaid on a chair. Love it!
5. Pair Brown with Earthy Accents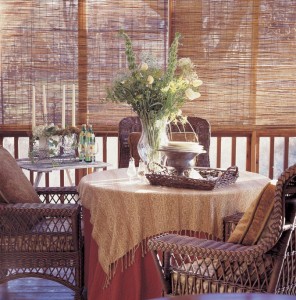 The color of bark and soil and fall leaves, brown is a natural when paired with earthy accents. My friend Jean made her covered porch an ode to nature's rugged side by furnishing her space in brown wicker chairs and irresistible textiles in a mix of browns.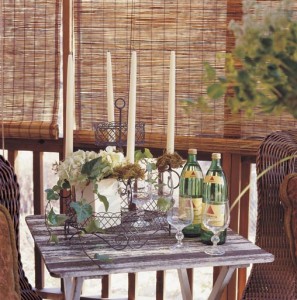 This rustic wood table is a perfect partner to the chairs in this room, celebrating brown in all its many shades and finishes.
Next Week … It's time to begin cozying up your home for winter. I'll have three simple tricks to get your home snuggle ready before the first snow falls.