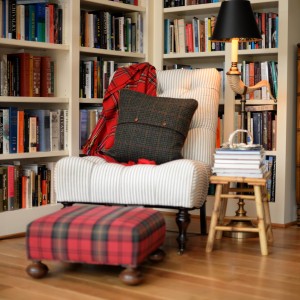 During the cold, dark winter months, there's nothing so wonderful as coming home to a warm, snuggly home that embraces you, enfolding you in its cocoon where you can relax and replenish. It doesn't take much to make your home cozy for winter. Here's what I do: 
1. Add a Snuggly Throw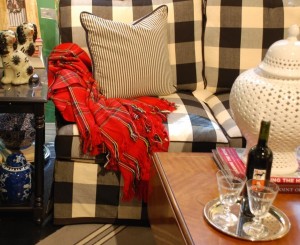 I am drawn to historic homes, which can be drafty and chilly. So the first thing I do when the mercury ebbs in winter is toss a few blankets here and there. These quick cover-ups not only make your book reading, TV watching, tea drinking moments warmer, they also add a gorgeous layer to your décor. Pick throws that add a pop of color, like this red plaid tossed on a buffalo check sofa.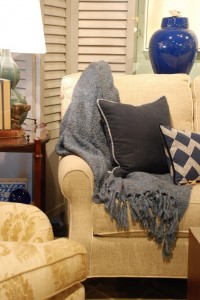 The first thing I do when I get out of bed on winter mornings, when the house is still chilly, is make a cup of coffee and snuggle into a chair in my living room, buried under a throw. This 15 minute ramp-up time gives me a chance to think through my day so I can hit the ground running at work. Pick a throw that adds to the ambiance of your space and works well with your palette. This yummy blue knit pulls in the browns of the furniture and the blues of the accents, yet doesn't feel matchy.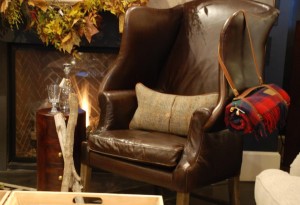 Check out this fun idea! If a blanket tossed over a chair looks too messy to you, or you struggle with keeping the blanket in place on a slippery leather chair, a wool tartan cinched up in a leather holder may be the perfect solution.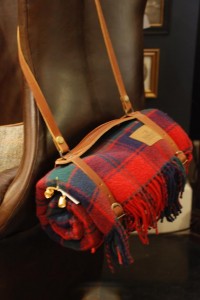 Not only does it add loads of character and charm to this sublime room setting, this Pendleton wool blanket is guaranteed to keep you toasty as you sit by the fire. Heaven!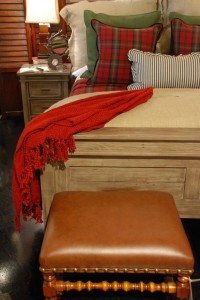 My bedroom is always cold in the winter. So in addition to the thick, fluffy duvet and blankets, I like to keep a throw at the bottom of my bed to cover my tootsies.  Plus, who can resist any opportunity to add another layer, color or pattern to their bedding ensemble? Certainly not me! Pick a throw that pulls out a color in your bedding that you'd like to accentuate.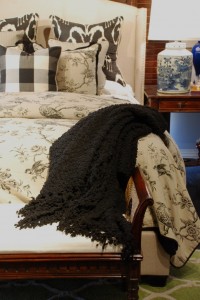 If I could knit, I'd make a stack of these loose weaved throws.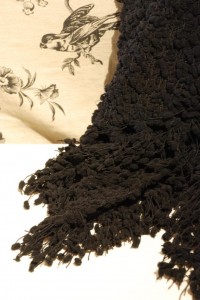 They are so simple and rich, a great casual touch to formal bedding. I'm also crazy about cable knit blankets – they make me think of Irish sweaters.
If you are crafty, try this: get a yard and a half of fabric that looks great on both sides, like a check or herringbone, hem it and you have a beautiful throw for a great price!
2. Pop in Winter Pillows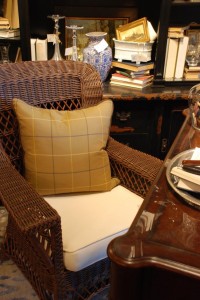 A simple pillow switcheroo can dramatically change the look of your sofa or chairs. That's why swapping out pillows with the seasons is one of my favorite go-to decorating tricks. I go through the house unzipping my summer pillow cases, then sticking the bare pillow forms in my winter pillow cases. Takes minutes, but it makes the room look completely different. This is the perfect opportunity to see if your forms need to be replaced and to get your pillows to the cleaners so they are fresh and ready to store until the weather warms up again.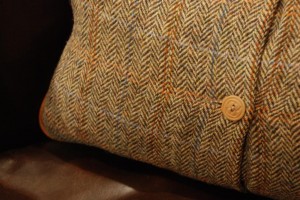 I'm over the moon about men's wear fabrics. The best time to showcase them in your décor is in the winter, when their wooly heft, rich colors and touchable texture add just the right feel to a room you want to warm up. This year I'm partial to pillows that look like they are made of a Harris Tweed men's jacket.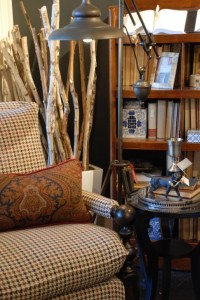 What's better than one men's wear pattern in winter? Two, paired together. This yummy paisley is sublime with this hound's tooth check chair. The color interplay is just perfect.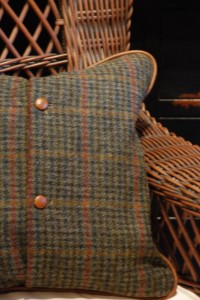 If you are having custom pillows made, give them distinct personality with interesting details, like contrasting trim and buttons. The leather cord and wood buttons are just the right finishes to this fabulous winter pillow.
3. Add the Warmth and Aroma of a Winter Candle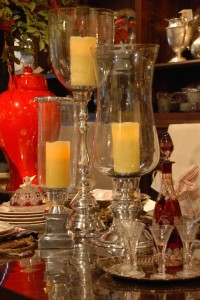 Everyone and everything looks better drenched in candlelight. During the winter, I fill my home with candles to give it a warm, welcoming feel. I love these new aluminum candlesticks we just got in at Nell Hill's. They are lightweight, never need to be polished, yet add a bit of sparkle to your décor. Best yet? They are affordable.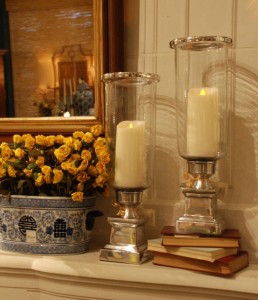 My customers have told me so many stories of how their homes have been damaged by candles left unattended that I now use battery operated candles in my home. The fakes have gotten so good it's often hard to tell them apart from live flames at a distance. Plus, they are so easy! We sell battery operated candles that come with a timer or even remote controls so you don't have to go about lighting candles – poof, they are on!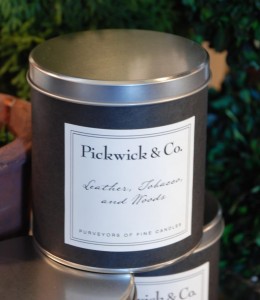 Every season, we switch up our selection of scented candles at Nell Hill's, carefully picking aromas that capture the feel of the season. For winter, we are loving Pickwick Candle Co.'s "Leather, Tobacco and Wood." But, honestly, they have so many warm, earthy, wintery scents, it's hard to choose. You just have to come and sniff and pick your favorite!
Next Week … It's time to start decking the halls for the holidays! All great holiday displays start with these three ingredients. I'll tell you what they are next week.