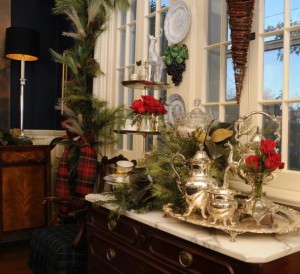 Ready to deck the halls for the holidays? Before you start, arm yourself with my three can't-live-without-them holiday decorating essentials: Picks, sticks and ribbons. We use these no-fail tools as the base of just about every holiday display we create at Nell Hill's, whether it's a super simple centerpiece or an over-the-top mantel treatment. Here's how you can use picks, sticks and ribbons to make your displays magical this year: 
1. Use Picks to Add Interest and Dimension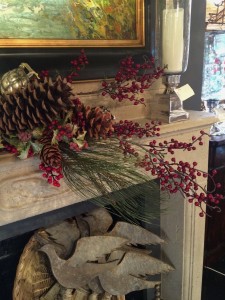 I love to bring the beauty of nature into the holiday displays I create at home and the stores. Forget going out in nature to find holly sprigs, evergreen boughs or berries (tried that years ago; never again). Instead, I use fabulous fakes in my decorating. The ones we carry at Nell Hill's look so lifelike it's hard to tell them from the real thing. Don't you love the wispy, airy look we created for this simple-to-make mantel scene?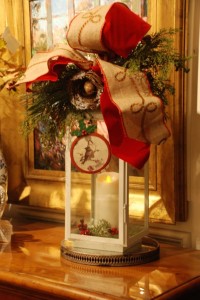 Picks come in such a wide variety of sizes, colors and styles, you can use them to create any holiday look you want, from traditional to whimsical, glam to rustic. The secret to making them look great, not flat and fake, is to work with them before you start decorating. Bend and shape the branches so they look like you just pulled them from the woods, not a box. I like to mix a variety of greenery, berries and structural picks to give displays more dimension.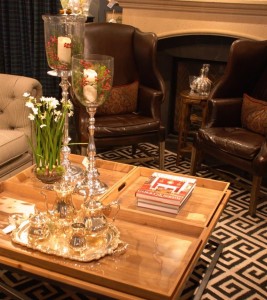 If you're short on time or aiming for a minimalist holiday display this year, just add a few picks to your existing displays. All we did here was tuck a few picks inside these hurricanes and, presto, this coffee table is holiday party ready!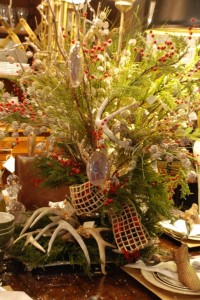 Want to create a beautiful centerpiece like this one at Nell Hill's? Here's how: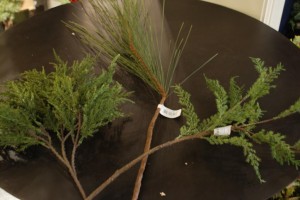 Start with a mix of evergreen picks. Here are the three styles we used. But don't leave them like this – fluff them out until they are lifelike.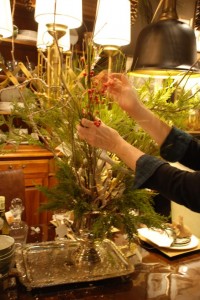 When arranging the picks in a vase, let some reach up high, some dangle below the vase, and others fill in the middle ground. For a layered centerpiece, place the vase on a tray, then add in a few picks.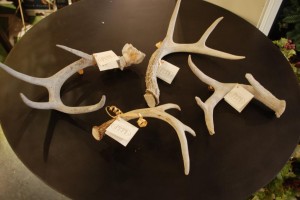 I like introduce something interesting or unexpected when I do arrangements with picks. These faux antlers were just the thing. We added a few more on the tabletop.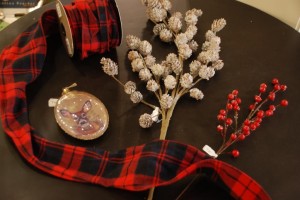 Add a pop of color to your centerpiece with some berry picks. I love these cardinal red stems! We dangled these darling deer ornaments from the sticks in the bouquet to make it multifaceted, then twisted in a merry plaid ribbon to finish.
2. Start with Sticks to Lend Structure and Style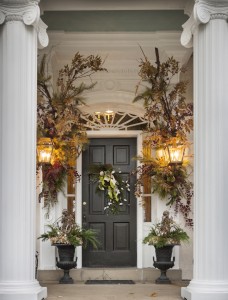 I have been known to slam on the brakes and throw the car into reverse when I spy a fabulous fallen stick next to the road, lugging it into the trunk to use in some future display. Fallen sticks are one of the best tools I've found for giving greenery displays much-needed structure and support. For years, they have been the base of many powerful displays in my home and at the stores, like this door treatment at my Atchison home.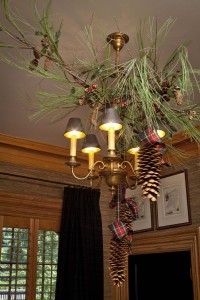 Wild and imperfect, fallen branches and twigs provide the perfect contrast for holiday décor. Plus, a strong stick gives you something firm to anchor picks and baubles to when you create displays on light fixtures, mantels or over doorways. All you need is a few zip ties.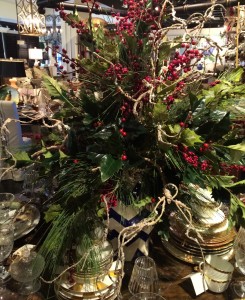 But don't just drag a stick inside and put it up. If they are fresh, they can drip sap and ruin everything underneath them. And, they could be home to creepy crawlies.
Here's a horror story a customer shared with me: This lovely woman had donated a formal holiday dinner party in her home for a charity auction. To decorate, she suspended a branch over the dining table. It was going to be a magical night, until the bugs started falling off the branches onto the dishes. She ended up moving the dinner to a restaurant!
To prevent a mess, use fallen branches, not fresh cut, so you won't have sap issues. And before you bring the branch in, spray it with insecticide and let it sit outside for 24 hours.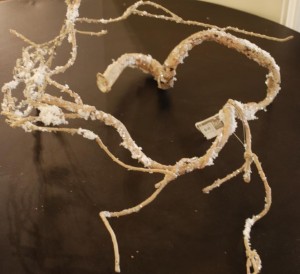 You can also use faux sticks in your display, especially if it is a smaller scaled piece. I love these twisty-turny twigs dusted with glitter that looks like snow.
3. Finish with a Flourish with Holiday Ribbons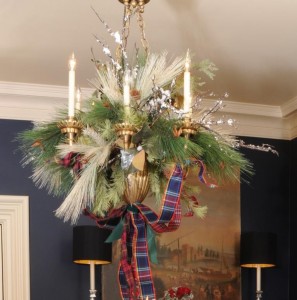 Seasonal ribbons give you an opportunity to infuse your displays with your own personality. I adore plaid, so when I decorated my dining room one year, I used lots of plaid ribbon to make my displays unique.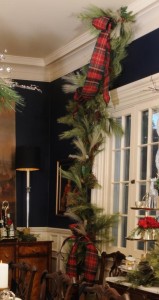 Ribbons tied up the evergreen garland and added the finishing touch to my dining room chandelier treatment.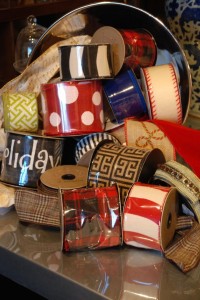 Every year at market, I have fun picking out a wide variety of holiday ribbon so there is something for just about every look you want to create, from playful to elegant.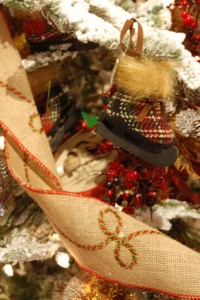 Twist a few ribbons through the garland on your banister or mantel.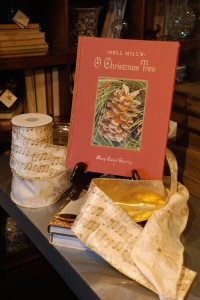 Find one that expresses your personality and passions!
Next Week … Time to trim your tree! I'll share the new trick we are using at Nell Hill's to make our trees interesting and unusual.